Are you a solo legal practitioner? Thinking about going into business for yourself? These days, it's never been more important to cultivate your brand. Luckily, it's also never been easier, with modern technology providing many tools that will help you stand out from the next guy. Here are some tips to get your solo practice off the ground and help it thrive:
1) Commission a Logo
A logo will lend gravitas to your letterhead, business cards, website, and advertisements. You can hire a freelance designer for a modest fee, or, if you have a larger budget to work with, enlist the services of a top design firm. When speaking with your designer, communicate the defining characteristics of your practice and the vibe that you want potential clients to get from your logo. Both aspects should be incorporated in the design. If you pride yourself on bringing personality and flair to the law, a bright, playful logo may make sense. On the other hand, if you're targeting no-nonsense clients, clean lines and classic colors are the way to go. Look at logos of existing companies to see what you like and don't like, jot down your ideas and goals, and then visit one of these websites to get started:
99 Designs
Design Crowd
DesignMantic
GreyBox Creative
2) Design a Website
You absolutely need a website. At a bare minimum, your site needs to clearly state what services you offer, why people should hire you (highlight any practice specialties), and how to contact you. Like your logo, your website should communicate your brand. Its design should reflect you and your vision, skills, and approach. It should "go" with your logo. Hire a web designer, or turn to one of these easy-to-use platforms to create a website yourself:
Squarespace
Sitebuilder
Jimdo
1&1
3) Get Creative With Business Cards
Everybody has a business card. To make sure yours stands out and doesn't get thrown in the trash, use a memorable design. Ditch the white background and black font for a colorful card, unique shape, or laser-cut design. And instead of cardstock, opt for wood, metal, or another distinct material. These companies will help you create business cards that turn heads:
Studio EQ
Rock Design
Plasma Design
Minuteman Press
4) Maintain a Blog
Add a blog to your website, and use it to post about the latest legal news, share success stories, or answer legal questions. Blogging provides content that can be published as a means of advertising. You can't post your homepage on Facebook over and over—well, you could, but people won't like or engage with it—but you can post a new blog every week that drives people to your homepage. By publishing varied content, you'll resonate with and attract different kinds of people, building a diverse clientele.
Please remember, however, that websites and blogs operated by members of the Bar may be subject to specific ethical rules and requirements. You will need to carefully and regularly review your state Bar's ethics rules and research best practices to ensure that your website and blog conform to applicable requirements. You may need to include specific disclaimers (e.g., "nothing on this site is intended to serve as legal advice or create an attorney-client relationship"); clarify the cost of services to prospective clients; and designate certain content as "advertisements." Losing sight of these parameters can seriously jeopardize your professional practice, so be sure you take the time to do it right.
5) Maintain Social Networks
Create a Facebook and Twitter account for your business where you can post content and follow related people and companies. Building your social network can boost your professional network. A single share or re-tweet by the right person can drive lots of traffic and clients to your website. Plus, it's one more avenue to showcase your brand. That said, be honest with yourself about social media. Only create accounts that you can actively manage. And if you're not a social media maven, consider outsourcing to a tech-savvy millennial.
6) Host a Legal Podcast, LiveTweet How To Get Away With Murder, or Create Signature YouTube Tutorials
Go the extra digital mile by doing something in the social space that creates buzz about you and your practice. You could host a podcast in which you discuss the police blotter or review old episodes of Ally McBeal. You could LiveTweet your favorite cop show, pointing out all the mistakes the police make. You could upload quick legal videos to YouTube, giving people Legal Fact Fridays or Legal Tip Tuesdays. You could host a Reddit AMA ("Ask Me Anything") about your field of law. Whether you make it fun or play it straight, branching out in any of these ways builds your online presence, potentially driving traffic and clients to your website.
7) Back a Cause
In today's politically charged atmosphere, companies are standing up for what they believe in. While risky, it may be to your company's advantage to back a social cause. If you believe in the work of Black Lives Matter, blog about it or offer legal guidance to activists. If you are an immigration attorney, use your social media handles to declare how your practice can help Dreamers and undocumented immigrants. If you stand with the #TimesUp movement, run a promotion that dedicates a certain portion of your income or profits to the Time's Up Legal Defense Fund. While you run the risk of alienating some potential clients, taking a stand politically as a business can reel in others, while also further defining your brand.
8) Get Involved in Your Community
If you want to build your business, you need people to know who you are. And while a lot can be done online, there's no substitute for looking somebody in the eye and earning their trust with a firm handshake and honest eyes. Volunteer at the local Department of Veteran Affairs, sponsor a Little League Team, or offer office hours at the local library. Put yourself in a position to be seen by and gain the trust of your local community. People talk. If you make a good impression, chances are they'll tell somebody who needs a lawyer about you. Referrals can make your year, so get out there and shake some hands.
~
Running a solo practice likely means you're wearing many hats, and while the prospect of doing all of the above may seem daunting, it needn't be. Set manageable goals and take practical steps, reevaluating as you go. Branding doesn't happen overnight; remember that slow and steady wins the race.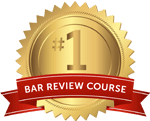 Get the #1-Rated Bar review for free.
Try Risk Free
✓ No card required
✓ 1 minute setup