Understanding how to read an essay question can be the difference between passing and failing the essay portion of the bar exam.  When reading an essay question, apply the mnemonic SPOIL:  Subject, Parties, Organization, Issues and Law."
Read the facts to determine the SUBJECT being tested by the essay question (e.g. understand the difference between crimes and torts)."
Example:  Under what theory or theories, if any, might Patron bring an action for damages against Homeowner, Burglar, or Cinema? Discuss.
This question asks you to discuss the causes of action for damages that an individual (i.e. Patron) can bring against certain parties (i.e. Homeowner, Burglar and Cinema).  The subject being tested by this question is torts, NOT crimes. This is not a criminal law question because in criminal law, the party bringing the action is society (i.e. 'the People' the state or the federal government) as opposed to the victim. As such, an individual cannot bring theories of criminal liability against a defendant."
When there are multiple PARTIES, lead the fact discussions with the parties (i.e. Patron v. Homeowner, Patron v. Burglar and Patron v. Cinema) as opposed to the issues.  If you represent a certain party, begin your arguments with that party's position."
Read the question to find out the ORGANIZATION and structure to the sequence of facts. Make sure you follow the instructions."
Identify the ISSUES raised by the facts by paying attention to action words (i.e. verbs) and descriptive words (i.e. adjectives, adverbs and quotes)."
Extract the facts and match them to the LAW (e.g. elements for a prima facie case of negligence-1. duty, 2. breach, 3. causation and 4. damages)."
When preparing for the CA bar exam or NY bar exam, BarMax allows you to practice SPOIL throughout your bar exam review by providing students with:"
130+ REAL CA or NY essay questions (each with 2 sample answers);
Lifetime access to the app and course materials;
Substantive law lectures by law professors who attended Harvard Law School;
Over 800 flashcards categorized by subject; and
Access to a former bar grader, who provides detailed paragraph-by-paragraph annotated comments on practice essays within 24-48 hours.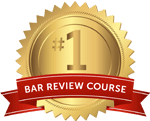 Get the #1-Rated Bar review for free.
Try Risk Free
✓ No card required
✓ 1 minute setup