Getting into law school is a great achievement and a testament to a student's dedication. While law school is essential to begin a career in law, it can be financially challenging. Law programs from the top-rated law schools can cost hundreds of thousands, so getting assistance through scholarships and grants is a great way to reduce the cost.
Ultimately, each law school has money allocated toward scholarships, grants, and other programs to help students financially. We're going to take you through the scholarship and grant opportunities for all of the major law schools in the United States.
What Is a Law School Scholarship?
A law school scholarship is a financial support package for students who enroll in law school. Law school scholarships are awarded to students who meet specific criteria.
The common criteria for law scholarships (and other types of scholarships) can be found below.
Grades (GPA)
LSAT scores
Involvement within a community
Involvement within law departments
Athletic ability
Scholarships for law school can make it financially possible for students to enroll in law programs. Because many law programs are expensive, students can use scholarships alongside student loans to pay for law school.
There are also federal and state grants that can provide prospective law students with financial assistance.
What Are the Types of Law School Scholarships?
There are many different types of law school scholarships. Some law school scholarships are based on academic achievement, while others are based on income level and school/life balance.
Each type of law school scholarship can be grouped into these categories:
Need-based
Merit-based
Criteria-based
Most law schools offer at least one type of scholarship. However, the most common scholarship type offered by law schools is a need-based scholarship. Law schools often have their own funding for need-based and other kinds of scholarships.
We'll take you through the most common types of scholarships.
Need-Based Law School Scholarships
Need-based law school scholarships are for students who need financial assistance because of their financial situation. These scholarships are awarded to students who don't have enough funding to attend law school otherwise. Need-based scholarships are typically awarded to students who come from low-income families.
A need-based law school scholarship requires students to fill out a few forms before enrolling. The first form is the Free Application for Federal Student Aid Form (FAFSA). FAFSA forms can be used for law schools and other types of universities. The second form is a financial assessment form produced by the law school the student is applying to.
While need-based law school scholarships can be easy to obtain, it depends on a student's background. Furthermore, many ivy-league schools like Yale offer more need-based scholarships. They do so because more funding is provided to those schools by the government.
Need-based scholarships can also be grants from the government. These types of scholarships can be awarded at the state or federal level. Some states offer more options than others, so this is something to consider when applying to law schools.
Merit-Based Law School Scholarships
A merit-based law school scholarship is awarded to students with academic achievements. Merit-based scholarships are typically awarded to students that have high LSAT scores and a good grade point average (GPA). However, things like sports and involvement in clubs or outside organizations can also influence merit-based scholarships.
Students seeking merit-based scholarships have the best luck when pursuing law schools that are not ivy-league. Additionally, many law schools ranked between 0 and 25 (in the country) don't offer merit-based scholarships. Merit-based scholarships are rarely offered at schools like Harvard because the top universities don't need to compete with other schools.
Merit-based scholarships are also not reserved for first-year law students. Students entering their second or third year can also be eligible for merit-based scholarships. Many law schools will have funding for students who maintain high GPAs each year.
Law schools offer these scholarships because they don't want the top students to transfer to other schools, so it's important to note that top-performing law students have some leverage when it comes to merit-based scholarships.
Criteria-Based Law School Scholarships
A criteria-based law school scholarship is awarded to students when they meet specific criteria. These scholarships are rarer than merit-based and need-based scholarships, so it depends on the law school and the student.
The standards for a criteria-based scholarship can also vary based on the law school. For example, the criteria for a scholarship at the University of Washington Law School can differ from those for a similar scholarship at USC School of Law. Large law firms are also known for awarding criteria-based scholarships to students as a recruitment method for the firm.
There are also criteria-based scholarships for students who want to study specific areas of law. If there is a shortage of civil lawyers, for example, a law firm or law school can award a student with a scholarship to study that field of law.
Criteria-based scholarships can also be awarded by outside companies that don't have direct involvement with a law school. In these cases, a company usually awards a scholarship to an employee or the family of an employee based on achievements at work. Companies with a vested interest in a student's success at a law school can also offer a criteria-based scholarship.
Ultimately, these scholarships can be offered for many different reasons.
Grants and Scholarships for Each Law School (2022)
Below is a table that compares the current scholarship and grant information for law schools in the United States.
Factors To Consider When Choosing Scholarships and Grants for Law School
Most law schools offer grants and scholarships. While that makes it easy to acquire financial assistance for law school, each scholarship and grant is different. So, you need to evaluate your needs and personal situation before choosing a scholarship or grant.
To help you narrow down your options, we'll take you through the key factors to consider when choosing scholarships and grants for law school.
How To Improve Your Odds of Getting a Scholarship
The best way to improve your odds of getting a scholarship is to raise your GPA. A GPA between 3.5 and 4.0 gives you a good chance of securing a scholarship for law school. However, having a GPA closer to 4.0 increases the odds even further.
You can also improve your LSAT scores to increase your odds of getting a scholarship. Students with an LSAT score close to 170 have a great chance of earning a scholarship for law school.
Some other ways to increase the odds of getting a scholarship for law school are listed below.
Apply to law schools where your grades and test scores are in the 75th percentile
Ask a law school to match an offer from another law school
Participate in extracurricular activities
Have work experience
Submit a resume
Write a good college essay
We also recommend applying to more than one scholarship program to increase your odds.
How To Choose the Best Scholarship or Grant For You
Being offered a scholarship is a testament to a student's achievement and potential. That said, some scholarships are better than others. Plus, personal needs can influence whether or not a scholarship is a good choice.
Here are some factors to consider when selecting a scholarship:
Consider the return on your investment (ROI); scholarships from bottom-ranked law schools are less valuable than scholarships from the best law schools
Consider the economy and how it can impact scholarship funding; in some cases, it could be beneficial to evaluate if the money from a scholarship is keeping up with school costs and inflation
Think about where you want to practice law (the state)
You should only consider a law school scholarship after you understand your personal needs.
Payment Options and Scholarship Amount
Law school scholarships don't always cover the full cost of tuition. Therefore, students need to pay for the rest with cash, credit cards, or student loans. Before choosing a scholarship, it's necessary to evaluate the school's payment options.
One example is if a law student can get a scholarship covering half of the education cost. While the scholarship covers half of the cost, you won't be able to enroll if you can't secure a student loan. So, a scholarship at one of the best law schools might not cover the cost of the education. Plus, less money from a school that offers a full-ride can be more valuable to students with less financial assistance.
Additionally, students should consider the cost of law school. If a law school costs $100,000 per year, a scholarship that only awards a student $10,000 per loses value.
Based on these factors, it's important to consider the other financial challenges before enrolling in law school.
Law School Scholarships FAQ
How Many Types of Law School Scholarships Are There?
A few different types of scholarships and grants are available for law students. The type of scholarship is often based on where the money is coming from.
Some common types of law school scholarships are listed below.
Awards from law associations
Education foundations
Law schools
Alumni groups
Disability support organizations
State-based scholarships
Specialized legal defense funds
Private companies
Non-profit organizations
Members of a law firm
The amount of money awarded to a student depends on the type of scholarship and the school they're attending.
Are There Law School Scholarships for Part-Time Students?
There are several law school scholarships available for part-time students. While there are options for part-time students, part-time students don't have as many options as their full-time peers. Additionally, scholarships for part-time students might also come with additional requirements. For example, some scholarships are very specific about the number of days or nights a student needs to be on campus.
Scholarships for part-time law students are also different because some people might have priority over others. One example is that many part-time scholarships are for parents who have to manage family life and school life. People in lower-income brackets also have a better chance of securing a part-time scholarship for law school.
Minority groups and members of the LGBTQ+ community might also have access to special scholarship programs for part-time law programs.
Can You Apply For Multiple Scholarships at the Same Time?
Yes, you can apply for multiple scholarships at the same time. In fact, we recommend applying for several scholarships at the same time. The more scholarships you apply for the better because it increases your chances of getting one. Remember, you miss 100% of the shots you don't take!
That said, it's important to manage the application process properly. Applying to many schools and scholarship programs can be daunting and hard to keep up with. This is because students will need to make many copies of application essays, transcripts, and more. So, make sure to narrow down your options before applying to scholarship programs.
Are There Scholarships for Online Law Programs?
Yes, there are scholarships for online law programs. For students to be eligible for scholarships, they need to enroll in a school that's approved by the American Bar Association (ABA). While not all online law schools have scholarship opportunities, many accredited law schools have online programs.
In cases where accredited universities have online programs, grants and scholarships can apply to in-person or online classes. Students who have a hybrid schedule (in-person and online classes) are also eligible for scholarships and grants. Ultimately, scholarship and grant eligibility is based on whether or not a school is accredited by the ABA.
Final Thoughts
Having the best grades and test scores is a great start to getting into law school. Good grades set you apart from your peers and open the door to many law programs across the United States. Still, you need to make sure you can afford the law program you want to enroll in.
Student loans can be a great way to cover the cost, but high-interest rates can make college loans difficult to pay back. For these reasons, you should always consider the grants and scholarship programs offered by law schools. With a scholarship or grant, you can greatly reduce the financial birders of law school.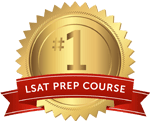 Get the #1-Rated LSAT Prep for free.
Try Risk Free
✓ No card required
✓ 1 minute setup