Trade shows are a great way to expand your knowledge and build your network. Take a look at these ten, hosted throughout the rest of 2018 to see which ones you'd be most interested in attending.
47th Spring Conference
Dates: March 18-20, 2018
Location: Hilton Bonnet Creek, Orlando, Florida
The ABA Section of Environment, Energy, and Resources' 47th Annual Spring Conference will dive into a number of issues environmental, energy, and resources lawyers are dealing with today. Some of the nation's top government officials, academics, in-house counsel, and leading environmental lawyers will be there to share their knowledge. The agenda includes: Superfund reform, microgrids, tribal consultation, interstate water disputes, citizen science, Supreme Court jurisprudence, environmental permitting, and an update on Trump's first year in office.
Annual Antitrust Law Spring Meeting
Dates: March 11-13, 2018
Location: Marriott Marquis, Washington, DC
If you're in competition and consumer protection law, you can't miss this conference. The largest of its kind in the world, you'll meet with more than 3,000 practitioners from 60 countries. You'll learn from academics, in-house counsel, private practitioners, and more. At the Spring Meeting, you'll be able to attend more than 60 panel discussions about the latest developments, such as international issues, litigation, consumer protection tracks, mock trials, and policy. Evenings include plenty of opportunities to network with colleagues.
To register, click here.
20th Annual Spring Conference
Dates: April 4-7, 2018
Location: Hilton Washington, Washington, DC
Attend a number of sessions focused on arbitration, mediation, negotiation, and various speciality practice areas, all designed to make you a better Dispute Resolution professional. This is a wonderful conference for those who are new to dispute resolution practice and those who've been practicing for years alike.
ABA Day in Washington 2018
Dates: April 10-12, 2018
Location: Holiday Inn Capitol Hill, Washington, DC
This is your chance to connect with fellow ABA members, state, local, and specialty bar leaders to learn more about and discuss the legislation that impacts you, your profession, and the administration of justice. Join colleagues to educate Congress on the issues that are most important to you as a lawyer.
NACBA 26th Annual Convention
Dates: April 19-20, 2018
Location: Sheraton Downtown Denver, Denver, Colorado
This annual convention is sponsored by the National Association of Consumer Bankruptcy Attorneys. You'll find an agenda with five plenary sessions, 20 breakout sessions, and a range of roundtable discussions surrounding today's most relevant bankruptcy topics. Continuing education credits are available.
To register, click here.
American Intellectual Property Law Association 2018 Spring Meeting
Dates: May 15-17, 2018
Location: Westin Seattle, Seattle, Washington
More than 500 intellectual property practitioners from all around the world will meet here for the second of three annual meetings. The Spring Meeting features three full days of comprehensive CLE program tracks and networking. Expand your knowledge on all things related to trade secret, copyright, patent, and trademark law.
To register, click here.
International Trademark Association Annual Meeting
Dates: May 19-23, 2018
Location: Seattle, Washington
If you're already in town to attend the AIPLA Spring Meeting, stick around a bit longer to attend this conference, too. It's the world's largest attended trademark event, and would be a great complement to the conference held just days before. You'll be able to connect with a variety of government officials, marketers, brand protection professionals, and other IP professionals, including practitioners just like you.
To learn more about the event, click here.
American Immigration Lawyers Association - Annual Conference 2018
Dates: June 13-16, 2018
Location: San Francisco, California
Immigration lawyers, this one's for you! This conference will feature close to 150 sessions, highlighting topics such as asylum, business, and everything in between. No matter your experience level, you'll be able to find a track that's right for you, and earn up to 32 continuing education credits.
To register, click here.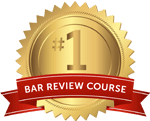 Get the #1-Rated Bar review for free.
Try Risk Free
✓ No card required
✓ 1 minute setup