The CA Exam is in
00

DAYS

:

00

HRS

:

00

MIN

:

00

SEC
Start Preparing

California Bar Exam Information
---
Get Detailed Information About The California Bar Exam Including Schedules, Grading, Reciprocity, Fees, Common Questions & More.
Try Our #1-Rated Bar Review Course for Free
No card required 1 minute setup
California Bar Exam Essay Questions
California Performance Test
Multistate Bar Exam (MBE)
California Bar Exam Essay Questions
The CA Essay portion of the exam consists of five essay questions. This part is designed to measure an applicant's ability to analyze legal issues arising from fact situations.
Answers are expected to demonstrate the applicant's ability to analyze the facts of the question, to tell the difference between material facts and immaterial facts, and to discern the points of law and fact upon which the question turns. The answer must show knowledge and understanding of the pertinent principles and theories of law, their qualifications and limitations, and their relationships to each other.
The answer should evidence the applicant's ability to apply the law to the given facts and to reason in a logical, lawyer-like manner from the premises adopted to a sound conclusion.
An applicant should not merely show that they remember the legal principles, but should demonstrate their proficiency in using and applying them.
California Performance Test
California does not use the Multistate Performance Test (MPT), but rather drafts its own 90-minute performance test section.
California's performance test question is designed to test an applicant's ability to understand and apply a select number of legal authorities in the context of a factual problem.
The question consists of a file and library with instructions advising the applicant what tasks should be performed.
In addition to measuring an applicant's ability to analyze legal issues, the performance test question requires applicants to:
Sift through detailed factual material and separate relevant from irrelevant facts, assess the consistency and reliability of facts, and determine the need for and source of additional facts;
Analyze the legal rules and principles applicable to a problem and formulate legal theories from facts that may be only partly known and are being developed;
Recognize and resolve ethical issues arising in practical situations;
Apply problem-solving skills to diagnose a problem, generate alternative solutions, and develop a plan of action;
Communicate effectively, whether advocating, advising a client, eliciting information, or effectuating a legal transaction.
The performance test answer is graded on the applicant's responsiveness to instructions and on the content, thoroughness, organization and persuasiveness of written tasks.
Multistate Bar Exam (MBE)
The MBE, which is administered on Wednesday, is developed and graded by the National Conference of Bar Examiners (NCBE).
This portion of the examination is an objective 6-hour examination containing 200 multiple-choice questions, which is divided into two 3-hour sessions during which 100 questions are administered.
The MBE tests 7 subjects: civil procedure, constitutional law, contracts, criminal law & procedure, evidence, real property, and torts.
See our MBE Prep Course and our MBE Practice Questions for addtional MBE resources (included in all of our comprehensive bar exam review courses).
2023 Filing Deadlines & Fees
When is the California Bar Exam in 2023 & 2024?
| | | | | |
| --- | --- | --- | --- | --- |
| | February 21-22, 2023 | July 25-26, 2023 | February 27-28, 2024 | Jul 30-31, 2024 |
| Timely Filing: | Nov 1, 2022 | Apr 3, 2023 | TBD | TBD |
| Final Filing: | Jan 3, 2023 | May 15, 2023 | TBD | TBD |
Feb 21-22, 2023
Timely Filing: Nov 1, 2022
Final Filing: Jan 2, 2023
Jul 25-26, 2023
Timely Filing: Apr 3, 2023
Final Filing: May 15, 2023
Feb 27-28, 2024
Timely Filing: TBD
Final Filing: TBD
Jul 30-31, 2024
Timely Filing: TBD
Final Filing: TBD
How Much Does the California Bar Exam Cost?
| | |
| --- | --- |
| Exam Fee: | $677 |
| Attorney Exam Fee: | $983 |
| Laptop Computer Fee: | $153 |
| Late Filing Fee: | $727 |
| Final Filing Fee: | $927 |
What is the California Bar Exam Schedule Like?
The California bar exam is a two-day exam administered twice a year, with the MBE given on the last Tuesday/Wednesday of February and July.
| | | |
| --- | --- | --- |
| Day | AM | PM |
| Tue | 3 essays (3 hours) | 2 essays & 1 performance Test (3.5 hours) |
| Wed | 100 MBE questions (3 hours) | 100 MBE questions (3 hours) |
What Subjects Are Tested On The California Bar Exam?
MBE Subjects
Civil procedure
Constitutional law
Contracts
Criminal law & procedure
Evidence
Real property
Torts
Essay Subjects
Business associations
Civil procedure
Criminal law & procedure
Contracts
Constitutional law
Community property
Evidence
Professional responsibility (California and ABA)
Real property
Remedies
Torts
Trusts
Wills
CA Bar Exam Grading & Scoring Process
A minimum scaled score of 1390 out of 2000 is required to pass.
Required MPRE Score: 86
Results
Results for the February exam are released in May.
Results for the July exam are released in November.
How many times can you take the California Bar Exam?
There is no limit to the number of times you can take the California bar exam other than the fact that there are only two administrations per year, one in February and one in July.
Test takers may take the California bar exam as many times as they choose.
California Bar Exam Reciprocity
If you took the bar exam in another state, there are only a few ways to practice in California without taking its bar exam.
MBE Transfer
California does not accept MBE scores from a bar exam taken in another jurisdiction.
Admission on Motion
California does not allow for admission on motion, which means every attorney wishing to enter the bar must pass some type of examination, either the state bar, or, for practicing attorneys, the "Attorney's Examination."
The "Attorneys' Examination" is the California Bar Examination for which attorney applicants may apply, provided they have been admitted to the active practice of law in a United States jurisdiction at least four years immediately prior to the first day of administration of the examination and have been in good standing during that period.
The Attorneys' Examination includes essay questions and performance tests of the General Bar Examination but not its multiple-choice questions (i.e. MBE).
How do I Contact the California Bar?

BarMax CA Course
Structure & Features
Comprehensive & Concise

BarMax California includes the 14 major exam topics, corresponding to the topics tested on the exam. We then divide each topic into 7-8 subtopics to make the study material easier to absorb.

Superior Content

Each subtopic includes an in-depth outline, an audio lecture from a Harvard-educated law professor, and when appropriate, numerous flashcards and multiple-choice MBE questions from previous exams. You will also receive the outines in printed hardcopy format.

Instant Access

When you enroll in BarMax California your study materials are available instantly so you can start immediately and study at your pace. Plus, there are no additional fees to access the full course after the exam.

Essay Grading

You will also receive 10 free writing critiques (performance tests or essays). Additional critiques can be purchased a la carte. Our former bar graders ensure you receive accurate and effective criticism.
Civ Pro Lecture Sample


BarMax CA Pass Rates / State Rates (%)
79

/68

70

/59

53

/46

first time ABA
first time
overall
I passed the California bar on my first try. Using only BarMax, I felt as prepared as I could be come exam day.
Geoff Friedman
How BarMax Helps You

Pass the Bar.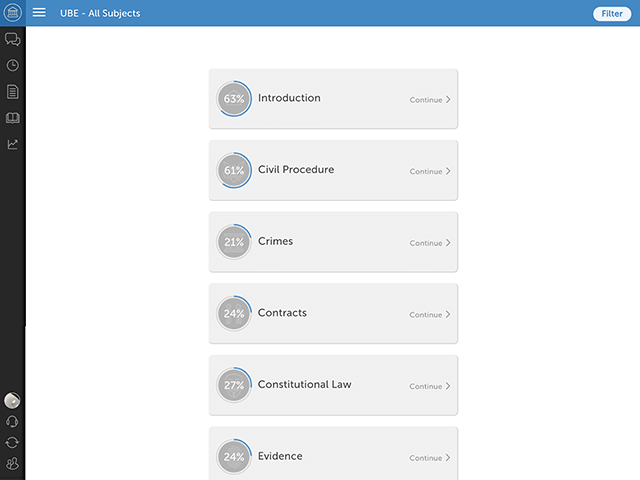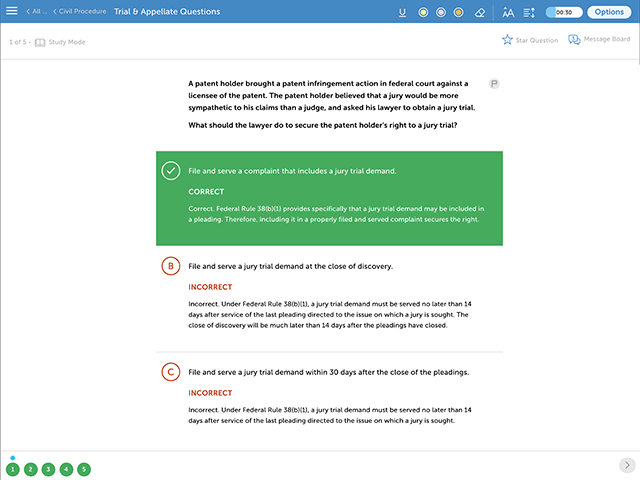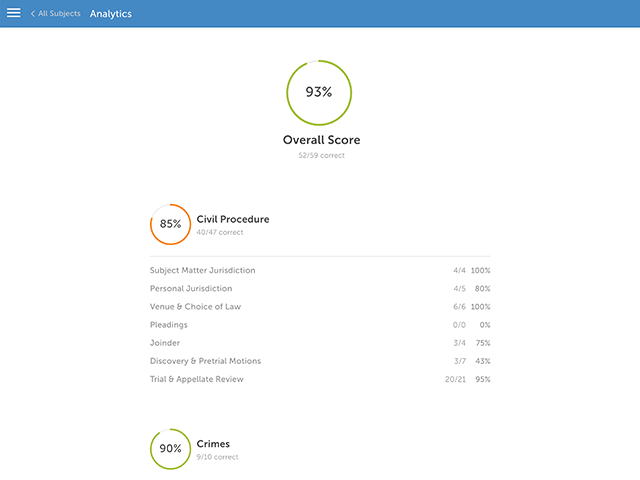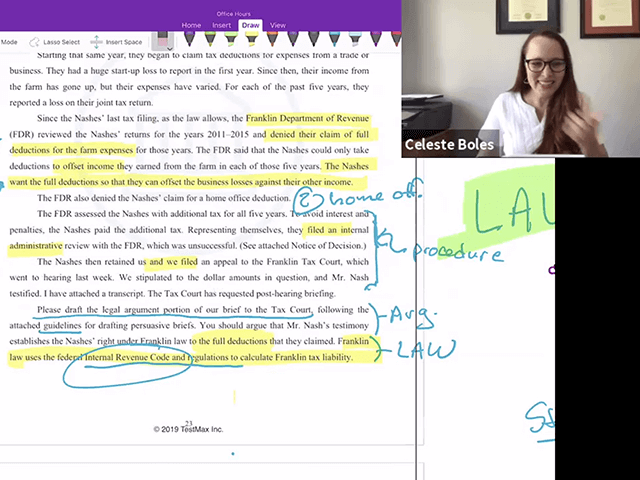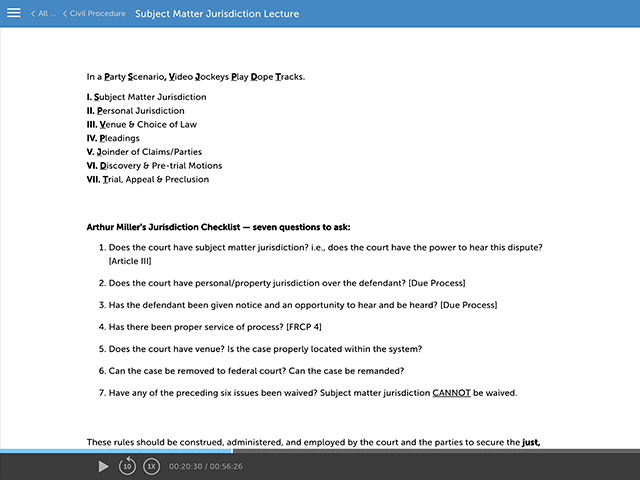 Comprehensive
Exactly what you need to pass
Only Real Questions
Licensed from the NCBE complete with explanations
Detailed Analytics
Track your progress and use time efficiently
World-Class Instructors
Get your questions answered by expert instructors
On Demand Lectures & Outlines
Clear and concise with mnemonics and flashcards

Instant Access
Access our course instantly and keep it for life (even though we are confident you won't need it that long).

Study Anywhere
The entire course fits inside our app and no Internet is required to access the materials.

Real Questions Only
Over 1,950 real MBE questions, plus real essays and real performance tests licensed directly from the NCBE.

High-Quality Content
BarMax's founders and professors are Harvard Law School alumni.

Clear & Concise
Only one outline per subject plus mnemonics and flashcards to help you memorize.

Higher Pass Rates
We release our pass rates while other bar courses refuse to.

Writing Feedback
Personalized writing feedback by former bar exam graders is included with the course.

Flexible Pricing
0% financing available with Affirm with payments as low as $39/month.