The MA Exam is in
00

DAYS

:

00

HRS

:

00

MIN

:

00

SEC

Massachusetts Bar Exam Information
---
Get Detailed Information About The Massachusetts Bar Exam Including Schedules, Grading, Reciprocity, Fees, Common Questions & More.
Try Our #1-Rated Bar Review Course for Free
No card required 1 minute setup
To become a lawyer in Massachusetts, one must hold a degree from an accredited four-year university, make a passing score on the LSAT exam and complete an accredited law school program, and finally, complete the BAR exam with a UBE total of 270 or greater.
The Massachusetts Bar Exam uses the two-day Uniform Bar Exam(UBE), which is administered twice a year. The first day consists of the Multistate Performance Test (MPT) and the Multistate Essay Exam (MEE). Day 2 consists of the Multistate Bar Examination (MBE). The MBE is objective in nature and tests various subjects such as Civil Procedure, Constitutional Law, and much more.
The Massachusetts Bar Exam weights the day one portion of the test evenly with the second day. Both make up 50% of the overall grade. You need a 270 of 400 to pass in the state of Massachusetts, equating to a raw score of 135.
The best way to prepare for the BAR exam in Massachusetts is through studying material on the most common law subjects. For the Massachusetts Bar Exam specifically, the essay questions are likely to cover access to justice, federal rules of civil procedure, and other topics (see below).
The MBE questions include civil law, evidence, and more. Many find success through practice tests that closely resemble the content and test structure of the Maryland Bar Exam. You can find extremely helpful study material here at Test Max Prep.
The Massachusetts Bar Exam takes place twice a year, held at differing locations. You can contact the Massachusetts Board of Examiners for more information about application requirements, test day expectations, and dates.
2023 Filing Deadlines & Fees
When is the MA Bar Exam in 2023?
| | | | |
| --- | --- | --- | --- |
| | July 26-27, 2022 | February 21-22, 2023 | July 25-26, 2023 |
| Application Deadline: | May 14, 2022 | Dec 6, 2022 | TBD |
How Much Does the MA Bar Exam Cost?
| | |
| --- | --- |
| Regular Application fee: | $815 |
| Laptop Computer fee: | $75 |
What Is the MA Bar Exam Schedule Like?
The Massachusetts Bar Exam is a 2-day exam administered twice a year.
| | | |
| --- | --- | --- |
| Day | AM | PM |
| Wed | 100 MBE Questions (3 hours) | 100 MBE Questions (3 hours) |
| Thurs | 5 Essays on any subject (3 hours) | 5 Essays on any subject (3 hours) |
What Subjects Are Tested on the MA Bar Exam?
MBE Subjects
Civil Procedure
Constitutional Law
Contracts
Criminal Law & Procedure
Evidence
Real Property
Torts
Essay Subjects
Access to Justice
Agency
Federal Rules of Civil Procedure
Business Organizations
Massachusetts Rules of Civil Procedure
Constitutional Law
Professional Responsibility
Contracts
Real Property (inc. Mortgages)
Criminal Law & Procedure
Torts
Descent & Distribution of Estates
Trusts
Domestic Relations
Unfair or Deceptive Practices (G.L c. 93A)
Evidence (including Federal Rules)
Uniform Commercial Code (Articles 1-9)
Federal Jurisdiction
Wills
MA Bar Exam Grading & Scoring Process
NCBE scores the MBE component of the exam. Massachusetts total scores are reported on a 400-point scale, and a passing score of 270 is required in Massachusetts.
Massachusetts bar students are required to pass a conduct exam called the MPRE with a score of at least 85.
Results
Results for the February exam are typically released in late April, and results for the July exam are typically released in late October.
MA Bar Exam Reciprocity
Massachusetts does not have reciprocity with any jurisdiction. Entering lawyers must be certified through Massachusetts' rules regarding lawyers educated and certified in different states.
Acceptance of MBE Score
Massachusetts does allow for the transfer of actual raw MBE score from another jurisdiction only if from a concurrent exam.
Admission on Motion
Massachusetts does allow for admission on motion; the fee is $1,150.
File Applications with:
Maura S. Doyle, Clerk
Supreme Judicial Court for The County of Suffolk
John Adams Courthouse, 1st floor
One Pemberton Square, Suite 1300
Boston, MA 02108-1707
How Do I Contact the MA Bar?
info@bbe.state.ma.us
Phone: 617-482-4466
Fax: 617-542-5943
BarMax UBE Course
Structure & Features
Comprehensive & Concise

BarMax UBE includes the 14 major exam topics, corresponding to the topics tested on the exam. We then divide each topic into 7-8 subtopics to make the study material easier to absorb.

Superior Content

Each subtopic includes an in-depth outline, an audio lecture from a Harvard-educated law professor, and when appropriate, numerous flashcards and multiple-choice MBE questions from previous exams. You will also receive the outines in printed hardcopy format.

Instant Access

When you enroll in BarMax UBE your study materials are available instantly so you can start immediately and study at your pace. Plus, there are no additional fees to access the full course after the exam.

Essay Grading

You will also receive 10 free writing critiques (performance tests or essays). Additional critiques can be purchased a la carte. Our former bar graders ensure you receive accurate and effective criticism.
Civ Pro Lecture Sample
I used BarMax for the UBE and I got a 318, when passing is a 270. I loved BarMax for it's flexibility and effectiveness.
Jeremiah Styles
How BarMax Helps You

Pass the Bar.
Comprehensive
Exactly what you need to pass
Only Real Questions
Licensed from the NCBE complete with explanations
Detailed Analytics
Track your progress and use time efficiently
World-Class Instructors
Get your questions answered by expert instructors
On Demand Lectures & Outlines
Clear and concise with mnemonics and flashcards
Instant Access
Access our course instantly and keep it for life (even though we are confident you won't need it that long).
Study Anywhere
The entire course fits inside our app and no Internet is required to access the materials.
Real Questions Only
Over 1,950 real MBE questions, plus real essays and real performance tests licensed directly from the NCBE.
High-Quality Content
BarMax's founders and professors are Harvard Law School alumni.
Clear & Concise
Only one outline per subject plus mnemonics and flashcards to help you memorize.
Higher Pass Rates
We release our pass rates while other bar courses refuse to.
Writing Feedback
Personalized writing feedback by former bar exam graders is included with the course.
Flexible Pricing
0% financing available with Affirm with payments as low as $39/month.
We'll contact you!
Enter your info below to have one of our bar experts reach out to you.
Common Questions About the UBE.
What is the Uniform Bar Exam?
The Uniform Bar Exam (UBE) is effectively a national bar exam coordinated by the National Conference of Bar Examiners (NCBE) and is composed of three parts: (1) the Multistate Bar Examination (MBE) , the Multistate Essay Examination (MEE), and the Multistate Performance Test (MPT).
The UBE is uniformly administered, graded, and scored by adopting jurisdictions and results in a portable score that can be transferred to other UBE jurisdictions.
What does the Uniform Bar Exam application look like?
There is no Uniform Bar Exam application.
Applicants must register for the UBE by applying to a user jurisdiction. For example, a student taking the UBE in New York would apply to sit for the New York bar exam.
Applicants who have taken the UBE may transfer their UBE scores to seek admission in other UBE jurisdictions.
This map shows UBE jurisdictions in orange and lists the maximum age of transferred UBE scores for each jurisdiction: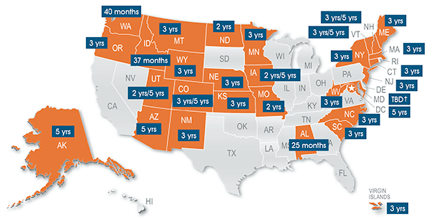 | | |
| --- | --- |
| Maximum Age of Transferred UBE Score* | Jurisdiction |
| 2 years | Missouri, North Dakota |
| 2 years/5 years | Iowa, Utah |
| 25 months | Alabama |
| 3 years | Connecticut, Kansas, Maine, Massachusetts, Minnesota, Montana, Nebraska, New Jersey, New Mexico, New York, North Carolina, Oregon, South Carolina, Virgin Islands, West Virginia, Wyoming |
| 3 years/5 years | Colorado, New Hampshire, Vermont |
| 37 months | Idaho |
| 40 months | Washington |
| 5 years | Alaska, Arizona, District of Columbia |
*The maximum age of transferred UBE scores in Maryland has not been determined.
Please note, however, that jurisdiction rules and policies can change, so we would strongly advise consulting the jurisdiction's bar admission agency directly for the most current information.
What states accept the UBE?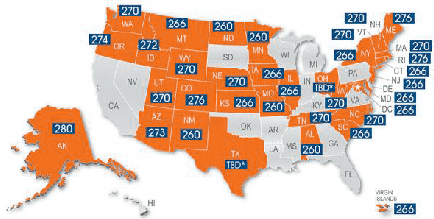 These are the UBE jurisdictions:
Alabama
Alaska
Arizona
Arkansas
Colorado
Connecticut
District of Columbia
Idaho
Illinois
Indiana
Iowa
Kansas
Kentucky
Maine
Maryland
Massachusetts
Michigan (February 2023)
Minnesota
Missouri
Montana
Nebraska
New Hampshire
New Jersey
New Mexico
New York
North Carolina
North Dakota
Ohio
Oklahoma
Oregon
Pennsylvania
Rhode Island
South Carolina
Tennessee
Texas
Utah
Vermont
Washington
West Virginia
Wyoming
Virgin Islands
While technically not UBE jurisdictions, the following jurisdictions either administer or substantially administer the UBE:
Hawaii
Mississippi
South Dakota
Wisconsin
Are there states that are considering the UBE?
Every year more and more states are adopting the UBE.
In February 2021, the Texas bar exam will administer its first Uniform Bar Exam.
California and Florida are the largest legal markets still administering state-specific tests. While Florida has formally considered adopting the UBE, California seems to have no interest in doing so. The California bar exam, however, recently shorten from three days to two days, a step in the right direction.
What are the Uniform Bar Exam subjects?
Multistate Bar Exam Subjects:
Civil Procedure (Civ Pro)
Criminal Law and Criminal Procedure (Crimes)
Torts
Real Property
Contracts
Constitutional Law (Con Law)
Evidence
Multistate Essay Exam Subjects:
Business Associations : Agency and partnership, and corporations and limited liability companies.

Civil Procedure (Civ Pro) : Jurisdiction and venue, the law applied by federal courts, pretrial procedures, jury trials, motions, verdicts and judgments, and appealability and review.

Conflicts of Law : These issues are embedded in other topic areas and do not appear as standalone questions. Issues include domicile, the jurisdiction of courts, choice of law, and recognition and enforcement of other states'judgments and foreign judgments.

Constitutional Law (Con Law) : Nature of judicial review, separation of powers, relation of nation and states in a federal system, and individual rights.

Contracts : Formation of contracts, defenses to enforceability, contract content and meaning, performance, breach and discharge, remedies, and third-party rights.

Criminal Law and Procedure (Crimes) : Homicide, other crimes, inchoate crimes; parties, general principles, and constitutional protection of accused persons.

Evidence : Presentation of evidence, relevancy and reasons for excluding relevant evidence, privileges and other policy exclusions, writings, recordings, and photographs, and hearsay and circumstances of its admissibility.

Family Law : Getting married, being married, separation, divorce, dissolution, and annulment, child custody, rights of unmarried cohabitants, parent, child, and state, adoption, and alternatives to adoption.

Real Property : Ownership of real property, rights in real property, real estate contracts, mortgages/security devices, and titles.

Secured Transactions : Assume articles 1 and 9 of Uniform Commercial Code are adopted and in effect. General UCC principles, applicability, and definitions, validity of security agreements and rights of parties, rights of third parties, default.

Torts : Intentional torts, negligence, strict liability and products liability, and other torts.

Trusts and Decendents' Estates : Intestate succession, wills, family protection, living wills and durable healthcare powers, and trusts and future interests.
What's the best way to study for the UBE?
BarMax UBE offers comprehensive prep for the Uniform Bar Exam for only $2,495.
The course comes with instant and lifetime access as well as a pass guarantee.
In addition to on-demand audio lectures by legendary law professors, BarMax UBE offers condense black-letter law outlines, flashcards, and the largest banks of real MBE, MEE and MPT questions on the market.
BarMax UBE also includes a detailed course calendar to guide you as you prep.
And while BarMax is a remote learning process, this does not mean you will be alone. You will have access to chat, email and message boards for content-related questions as well as personalized writing revisions by former bar exam graders.
What are the Uniform Bar Exam dates?
The UBE is administered twice a year over two days, with the MBE portion given on the last Wednesday of February and July and the MEE and MPT given on the Tuesday prior to that.
How is the UBE scored?
The NCBE scores the MBE component of the UBE. Jurisdictions grade the MEE and MPT components.
The MEE and MPT scores are scaled to the MBE and UBE total scores are calculated by the NCBE.
The MBE is weighted 50%, the MEE 30%, and the MPT 20%.
UBE total scores are reported on a 400-point scale.
Jurisdictions set their own minimum passing scores for the UBE: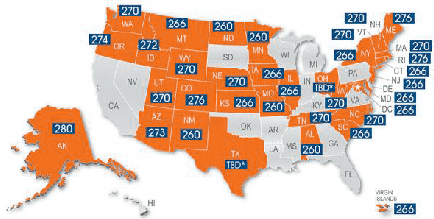 | | |
| --- | --- |
| Minimum Passing UBE Score* | Jurisdiction |
| 260 | Alabama, Minnesota, Missouri, New Mexico, North Dakota |
| 266 | Connecticut, District of Columbia, Iowa, Kansas, Montana, New Jersey, New York, South Carolina, Virgin Islands |
| 270 | Massachusetts, Nebraska, New Hampshire, North Carolina, Utah, Vermont, Washington, West Virginia, Wyoming |
| 272 | Idaho |
| 273 | Arizona |
| 274 | Oregon |
| 276 | Colorado, Maine |
| 280 | Alaska |
What's the Uniform Bar Exam format?
The UBE consists of three sections: the Multistate Bar Examination (MBE), the Multistate Essay Examination (MEE), and the Multistate Performance Test (MPT).
The format is as follows:
Tuesday AM: 6 30-minute Multistate Essay Questions
Tuesday PM: 2 90-minute Multistate Performance Tests
Wednesday AM: 100 MBE Questions (3 hours)
Wednesday PM: 100 MBE Questions (3 hours)
What's the difference between the UBE and the MBE?
The Multistate Bar Examination (MBE) is a six-hour, 200-question multiple-choice examination developed by NCBE and administered by user jurisdictions as part of the bar examination on the last Wednesday in February and the last Wednesday in July of each year.
The MBE is a component of the Uniform Bar Exam (UBE). Jurisdictions that administer the UBE weight the MBE component 50%.