Meet Sheila Monjazeb. She graduated from Chapman Law School in 2009 and, like most law students, she followed the herd for her bar exam prep at first, but luckily she found BarMax for the iPad. Here is her story."
"I have taken the California bar 4 times and the only key to my succes in passing it, finally, was BarMax. Like almost every law school graduate, I took the BarBri course to help prep me for the bar but I failed. I then tried [Kaplan] PMBR thinking this course would give me the edge I needed to pass and again I failed. I was determined to pass and used both my BarBri materials and Kaplan materials to study for my third attempt and again I failed. When a friend of mine told me to use BarMax I was open to any ideas that might help me pass. Using only BarMax and putting aside Barbri and Kaplan, I was able to finally pass the bar on my 4th attempt."
"My law school only advertised BarBri and Kaplan on campus. So I didn't even know any other study aid existed out there to help me pass the bar. BarMax gave me the skills and knowledge I needed to pass, which BarBri and Kaplan couldn't give me. BarMax's outlines are more concise and direct as opposed to BarBri and Kaplan's lengthy and unorganized outlines which only confused me. BarBri's Conviser and In Class Workbook provide students with 2 completely different outlines which overwhelmed me and wasted too much time trying to learn the hundreds of pages of repetitive and unnecessary material. Kaplan's outlines are lengthy and difficult to absorb due to the structure and format."
"BarMax's outlines provide you with everything you need to know for the bar without confusing you or wasting time. And it is all contained in a simple iPad. BarMax's practice exams for the MultiState, Performance Tests and Essay portion are real exams given by the bar in the past as opposed to hypotheticals created by BarBri and Kaplan. BarMax is the best bar review prep course on the market and if I had known about it earlier I would have passed the bar the first time around and not the fourth."
Sheila Monjazeb"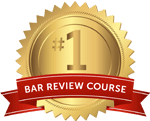 Get the #1-Rated Bar review for free.
Try Risk Free
✓ No card required
✓ 1 minute setup