Administrative Law is an area of law that oversees the activities of state or federal agencies. It aims to regulate the complex intersection of social, economic, and political spheres of life. In short, it looks at government action (or inaction) and regulations that affect people and entities such as businesses, associations, and organizations.
In this article, we define administrative law, discuss what lawyers do in this field on a typical day, outline the areas of practice, and explore career options.
Areas of interest
Rulemaking
Homeland Security
State and Local Law
Adjudication
Preemption
Election Law
Trade
Taxation
Congressional Research
Environmental Law
Immigration
Transportation Law
Regulatory Policy
What are the roles of an administrative lawyer?
Practitioners of administrative law have a range of capacities and roles that span various levels and branches of government. They also play host to many private or non-profit organizations. From commenting on new regulations to prosecuting, defending, and adjudicating cases involving proposed regulations or perceived violations, their tray is full.
Drafting Regulations
One of the significant roles of administrative lawyers is to write agency regulations (rulemaking). Federal, state, and local agencies have issued thousands of rules and regulations. Though some of the usual rules are drafted by non-lawyers, using an approved template, the bulk of new regulations require the input, attention, and legal expertise of seasoned administrative lawyers working under an agency.
Lawyers seeking to draft rules must develop excellent legal drafting skills.
Counseling Official and Agency Personnel
From time to time, administrative lawyers are also called upon to offer legal advice to members of state agencies and other key players to ensure that any rules proposed are logical, lawful, and fundamentally correct. While the experts may know what the new policy should look like, it's the knowledgeable administrative lawyers who will ensure that the law holds weight.
Lawyers who take up the roles of regulatory counsels may work with scientists and other technical experts, for example, who need help in formulating draft regulations. They can also help agency staffers whose duty is to create or modify agency policies within specific statues, with phrasing and legal protocol. By helping policymakers, administrative lawyers ensure that any policy changes are effective.
Commenting on Regulations
Commenting on new agency rules, whether to ensure legal soundness or to advocate a policy agenda, is a critical part of administrative law practice. Lawyers analyze proposed regulations and address any legal or constitutional problems before promulgating a new law. Internal comments and adjustments by the Office of Management and Budget are often incorporated before the commenting goes public, for example.
Under the APA, any proposed law or regulation must be brought before the public for comment. It's an important window of opportunity that provides anyone with an outside interest to lobby for amendments to the proposed regulations or rules. During this period, non-profits and private forms can submit a petition for changes to agency rules before they're passed into law.
Organizing Regulatory Hearings
Lawyers who pursue a career in administrative law may also take part in the Notice and Comment phase of rulemaking. This kind of work involves drafting the hearing notice, preparing an agenda, publicizing the meetings, and reaching out to interest groups that are affected by proposed changes or rules. Such regulatory hearings allow the affected parties or other interested parties to advocate for new laws or revise existing regulations.
Scrutinizing Public Comments
Once the public submits its comments, agency or state lawyers sit down and assess the feedback on the proposed rules and regulations. They consider the policy implications and the legal viability of incorporating all the suggested changes, debating and discussing the various consequences.
After that, the agency can update rules based on public input before the OMB reviews the final submission (in its modified form). If the new rule is passed, it will then be officially published and promulgated.
Investigation and Oversight
Lawyers practicing administrative law also have the opportunity to carry out an investigation for oversight on behalf of investigative committees in state legislatures, or within an agency office like the Inspector General. For instance, the Department of Justice may investigate whether Homeland Security is complying with the statutory limitations that Congress has mandated.
On the legislative front, the lawyers working with the Senate Select Committee on Homeland Security and Government Affairs may also monitor the department and other security agencies through their investigations and hearings. The goal of these cooperative efforts is to ensure the department and related agencies, are interpreting and using any administrative rules correctly.
As part of oversight, the team of lawyers may review documents, interview witnesses, and draft reports on behalf of the Senate Oversight Committee. They will also recommend administrative or judicial action, where there is a breach of trust, misuse of office, or flagrant disregard for the law.
Defending or Challenging Agency Regulatory Action
Budding trial lawyers also have the chance to question or justify regulatory action or inaction through the legal process (called litigation). If an agency oversteps the bounds set by statutes when making rules or regulations or fails to pass these, interested parties can challenge the agency's rulemaking in a court of law.
Some possible challengers could be private firms or NGOs who are pushing for their member's interests via the regulatory process. Such groups will seek the help of an administrative lawyer when they feel an agency is not discharging its mandate or exceeding its constitutional and statutory limitations.
On the other side, an agency like the DOJ may seek the help of lawyers to defend them against the parties who are challenging them in court.
Defending or Prosecuting Agency against Violations
Once the regulations are promulgated, it is up to the state agencies or the Attorney General's (AG's) office to enact those regulations. In other words, the agencies have to monitor entities to ensure they comply with the new regulatory requirements. Any violation of the laws can result in lawsuits that require lawyers to represent both parties.
While prosecution falls squarely on trial lawyers from the DOJ, for example, it's up to the administrative lawyers to prepare the grounds for the case, discuss a possible settlement, and bring forth witnesses.
Participating in Administrative Hearings
As an administrative lawyer, your work may entail representing your agency, particular interest group, or private client in administrative hearings. This situation may occur when a party feels that the agency's rules were applied unfairly, for example.
The matter will be brought before an Administrative Law Judge (ALJ) who has an affiliation with the agency, and your role would be to represent the agency, the person, or the entity challenging the application of those rules and regulations.
Skills to Succeed as a Lawyer
Lawyers, like other aspiring professionals, must cultivate a set of skills that will help them discharge their duties effectively. Here are some of the skills that you need to hone:
Attention to detail
You must develop an understanding of administrative procedures and laws. Your LLB will have laid an adequate foundation, but it's when you go out and start practicing that you will truly grasp those laws and see how they work.
Negotiation
The next skill that you need to hone is good negotiation and the power to argue your point. You will be advocating, working with lobby groups, and representing parties with different interests. While you may not always reach a mutual understanding or hold the same position on everything, you should be able to convince other parties to cede ground or make compromises before you strike a deal.
Writing
As we have seen, rulemaking is one of the critical roles of an administrative lawyer. You're also responsible for drafting applications and contract documents. Both call for excellent research and writing skills.
Other Skills
You must be a patient observer, listener, and decision-maker.
You will be arguing and refuting arguments, so you need to be a practiced orator.
Analytical ability will also help you to identify flaws or problems in any proposed regulations in an objective way.
What does an administrative lawyer do on a typical day?
On a day-to-day basis, you will be analyzing cases to determine whether it's best to file litigation against the other party or not. You will be conferring with representatives from agencies and gathering information and evidence for prosecution. Like most other lawyers, you may also prepare lawsuits and supporting documents that are necessary for filing a suit.
You will also be advocating for the interests of your clients and safeguarding them through the legal process. Your experience in law will be invaluable, too. You will be instrumental in offering legal counsel before any client takes legal action, for example.
Once you file a case; you will take part in the legal proceedings. You have to prepare grounds and documents for motions, stipulations, and pleadings. Where parties want to enter into a mutual agreement, you will be the one to make the MOUs and contract documents.
Why Pursue a Career in Administrative Law?
Looking at the preceding roles, it is apparent that the work of an administrative lawyer intersects with just about any kind of agency work. Their work also affects private firms, non-profits, and other vital players seeking legal assistance.
It's natural to ask, "Why should I work as an administrative lawyer?" A career in this field offers several advantages, making it an attractive path for law graduates. Administrative lawyers have a ton of opportunities to engage with different stakeholders in rulemaking and amendments to agency regulations.
The qualities of the job, work-life balance, and diversity of issues are also some of the reasons you should consider this line of work.
Significance of the work
An administrative lawyer has the opportunity to conduct work that's going to benefit the society at large. They not only an advocate but also serving the noble role of interpreting statutes, which for reasons of political expediency or compromise may be vague or have grey areas.
Quality of the work
If you have the chance to practice law in a government setting, fresh from law school, you will be exposed to a range of issues. You will experience significantly higher levels of responsibility early in your career than another graduate who joins a law firm.
Diversity of Issues
Administrative law is broad, and several agencies write, evaluate, and defend proposed regulations. The administrative work lets you dabble in various areas spanning a full spectrum. Your job would be to ensure that rules and regulations in different fields such as intelligence, consumer services, health, food, entertainment, and any area that interfaces with administrative law are sound.
Flexibility in legal practice:
Some people think that administrative lawyers are only tasked with drafting rules and regulations for federal or state agencies according to the APA and related laws. That's not true.
Lawyers in this field do a myriad of work at various levels of government, with non-profits, or with private firms. So, you won't just work on rulemaking, but organize public hearings, and comment on regulations. You would also litigate, challenge, or defend the government action or inaction with regards to the regulations.
How to become an Administrative Lawyer?
The first step to becoming an administrative lawyer is obtaining a Bachelor of Law (LLB) degree from any of the ABA-recommended colleges or universities. Consider taking other courses that could dovetail with your majors, such as business or economics. A typical LLB degree at an American university takes four years.
Once you graduate with an LLB, you will need to register for the LSAT (Law School Admission Test). Find an exam center near you, pay the fee, and start preparing for the tests. The LSAT includes five sections of multiple-choice questions and a written, ungraded portion.
It's imperative that you pass the LSAT as it determines whether you will be eligible to join a law school.
Next, find an ABA-approved law school and submit an application. The American Bar Association has a list of law schools on its website, so you should have no problem finding one in your state. The law school you intend to join will consider your GPA, undergraduate coursework, and LSAT scores.
It might also help to gather recommendation letters to aid with admission.
Many states also require students of administrative law to graduate from an ABA-accredited law school and pass state bar exams before they start practicing. Though states have different testing guidelines, the exam is a two-day process. The first day covers Multistate Bar Exams, and the second day has written papers on various legal matters.
The state board that examines the law graduates considers the academic qualification, competence, character, and ability of the applicant to litigate or represent others in court. If they're satisfied, they will offer the candidate a full legal license.
Tips for Students
Take the right courses as they will aid your career progression.
Seek internships or short-term positions at a local government agency office in your second or third year of law school
Build networks while at school
Focus on classes that teach legal research, writing, and courtroom skills
Have an open mind when seeking jobs with the federal government
Apply for various positions to maximize the possibility of landing a job
Practicing Administrative Law after School
Once you graduate with an LLB in Administrative Law and obtain a certificate of practice from your state, you can work as a public or private attorney. You can work fulltime within a range of disciplines in various government agencies such as FIDA or a contract basis. For example, as a private attorney who provides legal advice to a town council or a county's law enforcement department.
You can also go into private practice and represent or litigate cases on behalf of private citizens, firms, and associations. For instance, a client may need help in navigating administrative procedures or regulations so they can make successful claims against an agency.
A good example is a person who appeals to a state's license appeal board to have his or her DL reinstated. To get a favorable outcome, they may institute a formal court proceeding once they have exhausted administrative options. The administrative lawyer will represent the person and challenge the legislative authority on a particular regulation or rule.
Salaries and tax for Administrative Lawyers
Once you graduate with an LLB in Administrative Law and obtain a certificate of practice from your state, you can find employment with an agency or go into private practice. On average, an administrative lawyer in the U.S. earns $63,175 per year.
If you're an individual filer, your estimated federal tax (2018) is 24 percent of your salary. After federal tax deductions, you will have a take-home pay of $48,013 on average.
Lawyers practicing in San Francisco can pocket $145,000 per year, which is 51 percent higher than the national average. Other cities where lawyers earn competitive salaries include Chicago, Denver, Los Angeles, and Houston. A good salary and allowances enable you to live a comfortable life that befits your stature as a guardian of the law.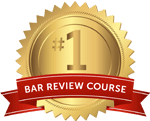 Get the #1-Rated Bar review for free.
Try Risk Free
✓ No card required
✓ 1 minute setup