Communications law encompasses the many laws, rules, and regulations concerning electronic communication. Technologies like cable television, radio, satellite communications, wireless telecommunications, and the Internet come under its wings. The Communications Act of 1934 helped create a highly efficient wire and radio communications service made accessible and affordable to the public.
With the evolution of technology, this particular area of law has become quite dynamic. It is broadening to cover significant issues from diverse fields like mobile applications and the protection of customer privacy. The role of a communication lawyer is to help clients navigate through and comply with a multitude of federal laws and regulations, so they don't get into bad books with the government.
Areas of Communications Law
If you are interested in pursuing a career in communications law, you should be at home with some of these common issues. Generally, communications law covers the following:
Radio regulation
This is a set of rules and policies that regulate the activities of a communications service provider. Radio spectrum is the full frequency from 3 kHz to 300 GHz. Spectrum management, likewise, is the process of regulating the use of radio frequencies for efficient adoption and maximum social benefit. In the past, where technology was limited, signal interference used to jeopardize spectrum use. Soon, exclusive licensing began to protect licensees' signals. Today one of the growing concerns of the domain of radio is the overuse and increasing demand for mobile technology worldwide.
Market regulation
While we consider this to be the age of information, some of the legal and regulatory issues that communications lawyers face have been around since the 1860s. Market regulation covers the rules governing relationships between various communications industries and market participants to ensure a steady flow of communications and low market risk.
Content regulation: This primarily exists to diversify content for all users while keeping a focus on local events. However, two fundamental aspects of content regulation are:

To aggressively prohibit public broadcast material that regulators find obscene.
Comply with mandatory children's programming requirements.

Ownership regulation: As the term indicates, lawmakers intended power to be distributed among several stakeholders and not one entity, to maintain a system of checks and balances. For this reason, there are limits to how much market share one television company can command in a single market. Broadcasters have to comply with ownership limitations and ensure they're not violating antitrust prohibitions.
Licensing regulation: As most companies need a license to do business, practicing communications law often involves the crucial task of deciding who gets a permit and under what terms. Licensing is one of the cornerstones of doing business, so lawyers help their clients understand and apply for the necessary licenses.
Why Should I Become a Communications Lawyer?
Communications and everything around it is a big thing that will get only bigger! This industry, which includes telecommunications and television, is not only filled with creative minds but is booming economically while becoming more diverse and global.
If you decide to practice communications law as an attorney, you will be able to explore this ever-evolving industry that is making a difference to the lives of millions through a plethora of content worldwide. In this profession, you will also be in a position to support emerging and experienced companies with your knowledge, helping them do the right thing and approach laws with faith and caution. To advocate for all this and more, you must practice your trade with confidence, firmness, and discretion.
Communications law is a coveted field with many branches of specialization and a constant opportunity for growth. Not to forget, you will be in one of the most esteemed professions in the world. On the one end, you will advise and represent your clients, while on the other end, you will get paid for what you love to do.
If ever presented with a dull moment, like many people in the legal profession, you can opt for pro-bono work during your career to support newer minds with your passion and experience. You can do pro-bono work in almost any field you like as long as you are knowledgeable about it.
While the thrill and financial benefits of being a communications lawyer are huge, there are limitless opportunities for you to learn and evolve as a professional.
Education and Training for Communications Lawyer
A degree in communications law covers various legal aspects of mass media, including copyright, privacy, slander, and libel. Undergraduate and graduate-level programs include all these areas and more. Here is what you need to do to become a lawyer in the field of communication:
Step 1: Enroll for a bachelor's degree in communications law — Students taking up these courses are mainly able to understand how laws for old and new media work together. Applicants to these four-year bachelor's degree programs must have a regular high school diploma or its equivalent. You may also need to opt for general education courses as the following:
Psychology
Media studies
Communications Law
Business Law
Step 2: Combine a master's degree in communications/journalism with a Juris Doctor program — Such dual-degree programs enable students to earn a double degree in communications, journalism, and law. Students pursuing such joint degrees often study entertainment law, media and ethics, and media policy. They also learn about the impact of these types of subjects on individuals and businesses. Some of the courses that you may have to take alongside this program are:
Constitutional Law
Criminal Law
Property Law
Media studies
Step 3: Juris Doctor — Students getting into law programs get a macro lens of different types and aspects of the law. Law programs can include technology law, media law, and entertainment law, among others. Along with casework and analysis of the judicial system, these programs ask students to take up other courses like:
Intellectual property law
Labor laws
Federal income taxes
Entertainment law
A standalone J.D. program takes three years of study and enables you to graduate for the bar exam. For you to get accepted into any graduate or law school, you will at least have to hold a bachelor's degree with a minimum 3.0 GPA, clear the Graduate Record Examination (GRE) along with the Law School Admission Test (LSAT).
Once you're licensed, you can pursue a career in communications law or any of the related areas such as:
Entertainment Law
Copyright Law
Intellectual Law
Policy Making
Top Skills to Become a Communications Lawyer
Like other fields of law, communication law is an intense field with steep competition. To become a successful attorney, you need to step up on 21st Century skills and more. Some of the essential ones are:
Research skills: If you're going to litigate in a court of law, you must know how to research and compare cases. Many times in court and legal documents, you will refer to cases that were decided by different courts, and you will show how the judges or jury set precedence.
Creativity and problem-solving skills: While most people believe lawyers go by the book, you may be surprised to find most of them think out of the box in courtrooms and business meetings. As any successful lawyer will tell you, you must outdo opposing parties and convince clients with years of experience, creativity, and problem-solving. Litigating, or contesting a lawsuit, calls for you to remain focused. You should also be able to offer advice and recommend solutions to clients who seek help from you.
Resilience and strength: To be a successful lawyer, you need to stay committed to your work. You have to demonstrate this on days when things are not looking up. It is not an easy job being an attorney, but you chose it and worked very hard to be where you are. Remember that when it comes to standing out from the crowd, passion and determination go a long way, and so do resilience and your confidence in your abilities. You should be able to withstand and endure challenges without losing face or caving in to pressure. Apply, reapply, and seek feedback when needed. Peer reviews help.
Interpersonal skills: Because you're going to interact with different people, including lawyers, government officials, clients, and the general public, you must be able to express yourself well orally and in writing. You should also have excellent listening skills. Your network and relationships with clients will develop and evolve based on how well you speak and listen to them. As well as being a confident speaker, you should also know how to deliver complex information in laypeople's language to your clientele. You will have to be firm, persuasive, and transparent in your communication with all stakeholders. Being a balanced communicator will enhance your people skills and your ability to become a team leader.
Commercial awareness: It's another skill that can help you stay ahead of the pack while practicing communications law. Legal recruiters prefer candidates familiar with current developments in local, national, and world business, particularly any issues that touch on communications. Clients also expect to have a lawyer who thoroughly understands the social, political, and economic environment in which their businesses run. When necessary, a communications lawyer has to think strategically about the legal pitfalls vis-a-vis an organization's strengths, weaknesses, opportunities, and threats. Strategic thinking enables the lawyer to provide business-oriented legal advice to the best of their abilities.
Know the communications industry, laws, and market: Each clientele and situation differ. To work effectively and discharge your duties, you need to have a good grasp of communication laws, regulations, and statutes. Ground yourself in all aspects of media and technology laws so you can offer reliable advice and make sound arguments.
What Does the Job of a Communications Lawyer Entail?
Communication lawyers provide counsel, representation, and legal advice to companies and individuals in this field. They deal with people who own, operate, or manage radio stations, television stations, telecommunications companies, the mobile industry, and any type of corporation doing business around the Internet. So their engagements fall into either one of these two sides: litigation or transactional.
Many communication lawyers also subspecialize, focusing their energies on the television business, or just the field of telecommunications. Others are generalists, mostly bringing to the table a wide range of expertise to deal with a growing industry and several sub-industries within cable television, radio, telecommunications, and the Internet.
The points below elaborate on the different aspects of a communication lawyer's work.
The Spectrum of Knowledge for Lawyers
A communications lawyer must be well-versed not just with his industry and clientele but also in a variety of legal fields. With the growing influence of the Internet and the broadening horizon of the telecommunications industry, lawyers have many opportunities and face challenges in their work. For example, lawyers representing a telecom company or a particular television channel must know the ins and outs of the business in particular but also need to invest in an in-depth understanding of intellectual property laws and labor laws with an occasional visit to corporate laws. Lawyers in the communication field are called on regularly to understand, analyze, and solve problems of all kinds that arise in connection with their clients' businesses. Such understanding and problem-solving require the ability to absorb vast amounts of information from both sides of an issue.
Transactional Lawyers and Litigation Lawyers: The Difference
Transactional lawyers usually concern themselves with dealing, negotiating, and drafting agreements, while ensuring that both parties honor their commitments. On the other hand, litigators are lawyers who are committed to defending clients against lawsuits, and who actively pursue court cases on their clients' behalf. They are the clients' advocates, an extension of their public faces.
A Day in the Life of a Communications Lawyer
A typical transactional communications lawyer is likely to spend a significant part of his day speaking on the phone or the computer, responding to emails from clients, colleagues, and insurers. When they're not corresponding, the lawyer could be negotiating deal points and making notes for later inclusion in contracts. In between calls and emails, this type of lawyer will also review written agreements, draw up new contracts, prepare organizational documents, and pursue registration of copyrights and trademarks.
If you decide to pursue this career, you will never lack the company of others as you will spend significant time, including morning and lunch breaks, with clients and other parties. Many of the biggest business deals get settled over dinner and drinks. Many communications lawyers spend their mealtimes networking with existing and potential clients.
Practicing as a Communications Lawyer
If you choose to be a transactional lawyer, you will be required to spend a good number of hours in corporate offices of big communication houses and companies drawing up deals and contracts. But if litigation appeals to you more, you will be more in and out of courtrooms — providing professional counsel and legal advice to business heads.
As an attorney in this field, you will also be required to advise clients on complex transactions and be the spokesperson for businesses of all sizes, from international corporations to smaller companies. Like most lawyers, you will also spend time preparing lawsuits, drawing necessary documents, and offering legal counsel as and when required. Some of your responsibilities may also include advising on company directors' rights and responsibilities, board meetings, and shareholders' rights.
Job Outlook and Salary
According to the Bureau of Labor Statistics, the average lawyer eared $120,910 in the United States in 2018. According to a more recent report, there has been a 1.4 percent increase over the 2017 average, which was $119,250.
Whether you are a law student, a practicing lawyer, preparing for the bar exam, or just considering law school, it is always helpful to understand your earning potential.
Advancing Your Career in Communications Law
After graduating from law school as a new lawyer, you would usually like to gain experience by working with someone more experienced in a law firm. With more experience, you may choose to work as an in-house counsel, represent clients, become a teacher, or eventually become an adjudicator or judge. Once you gain experience, you can also seek to join a big communications law firm as a senior associate. Do not forget to keep in touch with other classmates, colleagues, and seniors who might throw a new opportunity your way.
Get an LL.M then a Ph.D. in communications law. From there, look out for academic positions at universities in your state and elsewhere.
Conclusion
Communications law is an exciting field. With more people using the Internet and telecommunications every day, lawyers in this field are vested with the power to shape global telecommunications in a big way. Communications law can be technical and challenging. But, this branch of law is immensely appealing to students and professionals who enjoy mastering large amounts of technical information. To practice this field of law, you will have to graduate from a law school first, then join an organization where you can grow through practice. Remember to nurture the desired qualities with grit, confidence, and finesse.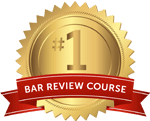 Get the #1-Rated Bar review for free.
Try Risk Free
✓ No card required
✓ 1 minute setup