Before 2020, the American Bar Association (ABA) made gradual, creeping steps towards acceptance of some "hybrid" J.D. programs—that is, programs where up to 50% of the student's hours could be completed online. Then, the COVID-19 pandemic pushed law schools all over the country to adapt to online education. Professors accustomed to teaching in person had to trade in their whiteboards and markers to offer courses on Zoom instead. As a result of the pandemic, law schools have invested in technology and professional development for faculty that have greatly increased the quality and quantity of online law school courses. Now, many law schools across the country offer at least some online courses as part of their curricula.
Before the pandemic, the ABA had already approved some hybrid J.D. programs through special waivers granted through an established variance-approval process. Under ABA accreditation standards at the time, students could earn only one-third of their credits toward graduation in distance education courses. In 2013, the ABA approved the first variance allowing an ABA-accredited school to offer a hybrid JD program. Students in that program traveled to the school campus only four times per year, for intensive in-person preparation and capstone weeks at the start and end of each semester. Otherwise, they completed half of the hours for each course remotely. That program matriculated 85 new students in January 2015; since then, hundreds of students have graduated from that program.
In the years since, more schools have developed blended or hybrid programs in which students experience some combination of in-person and online coursework, and two ABA-accredited lawschools have received variances to offer fully online JD programs. More are likely to follow suit. These programs have greatly expanded access to legal education and, at the same time, have reimagined the entire structure of a JD program.
Recently, the ABA loosened its distance education accreditation standard; now students can earn up to one-half of their credits toward graduation in distance education classes, even in the absence of a waiver. Preliminary research on the first hybrid program supports this decision: students in that program were shown to achieve similar outcomes as law students in the traditional, face-to-face program.
This loosened standard is expected to accelerate the growth of hybrid and online JD programs, particularly since the pandemic has made contemporary law students more familiar and comfortable with online education, and forced law schools to better equip themselves to provide it.
What is an Online-Only Course Like?
Online courses come in three forms: synchronous, in which students meet with the professor live over a platform such as Zoom; asynchronous, in which students learn on their own schedule and complete work within set time frames; or a combination of both. Unlike correspondence courses in which students do not engage with faculty or other students, in all types of online courses students frequently engage with their classmates and professors.
A synchronous course is one that mirrors the in-class experience, but online: faculty can engage students in Socratic dialogue, facilitate live discussion, divide students into breakout rooms for small group work, survey the class with a poll tool, and draw diagrams with digital pencils and tablets.
In an asynchronous course, students often have weekly deliverables, but they can complete their work at their own pace. For example, students might be expected to complete weekly readings, watch videotaped lectures, engage in an interactive discussion board with their classmates and professor, complete group projects, write and review papers, take weekly quizzes, make oral presentations, and take a final exam. In addition, faculty often hold live office hours each week. In this type of course, faculty often give frequent formative assessments to help students assess their learning and keep themselves on track. This is one huge benefit of asynchronous courses: the ability to receive feedback outside the bounds of the usual midterm or final exam in law school. Such feedback is unavailable in traditional courses that only offer one or two assessments, in the form of a final exam and perhaps a midterm, per semester.
What Does a Hybrid Course Look Like?
In a hybrid, or blended, course, students receive a mix of in-person and online instruction. The delivery format and blend of online and in-person elements can vary tremendously from school to school. For example, some schools require students to be on campus for just short periods each semester, with the rest of the instruction conducted remotely through mostly asynchronous lectures, assessments, and message board discussions, along with real-time engagement through virtual office hours. Another school requires in-person attendance one night a week on campus and one night a week remotely, with the rest of the course components conducted asynchronously. In another, instruction is fully online, but includes traditional Socratic classroom discussions in which students participate remotely in real time. Still other variations all find ways to deliver a legal education in a majority-online setting.
Pros and Cons of Hybrid or Online J.D. Programs
Online learning is not for everyone. Some students prefer a brick-and-mortar school, either because they learn better in person or because they prefer the social aspect of face-to-face learning. Further, some students benefit from the added accountability that showing up for class in person affords. Many professors find the dynamic of a Socractic classroom discussion harder to achieve in an online setting.
Another potential disadvantage is that committing to an online or hybrid J.D. reduces a prospective student's selection of potential law schools, as currently only 15 of the 199 ABA-accredited law schools offer online or hybrid J.D. programs; many of the nation's most prestigious law schools are not on that list.
Benefits of such hybrid programs include the following:
Accessibility: Hybrid and online programs offer accessibility and greater geographic flexibility. Students who either do not live near a law school or, because of family or job commitments, cannot attend a traditional program get better access to legal education. For example, these programs afford military personnel who move frequently, and their partners, the opportunity to attend law school, and these programs have also led to an influx of students from Native American reservations.
Flexible schedules: Many of these programs, particularly those that have significant asynchronous components, give students more control over when they do their readings and other assignments. For example, students who work in long shifts like nurses or firefighters may choose the days and times that work best for them.
Frequent assessments and feedback: one feature of most hybrid and online JD programs is the more frequent assessments and faculty feedback students receive. Formative assessments before a final exam or project are among the best practices of an online or blended course. This is a sharp contrast to the traditional midterms and end-of-the-semester final exams in traditional law school classes.
Appeal to diverse learning styles: In the traditional law school classroom, faculty use Socratic dialogue and facilitate live discussion among students. Online courses that employ asynchronous discussions or team projects allow students more time to reflect on questions and think through and plan their contributions before responding. This can be especially beneficial for students who have anxiety about speaking in class or who just want to be more thoughtful before they contribute.
Diversity: Students in any hybrid or online JD program will be enrolling from all over the country and sometimes from other parts of the world. Many are students on their second or third career and come with a wide variety of professional experience. Many already have graduate degrees. The opportunity to learn and network with such a wide cross-section of students greatly enriches the learning experience and the entire program.
How to Choose a Hybrid or Online Program
Each hybrid or blended program is distinct and has a different proportion of asynchronous and synchronous online learning. The amount of time students study on campus, and when, varies as well. Because no two hybrid or JD programs are the same, those interested in law school should conduct a significant amount of research before choosing which schools to apply to.
Here are some key questions to consider in choosing a program:
When do students need to be on campus during the program?
What is the mix between asynchronous and synchronous instruction? If there is synchronous instruction, when do students have to be available to participate live in class?
Are there opportunities for students to interact with their professors outside of the classroom setting? Are the professors teaching their own courses with their own lectures, or are they using recorded materials and coursework from others?
What courses and specializations are available? Are the upper-level courses and programs of interest to the student part of the online or hybrid offerings?
To what extent are there experiential learning opportunities such as clinics, externships, or simulation courses? For example, can students participate in a clinic remotely? Will the school help students find an externship placement where they live?
How quickly can students complete the program? What is the average amount of time it takes a student to graduate?
What extracurricular activities can students participate in (e.g., law review, moot court, student government)?
What courses and resources does the school have to help students prepare for the bar? What is the bar passage rate for graduates of the hybrid or online program versus that of the traditional program?
What resources does the school offer to help students find jobs in their home communities? Does the school have a strong alumni network, or a track record of placing students in jobs outside of the region where the school is located?
Experiencing life "On Campus"
Prospective law students curious about a hybrid program may want to get a more in-depth sense of life "on campus" at a hybrid school. Here are few things you may be able to try with the help of an admissions officer whose hybrid or online JD program you are considering. Here are some things to try:
watching or accessing a representative class online
speaking with a current law student, especially a student who lives near you or shares similar life circumstances;
talking with an alumnus from the program, preferably one who lives in your area;
meeting with a professor who teaches a specialty or interest of yours;
meeting with a counselor in the career services office and asking how the counselor would help you find externships and job opportunities where you live;
asking how many students have taken the bar exam in the state where you want to practice law, how many of them passed, and what resources does the school offer to prepare students for the bar in states other than the one where the school is located.
Costs of Hybrid and Online JD Programs
Generally, law schools charge the same tuition for students in a traditional program and in a hybrid or online JD program. These nontraditional programs require a large investment in educational technology, instructional design support, and the faculty to design and offer frequent feedback in courses. The same merit and need-based scholarships available to students in traditional programs are generally available to students in hybrid and online JD programs as well.
Every student's situation is different, but with all factors considered it may still be less expensive overall for a student to participate in an online or hybrid JD program. For example, students who do not live close to a law school can keep working in their home community while attending classes. Likewise, students do not have to pay to commute to and from school several days a week. On the other hand, students often have to pay additional expenses in a hybrid or online JD program, such as paying the transportation costs to get to and from the law school when they need to be on campus as well as lodging and food costs while studying on campus.
The California Option
There are additional alternatives in California for students looking for a more affordable legal education: schools that are accredited by the California Board of Bar Examiners itself, and not the ABA. Concord Law School, for example, which is now operated by Purdue University Global, was founded in 1998 as the first fully online law school accredited by the California bar. There are now a handful of such programs, and more schools are applying to create them. Students enroll in these schools from all over the world, and they never have to travel to California. The average annual tuition at California-accredited law schools tends to be much lower that tuition at ABA-accredited law schools.
Because these California schools are not ABA-accredited, their graduates can only sit for the bar exam in California. Many of the California-accredited law schools have admissions standards and bar passage rates that are lower than most of their ABA-accredited peers; prospective students should research several years of bar pass data carefully before making a decision. When they do pass, these graduates can only be admitted to practice in California. In fact, only 4 states allow people to become lawyers without a JD from an ABA-accredited law school. Consequently, California-accredited schools are a poor option for prospective law students who may want to practice in a different U.S. jurisdiction.
The Online Revolution
The revolution in online legal education is here. While online coursework is not for everyone, aspiring law students have a broader range of learning options than ever before when selecting a law school. There is no cookie-cutter hybrid or online JD program. Each is different, so we encourage you to explore your options and consider whether an online or hybrid legal education is right for you.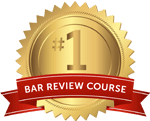 Get the #1-Rated Bar review for free.
Try Risk Free
✓ No card required
✓ 1 minute setup