Every law student dreams of working with one of the top law firms in the world. Although only a select few of aspiring law professionals reach the highest of highs, the opportunity is there to chase for anyone who is willing to work hard and put in an honest effort to make their dreams become a reality.
The first step in becoming a lawyer with one of the top law firms in the world is understanding which ones garner the title and are held with the utmost respect within the community. By learning more about the law firms that are considered to be at the top, you can begin to form a shortlist of law firms to chase after and start your journey of reaching your goals.
We hope to make the process of finding the top law firms easy for you by providing you with several firms that many believe do a great job and are good opportunities to work for.
An Overview of The Top Law Firms
In the process of determining which respected law firms made our list, we used certain criteria to separate the elite from the rest. Of course, determining which law firms are the best will always be subjective, and each person is likely to have their own idea as to what makes a law firm the best and which ones deserve the most recognition.
For the sake of this review guide, we used the criteria that were most applicable to the interests of the most amount of people. Our criteria include but are not limited to the history of the law firm, the salaries of the employees, the qualifications that lawyers at the firm are required to hold, how employees are treated at the law firm and a general consensus of their overall reputation among others within the industry.
Cravath, Swaine & Moore LLP
Cravath, Swaine & Moore LLP is one of the oldest law firms in the United States, and they have been around for more than two centuries. They cover a lot of practices, including capital markets, banking and credit, corporate governance, tax, executive compensation and benefits, and trusts and estates. They work internationally
The most obvious benefit of working for Cravath, Swaine & Moore LLP is the high base salary. Even first-year lawyers with the firm make a base salary of $150,000, and the pay increases well beyond $300,000 within ten years. Employees also get to work on high stakes cases and test their ability on the toughest of cases.
There are few drawbacks to working at Cravath, Swaine & Moore LLP, although there are some things worth noting. Lawyers who currently work and previously worked at this firm report having to work long hours on tough cases. Additionally, some may not enjoy the pressure that comes along with high profile cases.
Kirkland & Ellis LLP
Kirkland & Ellis LLP is one of the most prestigious firms in the United States, and it is located in Chicago. They are known for their success with litigation, intellectual property, corporate cases, private equity and restructuring, along with other less notable practices. They have approximately 2,500 lawyers currently employed, all of which are highly qualified with six-figure or more compensation.
Kirkland & Ellis LLP is well known for promoting a healthy work environment in which their employees are happy. They also allow for the lawyers to practice freely and without constant criticism, offering more than generous above-market bonuses when they are successful with one fo their clients.
Like any top law firm, however, the job is demanding at times and lawyers with Kirkland & Ellis LLP are under increased pressure to win their cases. Many of the clients are demanding, and the overall workload is often heavy and requires long hours in the office.
Sidley Austin LLP
Sidley Austin LLP is known for employing some of the most prestigious and well-known lawyers in the world – including former President Obama and First Lady Michelle Obama. They work with some incredibly large and successful corporations and organizations spanning across many different industries, including banking, energy, health care, insurance, life sciences and technology.
If your goal is to become the best lawyer possible, then Sidley Austin LLP is the place to be. You will work on some high profile cases and alongside encouraging partners who take pride in helping each lawyer within the firm grow in the profession. Current and former employees attest to the positive environment they experience while there.
However, there are some drawbacks to Sidley Austin LLP. It is a very large firm that includes over 2,000 lawyers and 20 offices. Subsequently, making partner is incredibly challenging. Also, despite having to work very long hours essentially every week, the bonuses are not as generous as what other firms often offer.
Skadden, Arps, Slate, Meagher & Flom LLP
Skadden, Arps, Slate, Meagher & Flom LLP is the first-ever law firm to report a billion dollars in annual revenue. Subsequently, they are also one of the largest law firms in the world, employing more than 1,700 lawyers all across the globe. They are most famous for their dealings with M&A clients, but they cover many different practices.
Skadden is an amazing firm to work for, and their employees report a positive atmosphere full of colleagues that are driven to work hard and promote a positive environment. Also, as one of the most prestigious law firms in the world, adding Skadden to your resume ensures your career in the law profession is set for life.
Skadden does have demanding clients overall, and employees there are often required to work long hours. The opportunity for promotions and raises are not always there for employees that do well, which is a big drawback for many seeking advancement within the law profession. Overall, however, most consider Skadden to be one of the top ten law firms to work at in the world.
Baker McKenzie
Baker McKenzie is another very popular and well-respected law firm, and it is most famous for its dealings with numerous incredibly large public companies across a number of different practices. They are a global company with clients across every single continent and country, and they have dozens of offices across the world.
Perhaps the most notable benefit when working for Baker McKenzie is the global work you get to deal with as they have very large clients all across the world. Also, whereas most top law firms are hectic and the lawyers are often overworked, Baker McKenzie seems to do a far superior job at allowing their lawyers to have a healthy balance of work and life balance.
The only real concern that previous employees of the company have raised is the lack of transparency between the management and lawyers in regard to pay, bonuses and raises within the company. However, even first-year lawyers with the firm make a base salary of close to $200,000 a year.
Clifford Chance LLP
Clifford Chance is one of the largest law firms in the world, employing more than 2,500 lawyers across each continent. They are also one of the fastest-growing firms, and they handle cases in a variety of different departments, including banking & finance, capital markets, corporate, litigation & dispute resolution, real estate and tax pensions & employment.
Lawyers who are looking for a law firm on the rise and continually growing should consider Clifford Chance LLP, which offers global exposure and the chance to work for some high profile clients. The compensation is very competitive and they provide a friendly, productive work environment.
The drawbacks to Clifford Chance are more or less the same as most large and prestigious firms, which are potentially long hours and pressure from clients as you take on important cases. The opportunities for promotion may also be limited due to the growing size of the company.
Sullivan & Cromwell LLP
Sullivan & Cromwell LLP is another very large firm, although slightly smaller than various others mentioned in this review. What sets Sullivan & Cromwell LLP apart, however, is the quality of their clients, and they work with some of the most noteworthy clients all across the world. Their work spans across dozens of departments and practices.
Sullivan & Cromwell LLP works on some of the most noteworthy cases, and subsequently only hires the best of the best. Aspiring lawyers who are looking for a real challenge and want to work for one of the most reputable top law firms should certainly consider the prestige this firm has to offer.
Most top law firms require long hours, but Sullivan & Cromwell LLP might require more than the average. Since they handle tough, important cases, there is often high pressure to perform well each day. It can certainly be challenging – which lawyers either hate or love.
Latham & Watkins LLP
Latham & Watkins has more than 2,600 lawyers across the world and is known for its quality work in corporate transactions, environmental law, finance matters, litigation, and tax services. They have seven offices inside the United States and dozens more across South America, Africa, Asia and Europe.
Latham & Watkins LLP offers very generous compensation and promotes a very healthy and positive work environment. Former and current employees often attest to how well-ran the company is and the transparency leadership provides to its employees, offering feedback and assistance when necessary.
As they primarily handle issues with corporate transactions, finance and litigation, lawyers with Latham & Watkins LLP are often under increased pressure and have to work longer hours than they may like, but the notoriety and ability to test your ability each day is something many passionate lawyers genuinely enjoy.
Boies Schiller Flexner LLP
Boies Schiller Flexner LLP is a relatively young law firm, opening its doors for the first time in 1997. In its brief history, however, Boies Schiller Flexner LLP has worked with numerous large companies and organizations, including the likes of Apple, Delta Airlines, Goldman Sachs, NASCAR, New York Yankees, Philip Morris, AT&T and Zurich Insurance Group. They only employ 300 lawyers currently, all of which are as good as it gets.
Boies Schiller Flexner LLP is smaller, so moving up within the company is more of a possibility than with many other top law firms. Although, the most notable benefit is the ability to work with very large and important clients, alongside smart and talented people that take their work seriously.
Many might prefer a more "established" law firm when seeking the best of the best, but make no mistake Boies Schiller Flexner LLP is not going anywhere anytime soon. In fact, they continue to grow and impress those within the industry with their outstanding work.
Alston & Bird LLP
Alston & Bird LLP is one of the top law firms in the Southeast United States, and its headquarter is in Atlanta. They are one of the nation's leaders in the corporate and finance department, offering sound legal advice and defense to many high profile clients. They have offices set up all across the country and continue to grow each year.
If you are local to the United States, particularly the Southeast region, and prefer to work on cases and with clients close to home, then Alston & Bird LLP is a great choice. They are authentically Georgia and represent the largest clients within Atlanta, including CNN and Emory University.
Alston & Bird LLP promotes a friendly atmosphere that is comfortable to work in, and they believe in and allow for a healthy balance between work and life. The only drawback is compensation, which while generous, may price just below other top law firms.
The Bottom Line
We revealed some of the top law firms in the United States and beyond, but there are many more. When determining the best law firms to apply to, aspiring law professionals should consider what they value in a company(compensation, work/life balance, prestige) and pursue their dreams with a passion. While working at one of the aforementioned firms takes hard work and dedication, the door is open to whoever is willing to put the work in and do what it takes to reach the top.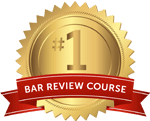 Get the #1-Rated Bar review for free.
Try Risk Free
✓ No card required
✓ 1 minute setup