LSATMax Office Hours.
Unlock access to LSATMax's filterable Office Hours portal, which is the largest library (1000+ hours) of topic specific LSAT prep content created by 99th-percentile tutors on the market.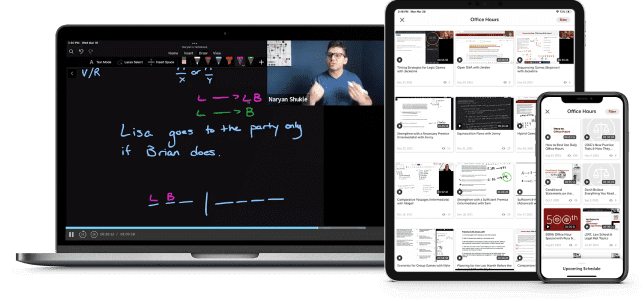 1,000+ hrs of Content

99th Percentile Instructors

New Content Added Daily

Full Range of LSAT Topics Covered

Filterable by Subject & Difficulty
Our Office Hours Portal is the largest library of topic specific LSAT prep content created by 99th-percentile tutors on the market. It is like having not one but many 99th-percentile LSAT tutors in your pocket, available to you 24/7.
This subscription is for students who have been preparing for the LSAT and can pinpoint their specific weaknesses. Take your weaknesses, jump into our Office Hours Portal, filter by topic in the top right-hand corner and watch your target score become a reality!
Experience Some of Our
Recent Office Hours.
New Content Added Daily

Ensuring You Stay Up To Date.
Upcoming Schedule:

Sun Oct 01 at 1pm
Beginners' Workshop: PT82, Game 1 (Beginner) with Abigail
I used the tutoring services at TestMax to bring my score up 8 points and get into my dream law school
I used the tutoring services at TestMax for my LSAT and had a great experience! Ravi Reddy was my tutor and was the best. He helped to bring my score up 8 points and helped to polish my applications. I got into my dream law school and owe a big thank you to Ravi and TestMax!
Invited
I am learning!
I classify myself as a bright student, but generally I am anxious test taker. Thus, I was worried I would not be able to "learn" the LSAT. However, LSATMax has exceeded my expectations and I feel that I am indeed learning how to take the LSAT..
Tutoring With Ravi Increased My Score Expeditiously
I want to give a major shout out to Ravi for tutoring me. At the beginning of this year my average PT was 161. I could not improve anymore on my own. By the grace of God I was able to get connected with Ravi in March and by April my PT average increased to 168. I increased 7 points in a month based solely on his customized study plan. Thanks to him I feel more confident and ready to take the official exam. If you are stuck and need any assistance I highly encourage you to run and contact him. My only regret is that I didn't get in contact with him sooner.
Invited
Excellent Tutors
The tutors and customer support for LSAT Max are the best! Truly enjoy how the tutors teach and explain complex terminology.
Ravi from LSAT Max was extremely…
Ravi from LSAT Max was extremely helpful in answering my questions and was listening to me the entire time. He also helped me with whatever I needed during my tutor session, such as giving different strategies to tackle a problem.
Get a Tutor! I recommend Ravi!
I utilized tutoring with Ravi for about one month prior to my test. I honestly wish I had met him sooner. He was excellent at helping me think more proficiently on games. I recommend using him when you feel comfortable with games because he will definitely take you to the next level. Overall, LSAT max's platform has been really great for me. It takes discipline.. but so will law school!
Ravi was the absolute best
Ravi was the absolute best. He's in a league of his own. I had to retake my test with technical difficulties but still scored 160, which got me a 47k scholarship to Chapman Law School. It wouldn't of been possible without him.
I was really struggling to reach the…
I was really struggling to reach the score I needed on the LSAT and after only 3 months with LSATMAX and my score went up 20 points! The tutors are so nice and really helpful in explaining and helping me work through what I didn't understand. Great experience!
Verified
The video tutorials and the practice…
The video tutorials and the practice questions sections are great in explaining all of the types of concepts, and taking their practice tests is just like taking the actual LSAT. Great customer service as well, BELIEVE ME! I just got accepted to law school, and I owe it all to God and TestMax! Thank you TestMax!
LSAT Max helped me get a 165.
LSAT Max was essential in helping me achieve a 165 on the LSAT. My first practice test came back as a 155, so I had a significant improvement with this program. I recommend taking full advantage of the tutoring. I had Ravi Reddy as my tutor and he helped me take my scores to the next level beyond what was provided in the curriculum.
Verified
LSATMAX LSAT REVIEW
LSATMAX was essential in my success on the LSAT! The program truly works and meeting with my tutor only reinforced the concepts that I was learning in the program! I never would've been successful and gotten into my dream law schools without LSATMAX!!!
TestMax Review
The program gave me most of what I needed to be successful on the LSAT. However, there were some other books I had to consult to gain some more necessary knowledge that the course did not provide me with. The main thing that I enjoyed about this program was the tutoring hours. Clyde Engle was my tutor and did an amazing job of always helping answer any questions I had and preparing me for success on the test.
I would definitely recommend LSATMax…
I would definitely recommend LSATMax for doing well on the LSAT. The course was really helpful in giving me a foundation of what to expect on the test and the skills necessary to do well. Also, the daily office hours were great for helping me learn other strategies from various tutors who you can tell have a deep understanding of and appreciation for the test. Additionally, working with a tutor (I worked with Ravi, who I would definitely recommend—he was really great and easy to work with!!) helped me a ton with finding out what I was struggling with and how to mitigate those problems. He helped me so much with not just the content of the test but also with making me feel a thousand times more confident about the test. I credit him and t...
Verified
I've been a troubled student...
I've been a troubled student for my entire learning career. I was recently diagnosed with ADHD, Dyslexia, and a TBI. However, even with all of these "issues" TestMax makes this understandable and easier for me to digest.
Verified
From 157 to 174
I started studying for the LSAT around February of 2021. I got a 157 on the first diagnostic, after a small amount of practice. At first, it was discouraging, but I did some research and saw there was people out there who raise their scores a considerable amount. My friends recommended TestMax as a prep course for the LSAT and I gave it a try. I began studying everyday and slowly working my way through the course. It helped me out tremendously and the staff are super informative and responsive to your questions and needs. I ended up receiving a 174 on the January LSAT and it really would not have been possible without this prep course!! Those stories you see of people raising their scores by 15-20 points are real and you can do the same ...
Thanks to LSATMax
Thanks to LSATMax, I was able to raise my score 11 points in a short amount of time. However, this would not have been remotely possible without the help of an excellent tutor, Rob. He was able to explain concepts that I was struggling with in a clear, concise manner and guide me through problems with precision and enthusiasm. I had struggled with test anxiety in the past, but Rob gave me the confidence needed to succeed on test day. After working with Rob, taking the LSAT was a whole new experience. I highly recommend this program, and especially Rob, to anyone looking to improve their score!
Verified
Great Program
These guys have all the tools you need to succeed. Start early, be consistent, use every resource they have to offer, and your LSAT score will skyrocket. I guarantee you that! Great program.
Verified
LSATMax Review
Before LSATMax, I was struggling with understanding why certain answers were right and wrong and how to approach each question. I was skeptical of purchasing any online courses/tools because I thought that it was going to be a complete waste of time and money. However, after completing the course, I gained a whole new perspective on the LSAT, and suddenly, it did not feeling so challenging and overwhelming. LSATMax was the reason I increased my score by seven points, and I am very grateful for that. The money you spend on their courses is totally worth it, and look at it this way, you actually end up indirectly getting that money back with the scholarship (or higher one) you receive from your LSAT score.
Verified
Organized and Efficient
It's fantastic, if you're looking for an organized and efficient way to study for the LSAT then I would highly recommend TestMax. It's broken down into manageable sections so if you're struggling with a concept you can go back to that video and find it easily. Practice questions have video explanations that are very helpful and I loved the whole experience (well studying was as good as it can be I suppose). No hesitations in recommending this platform.
I had a great experience!!
Abby's personality and upbeat nature made it a good environment for me to learn. The explanations and the ability to break down the concepts made my ability to choose the correct answer easier.
LSATMax Comprehensive LSAT Courses
Our flexible comprehensive course packages give you everything you'll need to prepare for the LSAT and raise your score.