Want to pass the bar exam on your first try? If so, check out the bar-exam pass rate of individual law schools for an accurate indicator of your chances of accomplishing this.
It's true that all American Bar Association (ABA) accredited law schools teach the same thing. But how effectively they transfer knowledge to students and how well they prepare students for law school differs.
The difference in the quality of the education you'll get at different law schools is why the bar-exam pass rate differs wildly between law schools. For example, a school like Harvard has, through the years, maintained a bar pass rate of almost 100 percent, while schools like Thomas Jefferson School of Law struggle with a bar pass rate of less than 30 percent.
What is a Bar-Exam Pass Rate?
A bar-exam pass rate is the percentage of students who pass the bar exam on their first try. You can look at the bar-exam pass rate according to states, which tells what percentage of students passed the exam in a particular state. There's also the bar-exam pass rate according to schools, which lets you know what percentage of students from a specific law school passed the exam.
Knowing the bar-exam pass rate of a state is an effective method of identifying which state bar exams are the most difficult to pass and, on the other hand, those states where students seem to have an easier time acing it on their first tries. The bar-exam pass rate of a particular school, then, helps you identify which particular schools within a state are better at preparing students for the big test.
Most of the top 15 law schools in the U.S. have a consistent bar-exam pass rate above 90 percent. The truth is, the bar exam is an eminently tough exam. There's no middle ground, either: You either fail it or pass it. Using all the tools and opportunities at your disposal to prepare for the exam greatly increases your chances of passing it on your first try.
To help you with this, we've put together a list of the law schools and states with the highest pass rates. We've also gathered the schools and state bar exams with the worst pass rates, so you know which you might want to steer clear of if you want to nail a bar exam out of the gate.
Law Schools with the Highest Bar-Exam Pass Rate
The law schools in the U.S. with the highest overall bar pass rate are:
Concordia University School of Law: 100 percent
University of Chicago: 98 percent
Yale University: 98 percent
University of Pennsylvania: 98 percent
Columbia University: 97 percent
Harvard University: 97 percent
Duke University 97 percent
New York University: 97 percent
University of Michigan: 96 percent
Liberty University School of Law: 95.65 percent
Stanford University: 95 percent
University of Alabama: 95 percent
Baylor University: 92 percent
Please note that bar-passage rates are always changing. The above schools were chosen because their pass rates have consistently been above 90 percent through the years — something not many law schools can say.
Law Schools with the Lowest Bar-Exam Pass Rate
Now for the schools with the lowest bar exam passage rate:
Arizona Summit Law School: 20 percent
Whittier Law School: 21 percent
Atlanta's John Marshall: 24 percent
Thomas Jefferson School of Law: 25 percent
University of San Francisco: 33 percent
University of La Verne: 34 percent
Pontifical Catholic University of Puerto Rico School of Law: 39 percent
Inter-American: 43 percent
Appalachian School of Law: 44 percent
Because of its consistent low bar-pass rate over the years, Whittier Law School announced on April 15, 2017 that it would discontinue its legal program and no longer accept students. Arizona Summit Law School also shut down after years of consistent poor bar-exam performance by its students.
Attending the above schools isn't a death sentence for your legal career. With extra hard work, you can still ace the bar exam on your first try, at any school.
States with the Lowest Bar-Exam Pass Rates
In some states, you must pass the state's bar exam before you can practice law there. In other words, passing the bar exam in one state doesn't give you the license to practice law in any other state, except where you passed the exam.
It's important to add that just because you breezed through the bar exam in one state that you're going to have the same experience in another state. This is because a state bar exam varies greatly from one state to another. An accurate indicator of a state bar exam's difficulty is the bar-passage rate for that state.
Below are some of the states with the lowest bar-exam passage rates, meaning passing the exam in these states may require your best effort and then some.
California — 44 percent pass rate
There is a unanimous agreement that taking the bar exam in California is the toughest. The state's low bar-pass rate does little to dissuade people of this notion. Because of its many components, the California exam takes two days, including a performance test, five essay questions, and the Multistate Bar Examination.
Delaware — 68 percent pass rate
What makes the Delaware bar exam especially hard to pass isn't its bar-pass rate, but the minimum score required to pass. Compared to the exam in other states, Delaware exam takers must score at least 145 to pass, compared to many other states requiring a minimum score of 132.
Arkansas — 63 percent pass rate
Many consider the Arkansas bar exam second in toughness only to California. Like the California exam, it takes two days to complete. Reasons for its difficulty include the high number of state and local laws that takers must know, which means possibly more studying than most other state bar exams require.
Virginia — 66 percent pass rate
The bar exam in Virginia is another tough one. Its grit stems from the number of topics addressed in the exam, including up to 24 different areas of law. If you're taking the bar exam in Virginia, you'll also have to wear a suit to the exam.
Washington — 67 percent pass rate
The bar exam in this state takes two days and is another brutal one. The bar-pass rate isn't as low as those in Nevada and California, but it's nowhere near as high as that of many other states.
Nevada — 58 percent pass rate
Not only is the bar exam in Nevada rough, but its bar pass rate doesn't inspire a lot of confidence. It's one of the longest bar exams in the U.S., requiring two-and-a-half days to complete, and it requires that you be familiar with the many unique laws of the state. The minimum score required to pass the bar in Nevada — at 140 on a 200-point scale — is also among the highest in the country.
States with the Highest Bar Exam Pass Rates
If you'd like to bolster your chances of passing a state bar exam on the first try, consider taking your bar exam in one of these states:
Iowa — 78 percent pass rate
For the last 10 years, the bar pass rate in Iowa has been about 80 percent, except for 2016, when it dropped to 68 percent before rebounding in 2017. The exam is quite straightforward and one of the top choices for students who are determined to pass the bar exam on their first attempt.
Kansas — 75 percent pass rate
Like Iowa, Kansas saw its bar pass rate dip in 2016. But the dip in Kansas was slight, to a still-impressive 72 percent. More often than not, the bar pass rate in Kansas exceeds 80 percent, making it z front-runner for passing on your first try. And because the exam doesn't test candidates on Kansas-specific laws, students don't have to do the additional studying or research about those laws to pass it.
Missouri — 79 percent pass rate
Missouri's bar passage rate is typically in the 80 percent range, except in 2016, when it dropped to 78 percent — still higher than most states can claim. The exam doesn't test candidates on state-specific law, but applicants must sit for the Missouri Educational Component before they can take the actual bar exam, just a minor inconvenience.
Utah — 76 percent pass rate
Utah's bar pass rates went up in recent years, making the state an attractive choice for aspiring lawyers. Whether the higher pass rates will become the norm, however, remains to be seen.
If you want to pass the bar exam without actually writing an exam, just head to Wisconsin for law school. As long as you attend an ABA-accredited law school in the state, you get licensed by just applying to practice law — no bar exam required! But, if you got your juris doctor (JD) in a different state, you'll need to take the Wisconsin Bar exam.
South Dakota used to be among the states with high pass rates but recently experienced significant declines. Students and JD's in that state are eager to see if things will improve again.
Conclusion
It's worth saying that attending a highly-ranked law school with a high bar-exam pass rate isn't a guarantee that you'll pass the bar exam on your first time out. You can fail on your first try, regardless of the law school you attend.
That said, attending a reputable law school can increase your chances of getting an education that will teach you what you need to pass the bar. What truly determines whether you pass or fail is you, your commitment to success, and your preparedness for the exam. We recommend you take as many practice bar exams as possible to determine whether you're ready for the real thing. Good luck!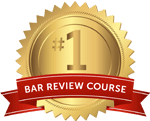 Get the #1-Rated Bar review for free.
Try Risk Free
✓ No card required
✓ 1 minute setup