Hey all you bar exam review students! I know after a bit of a holiday break, students can get stressed out about the time they wasted not studying. Well, first of all, taking a few hours off-even a whole day off-to relax and spend time with family and friends will actually benefit you more than you think. It's important to de-stress! And now that you're back in the thick of it, we wanted to discuss an interesting form of relaxation: cooking.
It might sound odd to you, but cooking has been shown in various studies to help you relax and refocus. If you don't already cook, think about taking it up as a hobby! It's one of the few hobbies that is both relaxing and has a great reward at the end: a yummy meal. Cooking helps people relax by refocusing negative energy and anxious thoughts onto chopping vegetables, kneading bread, or icing cookies.
Check out the list below for some recipes to get you started on cooking your way to less stress:
(1) Figs and Pears
Cornmeal crepes with figs and pears. So why not make some crepes? Crepes are one of my most favorite dishes. They're so easy to make and so customizable. Figs and pears are great fruits to use in various dishes from sweet to savory.
(2) Beets
Roasted beets and citrus salad with mustard vinaigrette. Roasting beets is a great way to coax its sugar out to the surface. The beets get soft and sweeter, adding a delectable taste to the tart citrus and tangy mustard vinaigrette. Talk about perfect flavor palette!
(3) Tomatoes
Parmesan heirloom cherry tomatoes. Cherry tomatoes are the best because they are sweet, compact and just darn cute! Roasting these babies with some cilantro and parmesan will really add an extra layer of flavor, making a great side dish to a meal, or even a great snack!
(4) Winter Squash, Summer Squash, and Eggplants
Ratatouille. They didn't make a whole adorable Pixar movie about it for nothing! This easy dish is composed of onions and different types of squash and eggplants. You leave it to slow roast in your oven for a while. The end result is an aromatic and sensational meal that is both healthy and crowd-pleasing! Think of it! Not only can you relax by cooking this dish, but you can also use it to thank all those friends and family members you've been neglecting during your bar exam review. Two birds. One stone.
You get the idea! It's always a great idea to try out new recipes, since you can broaden your horizons as you relax and refocus your fatigued mind. Just give it a try. You'll see how fun grating and chopping can be!
Happy Feasting!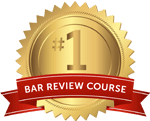 Get the #1-Rated Bar review for free.
Try Risk Free
✓ No card required
✓ 1 minute setup