October is nigh. As you tackle how to begin your bar prep, we thought we could get a little bit more acquainted with this wonderful month. So, take a break from your bar prep and learn more about this glorious month.
The Anglo-Saxons referred to the month of October as 'Winterfylleth,' meaning the fullness of winter.
The Welsh word for October is 'Hydref,' meaning 'the lowing of cattle.'
The month of October is not mentioned at all in any of William Shakespeare's plays.
According to a recent study in Italy, October is the best month for conceiving a boy baby.
The birthstones for October are the tourmaline and the opal.
The zodiac signs for October are Libra and Scorpio.
On October 12, 1492, Christopher Columbus landed in America.
On October 31, 1864, Nevada became the 36th state of the United States.
October is National Cookie Month
October is National Seafood Month
Remember when it was just the beginning of summer - Time flies by very quickly. You want to make sure to take advantage of every moment. For those of you taking the February bar exam, keep up the hard work! In the blink of an eye, the flowers will be blossoming again and you'll be on your post-bar exodus!
Happy Studying!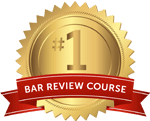 Get the #1-Rated Bar review for free.
Try Risk Free
✓ No card required
✓ 1 minute setup