Studying for the essay portion of the CA bar exam is like driving.  When you are starting off, you are probably in 3rd gear; this is like getting a 50 or 55 on your first practice essay. However, the key to success is not staying in 3rd gear. Instead, accelerate to 5th gear with tools that emphasize practice and personalized feedback. As you move out of 3rd gear and into the 4th gear of essay writing, you will be scoring in the 60-65 range. These are not bad scores, but they are not necessarily passing scores either. What you need to do is speed up a bit more. To put yourself into 5th gear, where you hit 70+, focus on practicing rather than studying. The State Bar of California outlines frequently tested issues for each subject. The essay portion of the CA bar exam, however, measures how well you can take a test, not just how well you can memorize the law. The exam requires writing six essays in two 3-hour sessions-one session Tuesday morning and one session Thursday morning. You cannot study your way to high performance. Instead, practice under timed conditions to speed up to one question per hour. On each essay, students should spend the first 10-15 minutes outlining and the remaining 45-50 minutes writing. While studying for the bar exam, BarMax stresses writing at least one essay on each of the often-tested issues in each subject, including:
Torts:  negligence, intentional torts (people, property), defamation, products liability
Contracts: formation, UCC, agency, performance, defenses, kinds of contracts
Evidence: relevance, public policy exceptions, exclusionary rules, authentication, hearsay
Real Property: deeds, easements, landlord-tenant, covenants and servitudes, zoning
Constitutional Law: due process, state action, speech, religion, taking, equal protection
Criminal Law: murder, liability defenses, manslaughter, conspiracy, crimes to property
Criminal Procedure: standing, search and seizure, right to counsel, Miranda, warrant
Civil Procedure: personal jurisdiction, subject matter jurisdiction, Erie, discovery, joinder
Corporations: Rule 10(b)(5), insider trading, authority, duties of care and loyalty, formation
Professional Responsibility: conflicts of interest (actual, potential), fees, confidentiality
Remedies: injunctive relief, specific performance, monetary damages, restitution
Community Property: Van Camp/Pereira, prenuptial agreement, debt, marital status
Wills: will formation (holographic and statutory), omitted child or spouse, distribution
Trusts: trustee duties, trust elements, cy pres, spendthrift, discretionary
Partnership: partnership liability, formation, authority
Do not worry about speed bumps while preparing. Make your mistakes now so you do not end up driving 55 on the exam. BarMax CA includes an essay workshop written by former CA bar exam graders that provides insight and analysis on exactly what bar exam graders look for. All of BarMax's practice essay questions come from real prior CA bar exams. BarMax CA includes 130+ real practice CA essay questions, each with 2 sample answers that were written by actual bar exam candidates, as opposed to the sample answers of other courses that are written by licensed attorneys or law professors under no time pressure. While perfect answers are great at making you feel inadequate, real student-written sample answers are great for understanding exactly what will be required of you on the day of the exam. The course also includes two practice essay reviews by these graders at no additional charge. For students who would like more personalized feedback, additional practice essay reviews are available (just $100 for 5 reviews). The former bar graders at BarMax provide personalized paragraph-by-paragraph feedback for every student, a possible score that the student may get if actually taking an exam, and a summary on the quality of issues, rules, facts analysis, and organization. BarMax CA puts students in 5th gear, where they can drive so far ahead that they will only be able to see students stuck in 3rd gear from their rearview.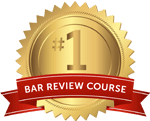 Get the #1-Rated Bar review for free.
Try Risk Free
✓ No card required
✓ 1 minute setup