Some of you may already have a job lined up, but many more of you will begin your search once you've passed the bar exam. However much we'd like to deny it, money is a big motivating factor in life. It's true that money can't buy you everything. But it sure can make a lot of life more comfortable, especially if you are leaving law school with debts of $100,000 or more.
I thought I could help you out by making your search a little easier. I've compiled a list of the top-paying law firms by starting salary.
Factors Affecting a Law Associate's First Year Salary
While a respected law degree is the first step to earning well, other factors such as specialty, region, the law firm itself, and even the specific industry all play a big role. For example, some of the top-paying industries for law include specialized design services, computer and IT, motion picture industries, and navigational manufacturing. These industries pay upwards of $200,000 per year.
Other factors, such as sector, can also play a role, and it can mean that salaries may vary widely. Public-sector law jobs, for instance, can range from $53,000 to $71,000 per year, while private-sector firms can pay between $45,000 to $180,000 per year. Sometimes this can also depend on the culture of the individual firm and how many employees it has.
In general, lawyers entering the public sector tend to receive lower starting salaries, so as you'll see on the list below, it is often better to aim for big or private firms if you want to hit that lucrative mark right off the bat. One thing to bear in mind though is that big law firms base a person's salary on their law school class, which means they compete with other firms to attract the best students.
On that note, let's take a moment from your finals-studying life to check out some very lucrative firms that pay their associates the big bucks.
Get the First Year Law Associate's Salary You Deserve
Soon you will embark on your bar exam prep and finish the long path towards becoming an attorney. The above firms are some of the most prestigious and powerful institutions in the nation. If you do want to work at one of these law firms, then I wish you the best of luck. But remember, there are hundreds of amazing firms that are changing the world day by day.
Try to think on Carlos Ruiz Zafon's words: "Making money isn't hard in itself; what's hard is to earn it doing something worth devoting one's life to."
Happy Studying!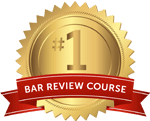 Get the #1-Rated Bar review for free.
Try Risk Free
✓ No card required
✓ 1 minute setup