As the July 2013 bar exam nears, law students around the country are trying to decide which bar exam review course to use.
In an effort to help you make an informed decision and to combat the fear-based marketing used by some of the leading bar exam prep companies, we have decided to let our students do our talking.
Several of the students below have agreed to allow prospective students to contact them about their BarMax experience. You can email them directly by using the "Contact" link below the testimonial.
1st Time Takers | Repeaters | Foreign Trained Attorneys
Faud Haghighi
Contact Faud about his BarMax experience.
Natalie Rastegari
Contact Natalie about her BarMax experience.
Jim Rogers
Contact Jim about his BarMax experience.
Josh Ehmke
Contact Josh about his BarMax experience.
Danielle Bailey
Contact Danielle about her BarMax experience.
Dan Terzian
Contact Dan about his BarMax experience.
David Park
Contact David about his BarMax experience.
Kaleen Harris
Contact Kaleen about her BarMax experience.
Nick Larson
Contact Nick about his BarMax experience.
Ryan Kraft
Contact Ryan about his BarMax experience.
'thank you BarMax for helping me pass the CA bar! I had purchased BarBri back in March because it was embedded in my mind from day one of law school that everyone needs to use BarBri. About three weeks into BarBri, I was freaking out. My MBE score had gone up by a mere 3% when the class average had gone up by 11%. I was overwhelmed by the dense outlines.
Everyone kept telling me I only needed to know 60% of the material in order to pass. Some of those BarBri outlines were +100 pages long! I didn't know which '60%' I needed to concentrate on and found myself stressing over the tiniest exceptions. The conviser was a better than the huge outlines, but then again, I felt like I wasn't learning enough.
I just didn't know how to study and felt like I had too many outlines in front of me. Of course, I would vent to anyone who would listen and I was fortunate enough that a friend told me about BarMax. I was a bit skeptical, but intrigued at the same. A family member saw how much I was stressing over bar prep so they bought me BarMax my third week of bar prep. I couldn't believe that I had pretty much thrown $4,000 into the garbage with BarBri when I could've bought BarMax for a fourth of the price.
I felt like Goldilocks because I had finally found the perfect fit. Everything was 'just right.' The outlines were easy to read and get through- they weren't more than 25-30 pages. The rules were concise and to the point which made memorization that much easier. The MBEs were AMAZING because they were actual questions through the NCBE. I said goodbye to my 'fake' BarBri MBE questions and focused on reading the BarMax outlines and doing MBEs as often as I could. I was able to raise my MBE score 20% by the end of the first week. I was ecstatic (obviously) when I received news that I had passed the CA bar.
I know, without a doubt, that I would not have passed without the tools BarMax provided. THANKS!!!!!
- Kiana Khajeh
Contact Kiana about her BarMax experience.
Wanted to say I had a great experience with this app, and I think it's a great way to prepare for the bar exam. It was easy to use and struck the right balance between giving me exactly the information I needed to succeed on the bar exam without overloading me with too much content.
My friends taking other classes seemed a bit stressed out because of the overload of materials they had. Loved that I could listen to lectures anywhere, and that I could take multiple choice tests right on the iPad. And because it was all on the iPad, I was able to visit family and friends while still studying, which was a huge plus. You've got to learn to set your own pace and be diligent, but the content's all there.
And most importantly, I passed the California bar on my first try. Using only BarMax, I felt as prepared as I could be come exam day. Don't get me wrong, bar studying is not fun, but I'd recommend this app highly for anyone who's studying for the bar.
- Geoff F.
"I highly recommend this program. I took another bar exam before I sat for the California bar. After taking a bar prep course from the one of the big name bar prep companies and then using this app for the California bar, I can assure you that this app contains all the necessary information in every bit as much detail as the competitors.
I found the lectures to be very detailed and the speakers to be on par with even the best lecturers from the competitors. If I had one suggestion it would be that the skeleton outlines the app provides could be updated to have fill in the blank answers in order to keep the listener engaged during the lecture. But the outlines are excellent review material and are designed to hit the important information and elements so you can have it all memorized for the exam.
As long as you are willing to put in the effort to study and thoroughly review the sample questions and answers this app will get you past the finish line without requiring an additional bar loan on top of your already mountain of student loan debt. I passed the CA bar on the first attempt, while working over 40hrs/week leading right up to the day of the exam. The app really provides you flexibility to study wherever and whenever you can."
- Shane Larsen
Contact Shane about his BarMax experience.
"BarMax is a great program to study for the California Bar. Its gigantic bank of multiple choice questions, essays, and performance tests gives any test-taker ample opportunity to see everything that the bar can throw at you.
The notes are sufficient, but not overwhelming, enough to prepare you for the test, but not too much to freak you out about not knowing enough (this is coming from a person who did not take any classes on two of the subjects tested on the bar: community property and criminal procedure).
The program was easy to use and the fact that everything was accessed through the iPad made it easy to study anywhere. And obviously, the price is unmatched. You will definitely need to put in your time, but that's the same with every other program out there."
- Kelly Kim
Contact Kelly about his BarMax experience.
"BarMax I didn't feel like I overprepared or wasted a lot of time studying irrelevant matters. The presentation of the matter was very straightforward and basic and the real MBE questions helped a lot."
- Ester Vanguardia
Contact Ester about her BarMax experience.
Sheila M.
Contact Sheila about her BarMax experience.
Niki G.
Contact Niki about her BarMax experience.
JB Haskett
Contact JB about his BarMax experience.
"I first took the California Bar Exam after taking BarBri and failed. I felt I had been overwhelmed with information, the content was not focused, and the lectures were far too broad and lengthy
After that, I simply used the books from the BarBri course, and a few others, and studied on my own. I felt it would be a waste of time and money to go through the entire BarBri course again, so I didn't.
After failing again, I knew I needed something different, and BarMax provided it. The program is organized so well and it's so easy to stay on task because the program is portable and put into an electronic calendar. I used my iPod touch for the program, and took notes on my iPad. I could study almost anywhere where concentration was possible.
Also, there's a stark contrast in the substantive material as presented by BarMax vs BarBri. BarMax provides tightly focused, specific information and the tools they give you to help you remember the broader points are invaluable. It's not overwhelming.
When I finally passed the exam using BarMax, During the exam, for every essay question, I wrote down the exact sentences provided in the outline for triggering my memory of the broader points. I really felt prepared for that exam for the first time. Afterward, to everyone that asked, I said, I can't be absolutely sure that I passed, but I know I nailed those essay questions. It was a very good feeling.
You really can't go wrong if you stick with the method they give you. It's uncanny how much better this program is both in efficiency and substance, then any other source I used.
- Tony G.
Contact Tony about his BarMax experience.
---
About a month ago I found out that I passed the New York Bar Exam. WOOOHOOO! Just a quick note of thanks for the BarMax product. In the past I'd used BarBri, Emmanuel's, Kaplan-you name it for Bar and MPRE exam studying. I squeaked out a passing score in Massachusetts on the second try after using BarBri but it wasn't pretty. A few years later I moved to NY and needed to pass the bar again. I took the February 2012 exam (self study using BarBri notes/books) and failed.
I knew my brain just didn't work with the traditional study courses and that I had to do something different for July 2012. I found BarMax and it finally worked! I improved my MBE score more than 15 points. The app wasn't perfect and there were some kinks to work out but I was very happy with the product and would recommend it to students anywhere."
- Lindsay Jansen
Contact Lindsay about her BarMax experience.
"My name is Marsha. I am a woman who graduated from am unaccredited law school in 2009 and am now in my mid-fifties.
I am not the type of person who passes the California Bar-ever! Not because I am not smart enough-I am a registered nurse [RN] with a thirty-year career in ICU nursing. I studied hard and graduated top of my class. However, I am older, did not go to an ABA or CA accredited law school, and did not pass the first time, which places me in the repeater category. Statistically speaking, I had an eleven percent chance of passing the bar in California. I spent more money on various bar review courses, including a one-on-one tutor than my entire legal education. I failed the CA Bar five times using five different methods of bar review.
BarMax came into my life when I got the failing bar results after my fifth attempt taking the CA Bar. Trust me, I had a lot of bar review methods to compare to BarMax. BarMax simplifies and organizes the material in a way to make what you already know about the law accessible when crunch time hits during the exam. The flash cards are easy to memorize and remember while taking the bar exam. The comments on practice essays submitted to the BarMax graders are relevant and I believe made a difference when I did pass the bar. The lectures succinctly cover the material and there are plenty of real MBE questions, along with explanations, to practice on. There is also no need to lose any sleep worrying about how to organize study time-BarMax gives guidance in this area as well.
I believe BarMax made the difference when I passed the CA Bar Exam on my sixth attempt. I cannot even begin to express my gratitude to the BarMax team. I knew from the moment I signed up for BarMax that there were people who were there to ensure my success, believed in me as an individual, and taught me in a way that I, personally, could understand.
Thank you BarMax team, from the fullness of my heart.
- Marsha Teasely
Contact Marsha about her BarMax experience.
"I used BarMax's California and MBE courses for the July 2012 California bar exam, and I cannot recommend them highly enough. In the Spring of 2012, I was in the process of wrapping up a busy practice in Canada and relocating to the Bay Area. I did not have time to attend full-day lectures. I needed a flexible, compact study solution that would allow me to work on my own time. BarMax was perfect. I listened to lectures on my iPhone while jogging/at the gym, while running errands, and while traveling. I did practice MBE questions and reviewed flashcards on my iPad in a variety of locations - in a hotel room, on airplanes, and in cafes and libraries. The portability was a huge benefit for me.
BarMax also does a terrific job of condensing materials and focusing on the content that is truly needed to pass the bar exam. There was far, far less reading material in the BarMax outlines than in other course offerings, which allowed me to really focus on learning the key information. After completing the course, I found that I was pleased to find on exam day that I was comfortably familiar with all of the material tested on the California bar exam and MBE.
Finally, I really appreciated that BarMax uses real MBE and essay questions they have acquired from the NCBX and State Bar. I had the opportunity to look at material from other courses while I was studying, and I found the essay and multiple choice questions developed by other bar prep programs were very different from the actual questions I faced on exam day.
A lot of people praise BarMax for offering a more cose effective bar prep course than Barbri and others. The cost savings are great, but in my opinion, the real advantage is that the BarMax course itself is simply better than the competition."
- Susan Brown
Contact Susan about her BarMax experience.
---
"I am a foreign educated lawyer, completing my LLB in Canada. Prior to purchasing the BarMax app I had no background in US law- I should note was my first attempt at writing any US bar exam.
I believe that the fact that I, with no background in US law, was able to pass the bar solely on the basis of your program is a testament to the thoroughness of your product. It was all I needed.
I would recommend this product to anyone, including foreign educated lawyers, interested in preparing to write the NY bar exam."
- Kristy Williams
"I am a foreign attorney who was educated and practiced only in Europe. Prior taking the California bar exam I had no experience with US law whatsoever. I was preparing myself for the exam solely based on BarMax and I passed the bar exam on the first attempt. I can only highly recommend this prep course for anyone - it apparently includes all you need to know to pass the exam.
The outlines are very well prepared and if you learn them well and practice essay writing, you have a good chance to pass. And I really appreciated the sample multiple choice questions. I have also very good experience with communication with BarMax people - whenever any bugs occurred and I reported them, they answered immediately and tried to help. I just needed more time than recommended by the app (about 3 months), but maybe I would succeed even with less time.
All in all, I was really happy with the app and think it was definitely well invested money. Thank you!"
- Helena Kastlova
Contact Helena about her BarMax experience.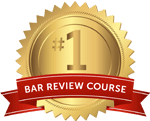 Get the #1-Rated Bar review for free.
Try Risk Free
✓ No card required
✓ 1 minute setup