For years now, Clooney has been Hollywood's inveterate bachelor. As his fellow silver screen mates found partners and settled down, Clooney hopped from one tinsel town lady to another. His repertoire of lovers spans actresses like Lucy Liu, Renee Zellweger, and Elisabetta Canalis to supermodels like Karen Duffy and Vendela Kirsevom Thomessen to cocktail waitress Sarah Larson, and even to professional wrestler Stacy Kiebler.
Clooney has dated an array of women in various professions. And now, after years of bachelorhood, Clooney has finally placed a ring on one lucky lady's finger. Who is this mysterious woman who took the perpetual bachelor off the market?
Her name is Amal Alamuddin.  She is a Beirut-born human right's lawyer who earned her LL.M. from NYU Law School and her undergraduate degree from Oxford. That's right bar prep friends! Clooney has been wooed by an attorney. And she's not just any attorney!
She represented Julian Assange during his extradition proceedings for WikiLeaks. She also represented the former Ukrainian prime minister, Yulia Tymoshenko. Alamuddin served as a student law clerk to Sonia Sotomayor while she was still on the Second Circuit. Alamuddin even served as council to the United Nations on the use of drones and as UN Special Envoy as Kofi Annan's advisor on Syria. To add even further to this hefty list, Alamuddin served as the legal advisor to the King of Bahrain. No big deal.
Alamuddin now works for the firm Doughty Street Chambers. They recently released this message to Reuters: The barristers and staff of Doughty Street Chambers offer their best wishes and congratulations to Ms. Amal Alamuddin, a member of Chambers, and Mr. George Clooney on their engagement to be married.
So, as you begin to set onto the path of your bar exam prep, know this, there is a light at the end of the tunnel, and it may just be George Clooney shaped. Well, actually, Alamuddin has that one covered now, but there are a lot of other Hollywood bachelors and bachelorettes that you can nab by flashing your shiny new J.D. and ridiculously impressive resume.
Hurry up and start studying!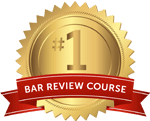 Get the #1-Rated Bar review for free.
Try Risk Free
✓ No card required
✓ 1 minute setup