What is the UBE, you ask? Well the UBE is the Uniform Bar Exam, an exam designed by the National Conference of Bar Examiners (NCBE) to standardize the bar exam process and allow test takers to transfer their scores across state lines. Why should you be excited about this? Well, let me tell you. Once you finish the epic journey of law school, the most logical option is to, while the information is fresh in your noggin, study for the July bar exam. Now, most law school graduates will not have secured a job before they take the bar, which means you might get job offers from firms that are in different states than the one you are taking the July bar exam in. Without reciprocity or the option of the UBE, you'll be forced to wait until February to take yet another exam.
"Students are the big beneficiaries of this," said Erica Moeser, president of the NCBE. "If there's one group that should care about the UBE, it's the person who is currently enrolled in law school and is looking to take the bar exam, finding a job, and dealing with debt, especially in this economy."
The UBE is composed of the Multistate Essay Examination, Multistate Performance Test, and the Multistate Bar Examination. Though takers of the UBE will not be tested on specific state laws, bar association examiners could choose to educate the new lawyers through a Continued Legal Education (CLE) format, which could actually provide even more focus and specialization than general bar exam questions. The test is uniformly graded, which offers test-takers a portable score that they can bring with them across state lines.
What jurisdictions currently accept the UBE? Well, the first to adopt the exam was Missouri, followed by Alabama, Arizona, Colorado, Idaho, North Dakota and Washington D.C. This year, five more states have adopted the UBE: Montana, Nebraska, Utah, Washington and Wyoming; and Minnesota and New Hampshire will administer the UBE starting in 2014.
The possibility of the UBE to be the standard bar exam across the nation is slowly becoming a reality. Physicians, architects, and accountants all have a single exam, why not attorneys? Many states have held onto their testing autonomy by developing some of their own exam questions, but the benefits of the UBE seem to outweigh the benefits of state-specific exams.
In this day and age when jobs are tight and law students are increasingly being weighed down by their student loan debts, adopting the UBE can really help open up many more avenues for students to find jobs after graduation. This is all great news for you, my future bar-exam studiers, especially since BarMax has already released its Uniform Bar Exam prep course and experts expect many more states to soon adopt the UBE.
Happy Studying!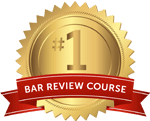 Get the #1-Rated Bar review for free.
Try Risk Free
✓ No card required
✓ 1 minute setup