On New Year's Eve, a driver who freelanced for Uber struck three pedestrians, including Sophia Liu, a 6-year-old girl who died from her injuries. Just in case you have never heard of Uber, it is a San Francisco-based, ride-sharing company with a smartphone app that enables freelance drivers to provide rides for a fee. These fees are then split with Uber.
Late last week, the girl's family sued the driver and Uber for negligence. Uber is arguing that it should bear no liability because the driver had not been retained by an Uber customer at the time of the collision. The driver, however, claims he was working for the company at the time because he was running the Uber app, waiting for a ride request.
A California state law (Vehicle Code section 23123) regarding driving while using a wireless device states, "A person shall not drive a motor vehicle while using a wireless telephone unless that telephone is specifically designed and configured to allow hands-free listening and talking, and is used in that manner while driving."
While this statute does not specifically address app use, an opinion out of the Superior Court of Fresno County has interpreted CA Vehicle Code section 23123 as follows:
This case requires us to determine whether using a wireless phone solely for its map application function while driving violates Vehicle Code section 23123. We hold that it does. Our review of the statute's plain language leads us to conclude that the primary evil sought to be avoided is the distraction the driver faces when using his or her hands to operate the phone. That distraction would be present whether the wireless telephone was being used as a telephone, a GPS navigator, a clock or a device for sending and receiving text messages and emails.
The below video is clipped from a long instructional program that new Uber drivers are required to view before they can drive. It covers the all the basics, including how to pick up rides.
Will the girl's family succeed against Uber in this action for negligence? Discuss.
Check back next week for the response. Happy Studying!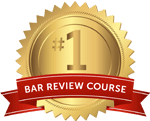 Get the #1-Rated Bar review for free.
Try Risk Free
✓ No card required
✓ 1 minute setup