The following is an unedited, unsolicited recount from a bar exam student that used BarMax and recently passed the New York bar exam after at least 15 attempts.
Dear Creators of BarMax,
I graduated from law school in May of 1995 and have taken the bar exam in Michigan, North Carolina, South Carolina, Colorado and New York-failing all. New York is my home state and the New York bar exam is the one that I have registered and appeared for at least 15 times (though probably more).
I simply don't have a record of all of the appearances, although the NY Board of Law Examiners said that they would provide this information to me if I make a written request. There were a couple of exams that I did not show up for due to the lack of study time available to me (I have been working full time in the electronics field for many years).
Despite the fact that I have resigned myself to the reality that I will probably never get the opportunity to practice, due to both the passage of time and the fact that I have not been a participant in the legal arena, I was determined to pass this exam and get my license as a personal validation. My primary problem has always been time management. This was the case in law school (I was academically dismissed twice due to insufficient grades directly related to not being able to finish exams) and it was especially true of the bar exam.
In fact, on the July 2013 exam (the exam I finally passed), I didn't have the time to even begin to read the last essay. That, coupled with the fact that I did not answer at least two components of other essays, I did not believe that I had a chance to pass. The only reason that I appeared for the MBE day was because the Board has a recently enacted rule which prohibits examinees from taking future exams if they fail to appear for either day of an exam.
I can understand how others would be perplexed at the concept of not being able to correct this problem, but I have never been able to conquer the irresistible compulsion to compose an essay answer that was anything less than an expression of all of the relevant law that I felt was applicable. I felt that it was especially important to get as many points as possible because I also had time issues with the MBE section.
This is where BarMax was especially helpful. The ability to practice actual MBE licensed questions with a timer progress-bar and get immediate reinforcement with explanations was instrumental in improving my proficiency in the MBE portion of the exam. In fact, I progressed from not being able to get through a 100 question session to finishing the July 2013 exam with so much time to spare that I was able to leave the exam site seventeen minutes early and catch an early train back to Long Island. I received a scaled score of 149.2, and that is with a barely competent understanding of Evidence, a topic that I have never had the time to master.
I would like to further state that I have done a disservice to your wonderful, innovative company. I have never done a NY or MPT practice essay, and obviously have not submitted one for your review and analysis as your service provides. Responsibilities in a life so far removed from law school have dictated severe restrictions on my time. The dream of getting my license at this point in my life has been one that I could indulge upon for just a couple of hours a day.
That is why I am writing this testimonial to your venture. I am someone who didn't have the time to follow your planned schedule or practice essays and had a history of not being able to finish either the essay or MBE components of the exam. I have studied both BarBri and Pieper Bar courses in the past (Pieper cost me $3000 back in 1996 and another $500 to renew after failing) and was overwhelmed by detail. This only served to feed my inclination to waste time on essays with unnecessary legal nuance.
Finally, after many years of frustration and a readiness to concede to the inevitability of interminable failure, I noticed a printout laid on my desk at work placed there by a close friend. It was an article about this new iPad app bar-prep course designed by some Harvard nerds. My friend was the only person that was aware of my legal history and he had encouraged me to get the iPad 2 and give it a try. So I did, and the result was constant exposure to NY bar materials everywhere I had a free moment. Waiting on line at the bank, or the doctor/dentist office waiting rooms; in traffic with bluetooth, I made up for time that I could not expend in a study session by utilizing every wasted moment in life with the portability of the BarMax materials.
The result of acquiring the BarMax app for less than the cost of a few wasted bar application fees was realized in the letter I received last Wednesday, October 30th, 2013, congratulating me for passing the New York State Bar Examination (I called the Board to confirm). I expected another failure notice, especially after not even cracking the seal on the last essay, but was shocked by the best email I will ever receive in my lifetime.
Thank you BarMax for providing me with the closure that I never believed possible. If I find myself in California, I will make it a point to navigate my way to your offices to shake the hand of each and every one of you that made this day possible. I leave you with the knowledge that, not only have you created a service that provides examinees with an incredible tool, but one that can be appreciated for a meager sum.
I have a final mission now; to enjoy a bonfire with an eighteen-year-old bottle of Champagne and Pieper and BarBri books as kindling.
The BarMax app, I will keep as reference.
With gratitude,
Alfred E. DelGreco III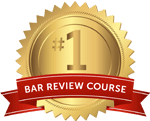 Get the #1-Rated Bar review for free.
Try Risk Free
✓ No card required
✓ 1 minute setup