I know some of you ventured onto the legal career path as a way to make money, while some of you did so as a way to help others. And then others of you [probably most] have begun to feel the weight of your enormous law school debt eradicate whatever reason you originally had for attending law school. Now I know many of you are worried about the dearth of high paying legal jobs available right after graduation, which begs the question: How on earth will you begin to pay off this enormous debt?!
Don't worry. More legal jobs are popping up left and right. And, who says you have to be an attorney? I mean, I know you just finished law school and are either right in the middle of your bar exam prep or have just taken the bar exam, but, that doesn't mean you have to be a lawyer. There are many people who went on the same path as you and then went on to make millions in completely different fields.
Forbes recently released its 2013 list of world's richest people. I've narrowed down for you the top five richest people on that list with a law degree so you can see all the different career paths available to make your millions-or billions! Let's get inspired!
Heinz Hermann 
Hermann received a master of laws (also known as an L.L.M.) from the University of Munich. He went on to acquire a brake making company in the '80s and is now worth $6.4 billion. He was 189th on the Forbes list.
Richard Kinder
Kinder received his law degree from the University of Missouri. He was president and COO of Enron for six years before he quit and founded his own energy company, Kinder Morgan, in 1997. He is ranked as the 112th richest person in the world with a net worth of $9.8 billion.
Roman Abramovich
Abramovich is the fifth richest man in Russia. He earned his law degree at Moscow State Law Academy. He is a business tycoon and owner of the Chelsea Football club. He lands at 107th place on Forbes' list.
Charlene de Carvalho-Heineken
Carvalho-Heineken is the 13th richest woman in the world. She studied law at the University of Leiden in the Netherlands. She is the heiress to the Heineken beer fortune. Forbes ranked her as the 94th richest person in the world.
Samuel Robson Walton 
Walton is the heir to Walmart. He earned his J.D. from Columbia University and practiced law at Conner & Winters in Oklahoma before joining Walmart as a senior VP.
So, I hope this helps calm your financial worries. I know some of these people were heirs to large thrones, but, they still got their degrees and some even practiced law before they went into business. I'm just trying to say, as I always do, the J.D. is a very versatile degree. You're not going to get pigeon-holed, and you will have ample opportunity to balance out your debt.
Happy Studying!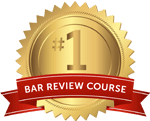 Get the #1-Rated Bar review for free.
Try Risk Free
✓ No card required
✓ 1 minute setup