Okay my June LSAT-taking hopefuls, the time is nigh! You officially have three days till judgment day, which means you only have two viable study days left: today and tomorrow. I wanted to make a quick list of everything you should be focusing on for the next 72 hours. Let's dive right in:
Take your last LSAT practice test today
Today is the last day you should take a full diagnostic.  You should focus all your LSAT prep tomorrow on your strengths, honing in the details and nuances of your best section.
Do not study on Sunday
I've said this time and again, you will gain nothing by one extra day of studying. You'll merely run the risk of tiring yourself out before the big day. But, you will gain an extra day of calm and relaxation if you don't study on Sunday. This way you can enter the exam on Monday fully recharged.
Eat, drink, and sleep well
These next few days are crucial. Keep your body tuned and well-oiled. You don't want it to give out on you come test day!
Double and triple check the list
Check, re-check and then check one more time the list of items you must have with you on test day, and the list of items you can't have with you on test day. Don't miss the June exam because you forgot the right type of id (You can find these lists on LSAC's website here).
Wear layers
You don't know how the building manager of your test location feels that day. What if he decides to be errant and blasts the AC all day? What if he completely forgets to turn the AC on? Be prepared and wear layers to battle the elements of your testing location.
Bring a snack
You have a fifteen-minute break. Recharge during it. My favorite snack to recommend bringing is a banana with some peanut butter, but bring whatever you think best energizes you.
Avoid the bathrooms
I know this sounds odd, but try not to go the bathroom during the exam. Everyone goes to the bathroom during the break and everyone starts to chat about the sections. This chatter is LSAT suicide. Someone will inevitably say one section was very easy or one section was very hard and that will get in your head. Don't get distracted by unnecessary LSAT banter.
Bring some questions with you on test day
You want to walk in to the testing center ready and raring for more LSAT questions. It's a good idea to bring a few Logical Reasoning questions or even a Logic Game with you to do in your car or while you stand in line at the testing center. That way you can be in test-taking mode when you sit down for your real exam.
Know your testing location
Please don't let the morning of test day be the first time you look up how to get to your testing location. Be prepared. Know different routes and how much time you need allotting for traffic.
Relax
At this point in the game, stress is your biggest enemy. You've done everything you can. You've worked hard. Now go in there and kick some LSAT butt!
Alright, my LSAT-taking friends, you've got this! Breathe, stay confident, and try to smile. You're well on your way to law school.
Happy Studying!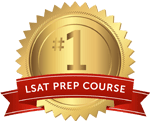 Get the #1-Rated LSAT Prep for free.
Try Risk Free
✓ No card required
✓ 1 minute setup