I haven't done one of these in a while, so I thought I'd share another little story with you about my vast years in the field of LSAT prep. I have had many different students throughout my time as a LSAT tutor, but one in particular always comes to mind. Let's call him, "Mr. Smarty Pants." Mr. Smarty Pants came to me as a recent graduate from a very good school donning a wide grin, a stellar undergraduate GPA and many extracurricular accolades. His starting score was a 165 (hate him already?) and his target score was at least a 175 (how about now?).
We worked together for four months, meeting twice a week for the first month and then once a week for the last three months. He progressed extremely well and was ultimately a star student of mine because he really did listen to everything that I told him about LSAT prep. Now, that being said, Mr. Smarty Pants did have one major flaw: his arrogance. One section we obviously never worked on together was the Writing Section of the LSAT. I took a total of ten minutes explaining the section to him at the beginning of our first meeting, and told him as long as he wrote something persuasive, comprehensive and concise, he'd be fine. After all, the Writing Section is not graded.
By our last meeting, Smarty was consistently scoring 178s or higher and neither of us were too worried that he wasn't going to get the score he desired. I remember I gave him a few test day tips, such as what to bring, how many pencils to sharpen, how to dress (layers!), when to get there, what snacks to bring (I prefer a banana with peanut butter because of the potassium of the banana and the wondrous brain powers of pb), etc. Everything went fine and dandy and we shook hands at the end of the lesson, and parted ways.
As always, an hour after the LSAT my students are taking is over, I give them a call to see how they are doing. Mr. Pants was third on my list. When I finally got to him, I had spoken to two students who had panicked so I was actually looking forward to Smarty's arrogance and excitement of acing the LSAT. I wasn't disappointed. He told me how he wasn't surprised with anything on the test and felt like he might have come close to a perfect score. Then he said, "I know I did so well, that I didn't even do the Writing Section!"
My heart dropped. "What?!?" He said that he felt so confident on the scored sections of the LSAT that when he got to the Writing Section he just drew a large happy face and watched the clock dwindle down the last thirty-five minutes.
Well, Mr. Smarty Pants ended up with a 177. Needless to say, we were both very happy with his score, but when acceptances came along, both of us were shocked to see his results. Mr. Smarty Pants got rejected from every top ten school he applied to. He was shocked. He appealed many of the rejections. He learned that in your admissions packet, which LSAC organizes and sends to each law school, your Writing Section is smack dab on top. So the very first thing the law school admissions counselors will see is whatever topic you wrote about on the exam. Now, sure they probably won't read it, but obviously they were not too pleased to see a smug happy face staring back at them where the LSAT Writing Section was supposed to be.
Though not all of the rejections flat out told Smarty that this was the reason, two came out and said they did not like what it said about the applicant. Now, don't feel too sorry for ole Smarty. He did get accepted into many great law schools that all gave him some money. But, still, let this be a lesson to you, numbers and scores can only get you so far. Try not to be smug about your achievements. You may find it'll hinder you in the long run. Hope that was entertaining!
Happy Studying!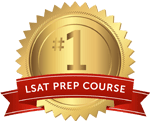 Get the #1-Rated LSAT Prep for free.
Try Risk Free
✓ No card required
✓ 1 minute setup