It's officially October and the September LSAT Test is done. Hurray! So you've either already taken the September LSAT or you've just gotten into gear with your LSAT prep for the December LSAT. Either way, the weekend is almost upon us, and so is October—one of the best months in the year.
I thought since we're either celebrating or starting slow and steady with our LSAT prep, I could tell you about all the ridiculously fun things that October brings with it!
Oktoberfest
Oktoberfest is a German festival centered on beer. It's traditionally held in Munich, Bavaria, and Germany, but many other countries have jumped on the bandwagon. So, you don't have to travel overseas to join in on the fun! Ultimately Oktoberfest is a time to eat, drink and be merry!
Sweetest Day
Yes, this is an actual holiday. Herbert Birch Kingston, a Cleveland, Ohio philanthropist and candy company employee started Sweetest Day. He wanted to bring happiness to orphans, shut-ins and the under-privileged. He started the holiday in 1922 by handing out candy and small gifts.
Halloween
This is my most favorite holiday! Halloween is on the last day of the month. Everyone decorates their homes with pumpkins and cobwebs—well, at least all the cool people. And you get to watch youngsters walk around in costumes and knock on doors for candy! Costumes, candy and goblins?!? How could you ask for more?
National Cookie Month
Need I say more? October is the national month for cookies. So start preheating your ovens now and get that cold glass of almond milk ready!
See all the amazing things that October has to offer? So, for those of you with the December LSAT still in store, don't fret! You've got the entire month of October to celebrate and look forward to! Now, get started with those Logical Reasoning questions!
Happy Studying!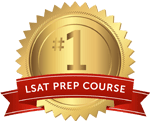 Get the #1-Rated LSAT Prep for free.
Try Risk Free
✓ No card required
✓ 1 minute setup