Today, I thought we could take a quick break from LSAT prep to discuss something that should definitely be on your mind during your non-LSAT prep time. Remember, even after the LSAT, there are still a few steps you have to take before you're finally done with this law school admissions process. We've still got everything on the application to look forward to, the most important and time consuming of which is the personal statement.
The law school personal statement is not only a very important aspect of your application package, but it is also a very new creature. This is not the same beast you're used to from high school. You can't just delineate a meaningful or epic thing that happened to you and be done with it.  First, you really need to figure out what the prompt is asking of you. It's important to stick to the prompt. Make sure to answer the specific question that is being asked, instead of the question you wish you were being asked. Although, if the school invites you to write freely, then have at it!
There are typically two types of personal statement questions. The first is one that is geared more towards the personal and open-ended question. You are more familiar with this one. The question asks you to write about anything that will help the admissions committee get to know you better. Usually it will be more focused on a personal anecdote that embodies you in spirit, rather than an essay on your specific professional goals and ambitions.
The second type of essay is geared more towards your decision to apply to law school and your professional goals. This prompt will ask you about the motivations that made you decide to seek out a legal career path.
Make sure to keep these two essays separate. Stray away from tacking on a "this is why I want to go to law school" paragraph at the end of a long personal essay. Many times it reads out of place and ruins the flow of the statement. Likewise, try not to add personal quips and anecdotes in a more serious professional essay about your vocational and future professional goals, unless of course the reason you want to become a lawyer is a personal story. For the most part, this is not the venue to display your epic wit. Humor and witticism rarely translate well on an admissions essay. Proceed with caution if that is the route you are going to take.
Now, if the essay question doesn't expressly ask you to explain why you want to go to law school, then you don't have to explain it. Use this opportunity, if you want, to write out a personal statement that highlights you as a person, rather than an aspiring law student and future attorney.
Most importantly, make sure, whichever essay you are writing, that it is in your voice, and based on your experiences. Don't try to be someone else. There's only one you, and the more refreshing and well-thought out the essay, the better it will be received.
Happy LSAT Prep!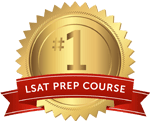 Get the #1-Rated LSAT Prep for free.
Try Risk Free
✓ No card required
✓ 1 minute setup