As your LSAT testing date approaches, you should be prepared and know ahead of time what you should take with you. There are a few important things to know, as forgetting your ID will cause you to be unable to take the exam while taking something prohibited like a smartwatch can get you kicked out of the testing center.
You'll probably be nervous on exam day, so packing what you need to take with you beforehand will save you some frustration. This article will tell you everything you can and can't take with you to the testing center so you can focus on the exam.
What You Must Bring With You
There are only three things that you absolutely must bring with you to take the test: your admission ticket, a photo ID, and pencils.
Forgetting these items will result in you not being able to complete the test. The LSAT will not refund you if you don't have your ticket or acceptable ID.
Admission Ticket
Your admission ticket is five pages long, but you only need to bring the first page with you on exam day. The ticket will have the photo that you uploaded to your LSAC account.
The photo must include your head and shoulders, and you can't obscure your face in any way. Mirror selfies where the phone is visible aren't permitted. Make sure the photo won't appear blurry on the ticket because that will cause issues too. Take the photo in a well-lit area, so shadows and glares aren't cast on your face and you are clearly identifiable. Treat it like you would a passport photo and you should be fine.
You won't be allowed to take the exam without the ticket, so triple-check that you have it with you before you head out the door. You can only use your ticket on the date that's printed on it, so make sure you're going on the correct day at the correct time.
Photo ID
You're required to bring a government-issued photo ID along with your admission ticket. IDs that are acceptable include:
Driver's license
Passport (book or card)
US permanent resident card (green card)
US military ID card
Note that if acceptable forms of ID are expired or photocopied, they won't be allowed.
Other forms of ID are accepted, but you should contact LSAC to see if they will allow it and are aware that is the ID you intend to bring.
Common IDs that aren't allowed include:
Social Security card
Birth certificate
Credit or debit cards with photo
Student ID
Employee ID
#2 or HB Pencils
Pencils aren't listed as a requirement for the LSAT, but you can't take the test without them if it's a paper exam. Even if the exam is administered digitally, as the majority of LSATs are nowadays, you should still bring some pencils with you.
Pencils should be wooden and listed as #2 or HB, which are essentially the same thing. Mechanical pencils aren't allowed on the test. If you bring any, they might be confiscated, or you could be told to leave the testing center.
How many pencils are too many? That's up to you, but it's best to take three or four with you. Taking an entire pack might be overkill since you can bring a pencil sharpener, but you can do whatever you're comfortable with.
What You Can Bring With You
On testing day, you can take a one-gallon resealable plastic bag to put your belongings in. It must be a resealable plastic bag, and it must be able to seal shut. You'll put your bag under your chair, and you can only open it on your break. No other bags of any variety — briefcase, handbag, etc. — can be taken.
You can take the following items with you as long as they fit inside the plastic bag:
Keys
Wallet
ID
Medical products
Feminine hygiene products
Highlighter
Eraser
Pencil sharpener
Tissues
Drink in a plastic 20-ounce container and a snack
Be sure to remove the pencils, sharpener, eraser, and highlighter before the test begins since you can't access the bag until the break you get halfway through the exam.
What You Can't Bring With You
There are several items that aren't allowed in the testing center. While some of the prohibited items might seem strange, they're banned because they could aid in cheating or removing the test from the testing center in one way or another.
Items you can't take with you include:
Phone
Smartwatch
Digital watch
A device that allows you to set a timer
Mechanical pencils
Bags other than the resealable plastic bag
Headphones or earbuds
Electronic devices
Pens
There are further restrictions, but these are the common items that people might bring on accident or without thinking.
Assume that anything not on the list of allowed items is not allowed. Proctors will check your plastic bag for prohibited items, and they can prevent you from taking the test or confiscate your belongings until after the test. It will ultimately depend on who your proctors are and how they choose to handle the situation, but it is not a risk worth taking.
As a general rule of thumb, you shouldn't bring anything that isn't on the list of allowed items.
Getting Accommodations for the LSAT
The list of what you can and can't take with you to the LSAT is pretty strict, but it's possible to request accommodations if you need them. Accommodations are made on a case-by-case basis and will be granted as long as they don't interfere with the policies.
If you have diabetes or have other medical needs, you can make accommodations that will allow you to bring medical supplies and use them as needed, whether it's checking your blood sugar or taking medication.
If you have sensitivities to noise, you can request to use earplugs or even get a private room to take the exam in.
If you have trouble reading small print, you can request to bring something to magnify the text or to have the exam printed in a larger font.
You can also request to have a piece of scratch paper if you think that you'll need one.
The list of accommodations on the LSAC website is incomplete; if you need something that isn't on the list, you can contact LSAC to make a request. If it doesn't conflict with the policies, it might well be approved. All accommodations are granted on an individual basis, so contact LSAC to see what can be done. Don't expect any accommodation to be granted that hasn't be cleared with the testing center well ahead of time.
Final Thoughts
It's best to get everything you need into your plastic bag the day before the test, so you don't have to worry about it the morning you wake up. Remember to double-check before you leave to make sure that you have everything you need and so you can keep on mind focused on passing the exam.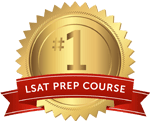 Get the #1-Rated LSAT Prep for free.
Try Risk Free
✓ No card required
✓ 1 minute setup