Okay, we got through my top three favorite places in Los Angeles to have coffee and study for the LSAT. If those don't tickle your LSAT prep fancy, then I have a few more suggestions for you. Sit back, grab a cup of joe, and take a breather.
4.  HUCKLEBERRY: 1014 Wilshire Blvd, Santa Monica, CA
This is the cutest little café in Santa Monica and it has the most amazing fresh baked breads and goodies you can imagine. On weekdays, it's pretty relaxed and has a great study atmosphere. Just as a side note, the people who created Huckleberry are the very same who created Milo & Olive which is right up Wilshire. If you've never been there, then I TOTALLY recommend it, but more for a cute dinner date or friend catch up wine session than an LSAT prep fest.
5. CLEMENTINE: 1751 Ensley Avenue, Los Angeles, CA
This café should be a definite staple in your study repertoire. They have great coffee and homemade treats galore (I really recommend the chocolate chip cookie), and they have yummy food for any likely lunch or dinner break you may want to take. They are not open on Sundays, which is important to remember. I've tried to get my study on many a Sunday only to be stopped cold by the CLOSED sign on the front of their door. Lunchtime gets a tad busy, but other than that this place is great.
6. AMANDINE CAFÉ: 12225 Wilshire Blvd, Los Angeles, CA
This Parisian style patisserie has the prettiest façade covered in vines and reminiscent of little streets in the Marais. If the décor and façade don't distract you from your Logical Reasoning section, then this is the place for you. Their coffee is made with care and you can really taste it. The sweets are abundant and there's even yummy food if you'd like to take a quick break.
I'm going to take this quick moment to put on my LSAT Mom hat on. Please remember to take breaks during your LSAT prep, and not just for lunch and dinner, but just whenever you need one. Whether you need to take a nap, or you feel that you LSAT prep train needs to stop and refuel. I can't stress enough how horrible it will be for you if you run that train into a wall, let alone running it into the same wall repeatedly. You hear me? Okay, hat off.
Happy Studying!"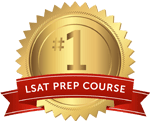 Get the #1-Rated LSAT Prep for free.
Try Risk Free
✓ No card required
✓ 1 minute setup