What is the LSAT?
The LSAT, or Law School Admission Test, is a standardized test required for admission to all ABA-approved law schools, most Canadian law schools as well as many non-ABA-approved law schools.
According to LSAC, the LSAT provides a standard measure of acquired reading and verbal reasoning skills that law school can use as one of several factors in assessing applicants.
The reality is that the LSAT is by far the most important factor in law school admissions.
What is on the LSAT?
The LSAT consists of five 35-minute sections of multiple-choice questions and a 35-minute, unscored writing sample that is administered at the end of the test.
Four of the five multiple-choice sections are scored. These sections include one Reading Comprehension section, one Analytical Reasoning (more commonly known as Logic Games) section and two Logical Reasoning sections.
Each Logical Reasoning section includes 24-26 questions.
Each Reading Comp section includes 25-28 questions.
Each Logic Games section includes 22-24 questions.
LSAC has made the June 2007 LSAT available for free to help pre-law students better familiarize themselves with this exam.
You can access this free practice LSAT inside of the LSATMax app as well as on LSATMax Online. You can also download the PDF to simulate the paper/pencil experience of the LSAT.
You can also watch detailed whiteboard video explanations for every Logical Reasoning question and every Logic Game both inside of the LSATMax app as well as online.
What Does the LSAT Measure?
According to LSAC, the LSAT is designed to measure skills that are considered essential for success in law school:
the reading and comprehension of complex texts with accuracy and insight;
the organization and management of information and the ability to draw reasonable inferences from it;
the ability to think critically; and
the analysis and evaluation of the reasoning and arguments of others.
More specifically, here are what the three multiple-choice question types that appear on the LSAT measure in pre-law candidates:
Reading Comprehension Questions ' measure the ability to read, with understanding and insight, examples of lengthy and complex materials similar to those commonly encountered in law school.
Logic Games Questions ' measure the ability to understand a structure of relationships and to draw logical conclusions about that structure.
Logical Reasoning Questions ' assess the ability to analyze, critically evaluate, and complete arguments as they occur in ordinary language.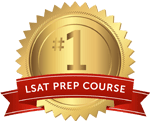 Get the #1-Rated LSAT Prep for free.
Try Risk Free
✓ No card required
✓ 1 minute setup