If you haven't seen the recent law school related YouTube hit (wow never thought I'd put those words next to each other), then you should get on it! Search for Chocolate Ghost House's Maroon 5 Parody of Payphone called Law School. The video received over 125,000 hits in its first three weeks. The song tells a tale of law students struggling through debt, memos, notes, readings, and finals. Andy Loud, the band's lyricist and resident law student at WVU's College of Law, believes that it is a very true depiction of what law students have to deal with. "If you would like a crash course in what it is like to be in law school, just listen to the song. And if you still want to go to law school, good for you," Loud says.
A law blog challenged students to come up with parodies about law school. "I took it upon me as a personal challenge and said to myself, we need to do this and put something out there that puts WVU on the map," Loud said. Loud took the lyrics to WVU alum, Tyler Murray. "I write music myself, and I do cover songs and things like that," said Murray. "And to see this video do ten times better than all of my music combines was slightly depressing at first, but also showed we can do something different right now, something comedic."
I really like Murray's point of view. Whether or not being a lawyer is your goal, going to law school is very difficult, and can at times be defeating. If law school is definitely part of your plan, then I think the only way to get through it is with a little bit of comedy and a breath of fresh of air. I know I'm like a broken record on this, but, taking a moment to relax from your LSAT prep is key to your success not only on the LSAT, but also in law school. Chocolate Ghost House's song is pretty true to form; law school is stressful, anxiety-inducing, hard, and down right torturous at times. If you don't schedule in a few breaks in your day and try to see the brighter side of life, then you're not going to make it!
Laughing is a great way to take a break from the stress of the LSAT and law school, which is why I encourage you to take a break from your studies, whether you're facing a Reading Comprehension section, or reading cases for Contracts. You can even take your break by watching Chocolate Ghost House's silly video. It brought a smile on my face! And, it's proven that smiling causes your body to release endorphins, which make you feel better and help you relax!
It's true that your days may look a little bleak at the moment. You're turning LSAT practice test page after page, and your LSAT prep seem endless, but take a break, and smile! You know why? Because there is a light at the end of this tunnel! Yes, the tunnel might look very long from where you are standing, but the only way to get to the end is to start walking and keep your head up. Laugh a little. It really is the best medicine!
Happy Studying!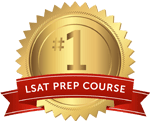 Get the #1-Rated LSAT Prep for free.
Try Risk Free
✓ No card required
✓ 1 minute setup