So you want to be a lawyer... but what is the process like to become one? Here's what to expect, from law school admissions through graduation:
Take the LSAT
You'll need to take this test before you apply. Your LSAT score is an important piece of your law school application, so utilizing a proper LSAT prep course will be key. This 175-minute multiple-choice test covers three main topics: Reading Comprehension, Analytical Reasoning, and Logical Reasoning.
Scout Schools
With your LSAT score and undergraduate grades in mind, make a practical list of schools that you would like to attend and where you would be a competitive applicant. Think about the type of law you most want to practice, school rankings, the location where you'd like to attend school, the location where you'd like to practice law, and your finances when making this list. Divide these schools into safety, likely, and reach categories.
Not sure where to apply?
Consider any of the following to help you make your list:
Attend an LSAC Forum
These free forums are held in cities across the country, where you can meet with law school recruiters and attend workshops on life as a lawyer.
Tour Campuses
A school may seem perfect on paper, but there's no replacement for the feel of a place. You'll spend three years on this campus and in this community. So get out there and smell the campus air, sit in on a class, or visit the campus pub to get a sense of what life here would be like beyond what you read in a brochure.
Consult Online Forums
Hit up forums on sites like Reddit to ask questions of current undergrads and lawyers who attended these schools. In these informal formats, you're likely to get the honest answers you need to make an informed decision on where to apply.
Download Law School Match
With Law School Match, you can find your dream law school. Browse over 200 law schools and narrow your search by location, LSAT score, GPA and tuition.
Apply
Submit your applications, keeping track of which schools use rolling admissions and which don't.
Interview
Some schools may invite you to interview as part of the admission process. If you don't get an interview, don't panic. Not everyone is asked to interview that ends up being admitted. For those that do interview, this is an opportunity to give the admissions committee something to remember about you. Something that's not conveyed on your resume, work history, or test scores. Prepare answers for standard questions like "Why do you want to go to law school?" ahead of time, but practice phrasing your answers differently so that you don't sound like you're reading from a script. Make sure you have a few solid questions prepared to ask the interviewer, and always follow up with a thank you email.
1L
You did it! You've been admitted and you've arrived! Now the hard work begins…
1L courses at most law schools are the same, covering the basics like: Contracts, Legal Research & Writing, Civil Procedure, Constitutional Law, Property Law, and Torts.
1L is notoriously difficult curriculum-wise, but it may have this reputation because it's also a time of transition. Students may not be used to professors using the Socratic Method, and the type of thinking required in law school is unique. For those who worked in between undergrad and law school, there may be a greater period of adjustment as you dive back into student life.
Summer Job
The first summer of 1L is the most freeing time you'll have. The job you have the summer after 2L may turn into a full-time job post-grad, and you'll hopefully be starting a full-time job after 3L. But the summer after 1L you can experiment a bit. By all means look for a job in your desired field of law that will boost your contacts and future job prospects, but if you want one final summer to lifeguard on the beach or work at the family business, this is the time. If you'd like more information, we put together a post on finding a summer job or internship during law school that you can check out!
2L
During 2L, you'll take classes that broaden your understanding of the law beyond the basics covered in 1L. You might take a "perspective" course that examines a particular field of law through a particular lens, and a "skills" course that helps you practice skills you'll need as a lawyer, like interviewing witnesses, negotiation, and investigation.
Summer Job
For those hoping to go the traditional route, a summer associates job at a firm after 2L is the most likely to turn into a job offer after graduation. If you're not able to land a job at your desired firm or organization, make sure your job after 2L is in the legal field and will give you experience and skills that will make you an attractive hire after graduation.
3L
During 3L, you'll take electives and seminars tailored to your area of specialization.
Take the MPRE
Before being able to practice law, you must pass this exam, which measures your understanding of ethics in the legal profession. The test is offered in March, August, and November. You can take this test before graduating, so look at your calendar and decide what makes the most sense for you. We have free MPRE practice questions and resources available as well.
Graduation
Put on that gown and get ready to toss your cap into the air because you're done with law school!
But you still have to…
Take the BAR Exam
Yes, you graduated, but in order to practice the law, you must pass the BAR Exam. Each state has its own requirements, so check your state bar association's website for details on test dates and more, and consider a bar review course to help you pass.
Employment
After three hard years of work, one diploma, and passing the MPRE and The Bar, you're now ready to put all that legal knowledge to use in your first job! Give yourself a huge pat on the back for making it this far, then put your head down and get ready to keep working hard.
You have the tools for a great career, but it will take more sweat and perseverance to make that happen. Good luck!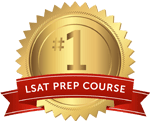 Get the #1-Rated LSAT Prep for free.
Try Risk Free
✓ No card required
✓ 1 minute setup