Today, I wanted to check in with you since I know how stressful LSAT Prep can be. I was in your shoes not so long ago. I've seen way too many students break down because they have overworked themselves during their LSAT prep.
The first thing I want you to know is that you are not alone. The second is that you should try not to be so hard on yourself. If your score isn't improving the way you want it to, then instead of exhausting yourself by doing the same thing over and over again, take a moment to breathe and gauge where the problem may lie. It may suffice to reread our post from Wednesday, February 26th about breaking through LSAT score walls. And lastly, I want you to try and incorporate more stress-relieving techniques into your life.
As I'm sure you know, there are a myriad of ways you can add a little relaxation into your daily mix, e.g. meditating in the morning, repeating affirmations, cuddling with your loved ones, etc. But, today I'd like to talk with you about one of my favorite ways to de-stress: exercising.  Now, don't go rolling your eyes just yet. Once, I was just like you. I hated moving my limbs for anything other than to grab a bag of Hot Cheetos or to pick up my 17 lb. Russian Blue Cat. However, once I embarked on my journey towards law school, I realized that every day inched me closer towards a gargantuan LSAT-induced stress-explosion. One day my Mom suggested I take up running. Though at first I avoided her suggestion, soon I found that my growing stress was creating a large cache of pent up energy inside of me. I donned some sweat-wicking workout clothes and went out on my first run.
It was horrible. I came back winded, red-faced, and sweat-covered. But, I also felt oddly calm. When I sat down afterwards to begin a new section of Reading Comprehension passages, I felt a renewed surge of energy.
After a few days of exercising regularly, not only did I find that the consistent exercise helped me expend a lot of my built up stress, but it also increased my running endurance. Several years have passed from my LSAT prep days; and though I've changed a lot, one thing has stayed the same—I am still running. I actually finished my second half marathon last weekend and will be running my third half marathon in less than a month.
Exercise is a great way to reduce your stress throughout this period of studying for the LSAT. It's also a great way you can better your health through strengthening your heart, body and mind.  That's what I call a win-win!
So, what I'd like for you to take away from this post is that your LSAT stress can be conquered. Even if you don't want to unwind via exercise, there are many other ways you can release that anxiety. We have plenty of posts on the many ways you can de-stress! Go ahead and peruse the blog to get some more ideas. Take a deep breath. You've got this!
Happy Studying!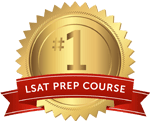 Get the #1-Rated LSAT Prep for free.
Try Risk Free
✓ No card required
✓ 1 minute setup