Nicknamed "The City Beautiful," Orlando is a wonderful place to visit and explore. However, the city has a lot more to offer than the tourist attractions of Universal Studios, Disney World, and Sea World. The city's sights, vibrant lifestyle, and NBA franchise team are only a peek into what makes Orlando magical.
Law and order are at the heart of every thriving city, and Orlando is no different. For this reason, practicing law here has become one of the most high-paying professions; this holding true for not only Orlando but the entire state of Florida. According to the U.S Bureau of Labor Statistics, law was ranked in the top twenty high paying professions in 2019, with lawyers earning an average salary of $128,920.
However, there are several hurdles you will go through before you are allowed to practice law in the city. One significant obstacle is the LSAT. While there is a predetermined number of times you are allowed to retake the LSAT in a year, getting a high score on your first attempt is recommended. High scores significantly increase your chances of gaining admission into some of the city's credible law schools such as Florida A&M University College of Law and Barry University, which use your LSAT scores as a vital determinant.
Knowing how important the LSAT is, it will take a lot of time and effort before you can confidently take the exam. The better prepared you are, the less challenging the LSAT will be.
An LSAT prep course is the best way to ensure you are as ready as possible. Luckily, there are a ton of available prep courses to aid in your preparation. These courses help you to get familiar with the concepts the LSAT exam covers. They also teach you some of the tried and tested tips, tricks, and strategies that go a long way in helping you achieve success.
As a student or employee, you will likely find it challenging to check the results and reviews of all the LSAT prep courses available in Orlando. Furthermore, determining the right prep course could be especially hard if you do not know what to consider.
We understand that choosing the right prep course could be the difference between success and failure. With our year of experience, we know that a top-quality LSAT prep course must include;
Previous years' LSAT prep tests and questions
Support materials for you to use during and after class
Videos giving detailed explanations of concepts and types of questions
Flexible prices to accommodate your budget
We rely on our industry experience and expertise in only suggesting to you the courses that meet the above criteria and are proven to help improve LSAT scores. These courses eventually help you gain admission into the law school of your choosing.
Online vs In-Person LSAT Classes
When it comes to prep courses, you have the option of either online or in-person classes. In-person classes require you to attend lessons physically to undertake the training. On the other hand, an online prep course is conducted remotely, with resources accessible to you anytime and anywhere.
We all absorb information at varying rates and in different ways; therefore, the mode of learning you go for entirely depends on your preferences. Opting for in-person classes will give you a more hands-on experience. However, their restrictive schedule could be unaccommodating for you if you are currently employed or have other commitments keeping you busy.
Your instructors also play a role. Their teaching methods will determine how well you grasp the material. An instructor's teaching style will affect your enthusiasm as well as how beneficial the course will be.
How easy it is to get to your class is also essential. For this reason, you should weigh the class's location when making your decision. While some prep centers are located within the city, there are a few that are not as conveniently accessible. Taking classes in these centers will add further strain on your schedule and budget due to the money you spend going to and from your classes. Prep courses are costly, so if you choose in-person classes, you should attend all of them to get value for your money.
With all the limitations that come with choosing in-person courses, it becomes clear why many students opt for the online choice. The significant advantage of online classes is the convenience brought about by their flexibility. Online courses remove the need for your physical presence, allowing you to access all the resources and lessons anywhere and anytime. If you have a hectic schedule, this flexibility will enable you to plan your studies around other engagements you might have.
Furthermore, online prep courses do away with the frustrations experienced with in-person classes. With this option, you won't have to worry about navigating rush hour traffic or searching for a parking space. Additionally, there is the safety and comfort that comes with studying in areas familiar to you, further allowing you to free your mind and focus on your studies.
Since you don't earn the average $51,550 entry salary afforded to a lawyer in Florida, your budget is another major factor. Online prep courses are more affordable than the in-person option. Also, since one aim of the course is to make you familiar with the LSAT examination, opting for the online prep course would allow you to be more conversant with digital mediums. The online option, therefore, gives you an extra edge since today's exam is administered through computer tablets.
While you will not have the benefit of having an instructor to respond to your questions personally, there are currently several online prep courses that have support systems integrated into their design. These systems enable LSAT experts to respond to your queries effectively and promptly.
| | |
| --- | --- |
| Advantages of Online Courses | Advantages of In-Person Courses |
| You have the freedom of scheduling your prep course to your convenience | Hands-on and engaging guidance from your instructor |
| Resources and materials are accessible to you at any time | Opportunity to interact with other students |
| More affordable than in-person courses | Classroom environment could provide fewer distractions, making it more conducive for learning |
| Personalized study plan structured according to your needs and preferences | |
| Allows you to get conversant with the digital medium through which the LSAT is administered | |
The Best Online LSAT Prep Course in Orlando

LSATMax LSAT Prep Course
Your secret weapon for getting accepted to the law school of your choice, the LSATMax online LSAT prep course from TestMax, is guaranteed to raise your scores. For a reasonable one-time fee, you'll get instant access to a huge arsenal of tools to help you prepare for the exam on your own time. With countless five-star reviews across TrustPilot, Google Play, and the Apple App Store, LSATMax is clearly the best online LSAT course available.
What makes LSATMax the best online prep course for any pre-law student looking to max out their LSAT scores? First, because it's available on both web and mobile, you will be able to access your course materials at any time. Next, unlike many online courses that use practice questions written by so-called experts, LSATMax only uses actual questions that have appeared on the LSAT. Your membership gives you access to up to 9,000 questions.
There are three LSATMax course packages available. All three contain the full LSATMax course catalog with over 100 hours of video from instructors who have all scored in the 99th percentile on the LSAT themselves. You'll also have opportunities to get personalized help from our instructors via real-time chat, message boards and scheduled office hours Q&A sessions. All students can also access their sample questions using LSATMax's digital LSAT simulator for an authentic experience that replicates and gets you ready for the real LSAT.
Course Packages Available:
All LSATMax packages contain the full course catalog and a subscription to LSAT Prep Plus which gets you access to every LSAT practice exam available from the LSAC. You can choose between 3 flexible packages that give you access for the length of time you need to study for the LSAT.
LSATMax 60: This package gives you 60-day access to the full LSATMax course. It is great for students who have a shorter amount of time to study before their exam or who only need to raise their score a few points.
LSATMax 180: This 180 day access package is designed to fit the needs of most students by giving access to the course for longer than the average time spent studying for the exam.
LSATMax 365: This package is the best value for those who have a longer time frame to study for the exam or need to raise their score as much as possible.
No matter which package you choose, TestMax offers 0% financing for up to a full year through Affirm. Remember, the earlier you begin preparing for the LSAT, the higher your scores will be.
Pros:
Get instant access to flexible packages and pricing
Guaranteed to boost your LSAT score or your money back
Interactive instruction with real LSAT experts
Digital LSAT simulator for 100% realistic test experience
---

Law School Admission Council Official LSAT Prep
https://www.lsac.org/lsat/prep
The Law School Admission Council (LSAC) is the organization that administers the actual LSAT, so their official prep course is definitely worth looking at. While this is one of the least expensive LSAT prep products available, there are also some large omissions. First, the LSAC only uses practice tests for their online platform, not authentic LSAT questions from past tests. Second, while access to the real test interface is a nice touch, there is little actual instruction in this package. Due to the low price and these missing pieces, this service is best used as a supplement to your study rather than your primary prep course.
Pros:
Uses the real LSAT test interface
Low price
Cons:
Just the practice tests, so no instruction is included
Practice questions aren't taken from real LSATs
---

Manhattan Prep
https://www.manhattanprep.com/
Like most of the online LSAT prep courses in this list, Manhattan Prep has instructors with very impressive credentials. With over 20 highly qualified instructors to help you prepare for your LSAT, Manhattan Prep is focused on in-person test prep, but their "LSAT Interact" self-guided prep course is a viable option for students looking to prepare for the test on their own time. With over 60 hours of video lessons included, you'll also get access to lots of practice tests. There is also an option to upgrade your membership to include 1-on-1 tutoring.
Pros:
60+ hours of LSAT training from qualified instructors
Cons:
Does not track your performance on practice tests
Course enrollment lasts 6 months, but can be extended for a fee
---
The Best In-Person LSAT Prep Courses in Orlando
Manhattan Elite Prep
Address: Embassy Suites Orlando – Downtown
191 East Pine St.
Phone Number: (407) 506-0478
Link to website: https://www.manhattaneliteprep.com/lsat-orlando-prep-course-class/
The LSAT prep course offered by Manhattan Elite Prep has a proven record of helping students ace their LSATs. Their staff consists of former members of Ivy League admissions committees. Furthermore, the course's structure benefits both expert and novice exam-takers. The course has 28 hours of in-class tuition and provides access to a further 50 hours of recorded class content for you to watch. It has unlimited support and promises to answer questions you might have about the course within a day.
Testmasters
Phone Number: (800) 6965728
Address: Hampton Inn & Suites Orlando/East UCF Area, 3450 Quadrangle Boulevard, Orlando, FL 32817
Link to website: https://www.testmasters.net/Lsat-Prep-Courses/florida-orlando
If you happen to reside close to the University of Central Florida, then the prep course that Testmasters offer in Orlando would be most convenient for you. The course provides you with instructors who scored in the 98th percentile and includes 60 hours of in-class instruction as well as 20 full-length practice exams, alongside 100+ hours of digital content for you consume. Additionally, their hands-on approach allows personalized feedback on the tests and homework given.
GetPrepped
Address: Barry University Law School, Orlando
Phone Number: +1-800-321-7214
Link to website: https://www.getprepped.com/orlando-lsat-prep-tutor/
GetPrepped has been providing prospective law students with LSAT prep courses since the 90s. The vast experience they have makes them a reliable option. The course provides you with skilled instructors who conduct classes within and around the Barry University area at prices lower than other available in-person options. For your convenience, you have the three variants. You can do one, two, or three-weekend courses, as well as private tutoring. If, after completion of the course, your LSAT score does not improve, GetPrepped promises to refund the cost you paid for your class.
The Best Law Schools Near Orlando
There are several credible law schools conveniently located in and around Orlando. Here are ten of the best law schools found near the city:
| | | | |
| --- | --- | --- | --- |
| LAW SCHOOL | LOCATION | WEBSITE | ADMISSIONS EMAIL |
| Florida A&M University College of Law | Orlando, FL | http://law.famu.edu/ | famulaw.admissions@famu.edu |
| Barry University Dwayne O. Andreas School of Law | Orlando, FL | https://www.barry.edu/law/ | admissions@barry.edu |
| WMU Thomas M. Cooley Law School – Tampa | Tampa Bay, FL | http://www.cooley.edu/tampabay/index.html | admissions@cooley.edu |
| University of Florida, Fredric G. Levin College of Law | Gainesville, FL | http://www.law.ufl.edu/ | admissions@law.ufl.edu |
| Stetson University College of Law | Gulfport, FL | http://www.stetson.edu/law | zuppo@law.stetson.edu |
| Florida Coastal School of Law | Jacksonville, FL | http://www.fcsl.edu/ | admissions@fcsl.edu |
| Ave Maria School of Law | Naples, FL | http://www.avemarialaw.edu/ | info@avemarialaw.edu |
| Nova Southeastern University Shepard Broad Law Center | Fort Lauderdale, FL | https://www.nsulaw.nova.edu/ | admission@nsu.law.nova.edu |
| St. Thomas University School of Law | Miami Gardens, FL | http://web.stu.edu/Default.aspx?alias=web.stu.edu/law | admitme@stu.edu |
| Florida International University College of Law | Miami, FL | https://law.fiu.edu/ | lawadmit@fiu.edu |
If you want to see the top law schools in Florida, you can click here.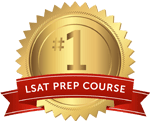 Get the #1-Rated LSAT Prep for free.
Try Risk Free
✓ No card required
✓ 1 minute setup