As you study for the LSAT, I know that your thoughts may begin roaming to questions like, "Why did I decide to do this?" Or "Who in the world would ever do this?" Or even, "Can I continue to be the amazing rock star that I am and maintain a foot in the legal world?" First, don't worry, all these questions are running through the mind of every person currently entangled in a life of LSAT preparation. Second, I thought I could give you a little break from LSAT prep for a moment while simultaneously answering some of your questions."
I asked myself similar questions when my own room was filled with Logic Games and Logical Reasoning questions. So, I did a little research and made a list of all the people I was surprised to see have a law school education. Hopefully it's entertaining and soothing for you as well.
1)   John Grisham: Though this particular law school educated person may not be a complete surprise to you, given the genre of his novels, I still thought he was important to mention, as I myself am hoping to one day follow in his footsteps and become a published novelist.
2)   Ben Stein: Bueller... Bueller... Bueller. Yes, that dry, hilarious actor in many of the 80's films we love (and the TV show "Win Ben Stein's Money") actually has a law degree from none other than Yale Law School, AND he graduated valedictorian of his class. Chew on that!
3)   Gerard Butler: Next time you're watching this steamy actor charm you with his good looks and debonair accent, remind yourself that he's also an academic who received his law degree from the University of Edinburgh. What a package!
4)   Nina and Tim Zagat: Before this entrepreneurial couple started the largest food and restaurant review magazine in the nation, they both attended Yale Law School.  The couple was at a law school dinner party in 1979 when their friends began complaining about the lack of reliability in newspaper restaurant reviews. And, bam, the Zagat Survey was born.
5)   Fidel Castro: Castro studied law at the University of Havana and was admitted to the bar in 1950. He even worked at his own firm for a while called, Azpiazo, Castro & Resende.
6)   Ghandi: Yeah, that's right, do your double take. Ghandi received his degree at University College London and passed the bar in 1891. He practiced in Bombay for a while till he found his true calling in life.
7)   Henri Matisse: Matisse studied law in Paris. He returned to Saint-Quentin to work as a law clerk and fell ill with appendicitis. His mother brought him oil paints and brushes to pass the time.  And thus, an artist was born. Matisse later said, "From the moment I held that box of colors in my hand, I knew this would be my life."
8)   Wassily Kandinsky: The famous abstract artist actually studied law and economics at the University of Moscow and taught them both for a while after he got his degrees.
9)   Andrea Bocelli: While Andrea was studying law at the University of Pisa, he would sing in piano bars to earn some extra money.  The Italian tenor only practiced law for a year until he realized his heart belonged to music. 
10)  Julio Iglesias: Iglesias was a law student in Spain until he was in a car accident in 1963 that left him hospitalized. In his three years of recovery he bought a guitar and taught himself to play. Throughout the process he found that he had a natural talent in music. Julio eventually finished his law degree in 2001.
11)  Peter Thiel: One of the founders of PayPal, Peter Thiel graduated from Stanford Law School in 1992. In 2002, he sold PayPal to eBay for $1.5 billion and two years later invested $500,000 in an up-and-coming social network called Facebook. This was the first outside investment in Facebook and in return Thiel received 10.2% of the company. Do the math.
12)  Barack Obama and Mitt Romney: One thing was certain even before last Tuesday's general election: our President would be a graduate of Harvard Law School. Both Barack Obama and Mitt Romney are graduates of Harvard Law School. So is our First Lady, Michelle Obama, for that matter. This is nothing new. Bill Clinton is a graduate of Yale Law School. As is his wife, Hillary Clinton, who many expect to run for President again in 2016.
Interesting right? SO there you have it. You can continue to study for the LSAT with a clear conscious that you can still continue to be or become a famous painter, singer, musician, political leader, actor, novelist or entrepreneur!"
Happy Studying!"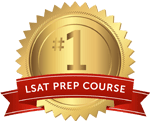 Get the #1-Rated LSAT Prep for free.
Try Risk Free
✓ No card required
✓ 1 minute setup