If you've been studying for the LSAT throughout 2021 and 2022, you've probably gotten used to sudden announcements from the folks at LSAC. Like us all, those charged with writing and administering the LSAT have been rolling with the proverbial punches these last twelve-plus months, and have been changing the LSAT in response to public safety guidelines, the concerns of future law students, and the needs of law schools.
So it should be no surprise that just last week, LSAC updated the LSAT community with two more announcements. We've definitely seen more earth-shattering announcements lately — like when LSAC announced that they were once again changing the format of the LSAT, expertly covered by LSATMax instructors Jelena and Branden over at the Legal Level podcast — but let's get into the two latest updates …
There's a deadline for scheduling the date and time of your LSAT-Flex
One of the big changes the LSAT-Flex heralded was that the exam would take place over several days, and that there would be many time slots to take the exam each day. This allowed registered test takers to choose when they'd take their exam. All LSAC is doing here is clarifying the deadline registered test takers must schedule when they'll take their LSAT-Flex.
Starting with the April LSAT-Flex, you're going to have to schedule the date and time of your LSAT-Flex exam on the Thursday before the first day of the LSAT-Flex administration. The first day of the April LSAT-Flex administration is Saturday, April 10. Meaning, you have to schedule when you'll take your exam by Thursday, April 8. And keep in mind that the absolute latest you can schedule is 11:59 pm Eastern Time. If you're in, for example, the Pacific time zone, you'll have to schedule before the clock strikes 9 pm on Thursday to secure your spot for April.
This may prompt another question — how does scheduling even work for the LSAT-Flex? For the LSAT-Flex administrations from April 2021 on, LSAC has emailed all registered test takers about 10-ish days before the first day of the exam, with information on when and how to schedule their tests. When the scheduling process went live, test takers followed a link to choose a day and time slot they'd take their exam. (Unless, of course, they were following the directions of some clever Redditors who figured out how to schedule before the scheduling process officially went online.)
It should be noted that registrants typically have to exercise quite a bit of patience when scheduling their exam. The rush of pre-lawyers to the scheduling website would make it extremely buggy, and many times registrants would get 405-error pages. Fortunately, progress is always saved when those messages appear, and simply refreshing the page — many times, in most cases — would allow folks to eventually choose their time slot.
As you can imagine, the scheduling process is competitive and preferred time slots can fill up quickly. So I don't recommend waiting until the deadline to choose your date and time — assuming you'd prefer to not take your exam at 7 am. But, the deadline is there, and you should mark your calendars and set up some alerts. If you miss the deadline to sign up, you'll have to request a date change for a future LSAT-Flex. And no one wants to prolong their study journey simply because they missed a deadline.
There's a new icon to eliminate answer choices on your LSAT-Flex
Before, if you wanted to eliminate answer choices on your LSAT-Flex, you'd have to click an icon that looked like this:
Which would make the answer choice look like this:

Now, if you want to eliminate an answer, choice, you click on an icon that looks like this:

Which makes the answer choice look like this:

We hope this update doesn't completely shatter your confidence or upend your study plan, but LSAC thought it important to not only change the icon — excuse us, eyecon — but also provide an update that they did so. At any rate, this — if I may opine, slightly more confusing — method of eliminating answer choices is now live on your LawHub account. If you want to start poking eyeballs to eliminate answer choices, knock yourself out.
No matter the icon, it's important to remember this: to register a selection and potentially earn a point on that question, you have to affirmatively select the answer choice you think is correct by clicking on the encircled letter on the left. You cannot make a selection by eliminating the four answer choices you think are wrong. You also don't have to eliminate the answer choices you think are wrong — eliminating via poked eyeballs is merely an option you have as you progress through the LSAT.
------------
So there you have it: the two latest updates to the LSAT. After the last year-and-change of so many updates, let's hope that's it for a while. Or, if there must continue to be updates, that they're just like these: unlikely to affect your study plans.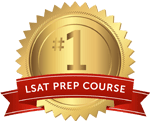 Get the #1-Rated LSAT Prep for free.
Try Risk Free
✓ No card required
✓ 1 minute setup