Last week, the December LSAT scores were released. Some of you opened the email with joy, while others a little less so. For those of you who are happy with your score, bravo! I hope you've finished your apps so that you can merely send off your scores to officially complete your applications. For the rest of you, take a deep breath. I know how disappointing a less-than-hoped-for LSAT score can be, but there's no point in wallowing. You need to get back up on that LSAT prep horse.
The first thing you need to decide is which LSAT will be your next attempt. Since you took the December LSAT, this decision comes with a few considerations. Normally, most top tier law schools do not accept the February LSAT. Luckily for you, since a number of the December 2013 LSATs were postponed due to weather, many top tier schools, including Harvard Law School, are now accepting February LSAT scores for Fall 2014 applications. Now, take this news with a grain of salt because taking the February LSAT is always least advantageous. Every law school has rolling admissions—meaning admissions committees begin to look at applications in the order that they are received. The earlier you apply, the better your chances are; you will be competing with less candidates for more seats. As February rolls around, however, your application will be among a sea of others, vying for only a few remaining spots.
Consider the strength of your application. If going to law school this upcoming fall is very important to you, and you find that your GPA and LSAT score fall above the 75th percentile of the schools you want to go to, then you should probably apply. However, if you find that your standing is not so solid for the schools you have your legal heart set on, it might serve you well to wait to apply for Fall 2015. If you do decide to apply for Fall 2015, your next consideration is whether you should take the February LSAT or the June LSAT.
If your score was close to where you wanted it to be, and you feel that you can definitely raise it to be in goal-range within the next month, then go ahead and get the exam out of the way. But, if you feel you need some more time to achieve your target score, then I'd recommend taking the extra months the June exam allots you and really delve head first into your LSAT prep. The key here is in being honest with yourself. There's no rush and there is absolutely no reason to settle. Law school will be waiting for you, whether it's this fall or next.
You have some important decisions to make. I'd recommend taking a day or two to weigh your options. If you have any questions, feel free to contact us. Remember, we went through this whole process, as well. We're always here for you.
Happy Studying!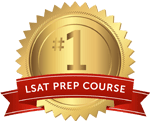 Get the #1-Rated LSAT Prep for free.
Try Risk Free
✓ No card required
✓ 1 minute setup