Guest Post by Crush the Bar Exam
BarMax was recently named the #1 course for 2017 by Crush the Bar Exam, the industry's leading review site. We awarded BarMax with this award for a number of reasons after reviewing all available Bar Exam review courses at length.
Crush the Bar Exam, the industry's most trusted review company, did extensive research to find out which Bar Exam review course is truly the best at helping you pass your exam. After taking a number of considerations into account, the clear winner is BarMax.
BarMax is the perfect course for those that need flexibility. This course is structured to be an on-the-go course that you can use on your phone or computer. At a much lower cost than other courses on the market, BarMax is comprehensive and comes with innovative planning tools.
There is a massive amount of information that needs to be studied if you want to pass the Bar Exam. BarMax's straightforward outlines and easy-to-understand lectures help break down the information in a way that makes studying much easier. You will be able to test your knowledge with practice multiple choice questions that came from previous Bar exams so that when test day comes, you will be prepared to CRUSH the Bar Exam.
If you are looking for a great Bar Exam review course, look no further than BarMax, the number one course on the market for 2017. Check out the full review on BarMax to see for yourself why this course is the best. We're confident that by using BarMax you're getting the best course on the market, so start studying today!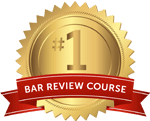 Get the #1-Rated Bar review for free.
Try Risk Free
✓ No card required
✓ 1 minute setup