Launching a career as a lawyer is certainly not an easy task. After you graduate college, you must take the LSAT, or Law School Admissions Test, before you can start applying to law schools. Since so many people panic over the test and scores because of the competitive nature of the field, myths spread like wildfire. Take a look at these nine common myths, and learn the truth behind them.
Myth 1: LSAT Score Doesn't Matter with a Solid Academic Background
Even if you were a straight-A student during your undergraduate years, it doesn't mean you can totally flake out on your LSAT. The LSAT is the most important element of your law school application, so take the test seriously and aim to do well regardless of how well you did with your academic background.
Myth 2: Leave Answers Blank if You're Not Sure
The test doesn't penalize you for wrong answers, so there is no reason to leave any question blank, ever. If you have less than a minute to go and several questions left in a section, choose your favorite letter between A and E for the rest of the questions. You've got a 20% chance of getting it right, but getting it wrong won't hurt your score. You only earn points on correct answers.
Myth 3: Studying for the LSAT Won't Help You
The myth says the LSAT tests your innate ability and basic skills, so studying will not improve your score. In reality, you can benefit from taking an LSAT prep class because it gives you access to questions from the LSAT, as well as common tricks used to take the test and insight from experts. You should, at least, get familiar with the test's format before you sit down to take it.
Myth 4: The LSAT is a Curved Test
There's no preset bell curve. It's a statistically equated test which means they make it so that getting a certain score is just as hard from test to test. Because they do a good job at this, the actual scores tend to follow a normal distribution, which looks like a bell curve. If all the people who scored low on the test mysteriously disappear on test day, the high scorers who showed up for the test would still get the same higher scores.
Myth 5: You Must Take the Test in October if You Want to Go to Law School the Following Year
The October LSAT test date is the most popular, but you don't need to take the test on that date to get your scores back in time for admission to school the following year. You can also take the December test date and still get your scores back in time for admissions. Taking the test in December doesn't necessarily allow you to get your applications in early, you still have a good chance, especially if your score well.
Myth 6: B is the Best Letter to Guess
Unfortunately, there is no way to predict which letter is the most prevalent on any section of the test. Though it does seem like A and E are less common choices than the middle letters, you're better served by guessing on some of your knowledge. You have a better chance of getting the right answer if you can narrow the answer to one of three, rather than one of five.
Myth 7: No One Reads the Writing Sample
It's best to write your sample as if you know everyone on all the admissions committees will read all the essays on the LSAT test. Of course, they aren't, but yours could be the one they pull out to read, so you want to be prepared. 35 minutes of your LSAT time is set aside for writing the essay, so you may as well focus on doing the best possible job you can.
Myth 8: A High LSAT Score Guarantees Admission to the Best Law Schools
A near perfect score is generally a requirement for getting into a top law school, but it won't guarantee you a spot in Stanford, Yale, or Harvard. There are so many applicants with 180 scores they don't have to even look at all of them. You do, however, need a high score for some of them to even start to consider you. No matter the tier of law school you're applying to, you must have a certain score, or you just won't get in regardless of how good you look otherwise.
Myth 9: Your LSAT Score is Only Used for Admissions Purposes
If you score high enough to attract the attention of multiple law schools, you may get rewarded with financial bonuses to help you. Some schools may send you a notice your application fee is waived, while others will consider your score when choosing scholarship recipients.
With these LSAT myths out of the way, you can focus your efforts on studying to improve your score.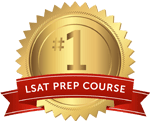 Get the #1-Rated LSAT Prep for free.
Try Risk Free
✓ No card required
✓ 1 minute setup