Are you planning on applying to law school but don't know where to apply? Are you worried that you might not get accepted into your dream school? Several factors should influence where you should apply, such as a school's ranking, fees, program options, and others. But one factor you definitely shouldn't ignore is the acceptance rate.
The acceptance rate is the percentage of students that get into a given school, and law schools release their statistics every year. The good news is you can increase your chances of being accepted into a law school by applying to one that's known to have a higher acceptance rate. Keep in mind that typically only the best students apply to the best schools. Nonetheless, to get into any law school, you still must possess at least the minimum requirements — a good LSAT score and GPA.
Getting into Law School
Law school acceptance rates vary. Some schools, especially the higher-ranked law schools, are pickier than others when it comes to accepting applications. For instance, Yale, the number one law school in the nation, accepts a minuscule 6.9 percent of applicants.
On the other end of the spectrum, there are schools with acceptance rates above 80 percent. While these schools aren't in the top 50 rankings, they are still ABA-accredited-so you can still successfully sit for the bar exam after getting your JD degree there. Below, we take a look at some of the hardest and easiest law schools to get into and their acceptance rates.
Which Law Schools Are the Hardest to Get Into?
According to Lawschooli, the ten hardest law schools with the lowest acceptance rates are:
Yale University: 6.9%
Stanford University: 9.72%
University of Pennsylvania: 14.6%
University of Virginia: 15.3%
Harvard University: 15.6%
Columbia University: 16.8%
University of Chicago: 17.5%
Duke University: 20.2%
Georgetown University: 21.2%
Northwestern University: 22.58%
The higher the quality of a law school, the lower the acceptance rate usually is. But even though getting into and graduating from one of these schools is difficult and expensive, it's usually worth it. This is because successful law firms and large corporations are more eager to recruit graduates with a JD from a top 15 law school.
These law schools know their value, which is why they aim to recruit only the best or most distinguished of their applicants. In recent years, Northwestern has actually lowered the number of students it accepts to create a lower acceptance rate, which boosts their prestige.
So, if you want to get into one of the above low acceptance rate law schools, you need to come prepared with a solid GPA and a high LSAT score. You'll also need a personal statement and recommendations that stand out from the crowd.
If that's above your sights, you could always try one of the law schools below with friendlier acceptance rates.
Which Law Schools Are the Easiest to Get into
On the other side of the spectrum, there are safety schools: schools that have high acceptance rates and aren't as selective with admissions. Here is a list of law schools with high acceptance rates.
Thomas M. Cooley Law School
This law school currently has a law school acceptance rate of about 85 percent, making it the US law school with the highest acceptance rate. Unlike schools like Yale and Stanford that require a minimum GPA of 3.80 and a minimum LSAT score of 169, Thomas M. Cooley accepts applicants with a GPA of 2.50 and a minimum LSAT score of 145.
None of this means that the school is a bad one. After all, they still have a bar pass rate that's above 60 percent, meaning most of their students successfully become lawyers.
Golden Gate University
With a law school acceptance rate of about 64 percent, Golden Gate University offers a variety of JD programs, including ones that specialize in international, business, intellectual property, and real estate. It also offers full-time and part-time programs.
Even with a GPA as low as 2.80 and an LSAT score of 150, you've still got a shot at getting into this school. On the downside, the number of graduates that pass the bar exam is low, at about 45 percent.
Vermont Law School
This law school has an acceptance rate of about 81 percent, and you can get in with a minimum GPA of 2.80 and an LSAT score of 147.
Southern University
While Southern has a slightly tougher acceptance policy at about 65 percent, chances of admission are still high if your GPA is above 3 and your LSAT is above the mid-140s. The reason we include this Louisiana school, though, is the reasonable price, as it costs $16,000 for residents and $28,000 for non-residents.
Other law schools that are easy to get into with an acceptance rate of above 60 percent are:
Mitchell Hamline
Creighton University
Willamette University
University of St. Thomas
Charleston School of Law
Northern Kentucky University
Capital University
Thomas Jefferson School of Law
Consider applying to these law schools if either your LSAT score or GPA isn't the best.
Deciding Factors in Law School Admissions
Top-ranked law schools don't admit students on a whim. They have specific factors that they take into consideration when deciding who to accept.
While they may not be as strict as that of a top-tier school, law schools with high acceptance rates also have minimum requirements. Knowing what factors law schools consider in determining admission will help you better prepare and tailor your application accordingly. Below are the most significant factors a law school's admission board uses to evaluate applications.
1. LSAT score
LSAT scores are used to determine which students qualify for law school admission and which ones don't. The top 15 law schools in the US typically only consider candidates with an LSAT score of at least 165, while the top five require a score of 170 and above in most cases.
The LSAT exam is designed to test your logical reasoning, reading comprehension, and analytical skills. These skills are crucial for coping with the law school curriculum and being an effective lawyer.
That said, even if you have the highest possible score on the LSAT, it still doesn't guarantee that your admission application will be accepted. This is because you might fall short in the other requirements of the school.
2. Undergraduate GPA
Law schools will look at your undergraduate grade point average (GPA) alongside your LSAT score to decide whether to admit you or not. If your GPA is low and your LSAT high, or vice versa, it can compromise your chances of getting admitted.
A solid GPA implies that you worked hard all through school and that you are committed to academic excellence. These are qualities a law school wants in a student. Fortunately, law schools generally don't care what courses you majored in to achieve a high GPA. They may give your GPA higher regard if your major was tough or unusual, however.
In light of this, we recommend that when choosing courses as an undergrad, pick ones that you enjoy and believe you can excel in. The higher your grades and GPA are upon graduation, the higher your chances of getting into the law school of your choice.
3. Experience
The admissions board will like to see a history of leadership or valuable accomplishments on your resume. Interesting, valuable, and diverse academic, professional, or extra-curricular steps increase your value as a potential student.
For instance, experience doing volunteer work for your community, winning awards, or interning at a reputable organization will all add points in your favor during the screening process.
4. Personal Statement
Your personal statement is an opportunity to show that you are a unique and valuable candidate. If your GPA or LSAT score isn't the best, a properly-crafted personal statement has the power to give you an edge. The more compelling your personal statement is, the more likely the board is to consider you for admission. If you're struggling with this section, check out our article on crafting your personal statement.
5. Recommendations
A letter of recommendation from a noteworthy person can tip the scales in your favor during the admission process. Get a respected professor or a past employer to write a recommendation that speaks well of you. The recommendation should show how you are exceptional and why the person recommending you is an advocate for you.
The more enthusiastic the tone and wording of the letter, the more convincing it'll be to the admissions committee.
Law School Predictor
To help you predict your chances of getting into the law school of your choice, try one of these free online law school predictor calculators:
This popular law school predictor uses data provided by law school applicants to calculate your chances of getting into a law school of your choice. To find out which law schools might admit you, simply input your GPA and LSAT score into the calculator. While it'll give you an idea, all law schools evaluate applications on an individual level and thus your chances are really up to the admissions board.
2. Law School Admission Council's Calculator (LSAC Calculator)
This tool also uses your GPA and LSAT score to predict your admission chances. But unlike HourUMD, which only uses data provided by law school applicants, the LSAC calculator uses a more diverse and expansive database for its prediction results. Still, it doesn't take into account the factors that make you unique and perhaps more desirable.
Making the Cut
Once you have all the information you need about getting into law school, make sure you're doing what you need to do to get into the law school of your choice well in advance. For instance, finding out you need a 3.50 GPA to get into your desired law school after you've graduated with a 3.20 is a little too late. Make sure you're working hard and putting research into your life well in advance.
So start now! Verify your chosen law school's acceptance rates to know how much competition you'll be facing and what you can do to give yourself the advantage. The research you do won't only help you know what you're up against, but it can also help you know exactly where to direct your energy with studying and applying. Good luck!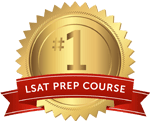 Get the #1-Rated LSAT Prep for free.
Try Risk Free
✓ No card required
✓ 1 minute setup