I thought we could take a quick break today from LSAT prep to discuss your future career prospects. Most of you are aspiring to work at a law firm after law school. I thought I could help you out by making your law firm search a little easier. I've compiled a list of the top paying law firms by starting salary. However much we'd like to deny it, money is a big motivating factor in life. It's true that money can't buy you everything. But, it sure can make a lot of life more comfortable. Now, let's take a moment from working on Logical Reasoning sections to check out some very lucrative firms that pay their associates the big bucks.
For those of you with finals coming up, I wish you the best of luck! For the rest of you, get back to your LSAT prep!
And remember, money isn't everything. Try to think on Carlos Ruiz Zafon's words, "Making money isn't hard in itself…what's hard is to earn it doing something worth devoting one's life to."
Happy Studying!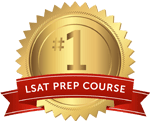 Get the #1-Rated LSAT Prep for free.
Try Risk Free
✓ No card required
✓ 1 minute setup