Dear June 2013 LSAT taker,
You officially have just over two weeks left till the exam. I know you've been studying hard for the past few months: taking prep tests, practicing drills, going over Logical Reasoning, Logic Games, and Reading Comprehension section after section. But, I know many of you might still have some questions. And I don't want you to worry, because we at LSATMax have got your back.
Whether it's a few specific problems to a quick general refresher on sufficient/necessary or group games, we want to answer your questions. Regardless of what LSAT prep course you are/were taking (if any) we want to offer you FREE access to our FULL course from now up to the June LSAT. Don't understand something your instructor tried to explain? Missed the lecture on Strengthen Questions? Don't understand the technique for quantifier words in Logical Reasoning? Just want a grand overhaul on all your LSAT knowledge? We got you!
To unlock LSATMax until June 10, 2013, please follow these steps:
(2) Register inside the app with Facebook
(3) Tap the "Settings" icon
(4) Tap on "Promo Code" (bottom of page)
(5) Enter the code "pythias"
The entire course is on the iPhone and/or iPad, so you can study from virtually anywhere! You will have access to all of our lectures, homework, drills and video explanations. If you have any query, whether on a specific question or in general, our top-of-the-line instructors would love to answer it! Every question in the app has a message board specific to it, and you can click on whichever question you'd like and start a thread (The message board button is on the top right hand corner of the screen shaped like speech bubbles; don't worry our welcome video on the home page of our app will help you navigate through everything!).
Unlike many of the instructors at the other LSAT prep courses, our instructors have scored in the 99th percentile on a real LSAT exam and have over ten years of LSAT prep experience. For the next two weeks you can get on-demand 24/7 access to our world-class LSAT instructors for free! Let us show you why we are superior to your current LSAT prep course.
Ultimately, we want to help you fill any gaps that may still be lingering in your LSAT knowledge. It's completely normal to still have questions at this point. Many of the LSAT prep courses out there aren't very comprehensive and/or don't use 100% real LSAT questions. Therefore, though you may feel you understand what your instructor is saying during class, your practice exams may not be reflecting that. Your course may have gone too slow or too fast for you, and you stopped paying attention. Don't worry. LSATMax is your portable, personal LSAT tutor, allowing you to customize your LSAT prep by honing in on your weaknesses.
Check it out. Even if you feel you are a LSAT master and completely ready for the June exam, we are offering you the full course for free! Take advantage of it for the next couple weeks, and let us know what you think. We're here to help!
Happy Studying!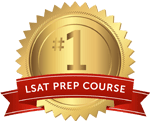 Get the #1-Rated LSAT Prep for free.
Try Risk Free
✓ No card required
✓ 1 minute setup