If you're starting your LSAT journey, you may look at choosing an LSAT date as the first step in your journey. This choice can be fraught. There are many options to choose from — since 2019, LSAC has offered the LSAT eight or nine times each year — so it can be tough to figure out which LSAT is right for you. (But unlike other graduate school entrance exams, the LSAT is not offered year-round, so not that many options).
But there's no need to pick an LSAT date before you begin your study process. From our experience, you can either choose your LSAT date or your LSAT score, but seldom both. You have a long study process ahead of you — one that takes everyone a different amount of time to complete. If you lock yourself into a date too early in that study process, you may end up rushing that process and sacrificing your LSAT score as a result.
We think an LSAT study plan is best if it's divided into two stages: the "Study" stage and the "Practice" stage. In the "Study" stage, you'll have a few goals. You need to learn about all the LSAT's different sections and question types and develop a reliable approach to that material. Then, you'll need to hammer away at that material until you can reliably answer them accurately enough to earn your target score. In the "Practice" stage, you'll need to accustom to the LSAT's fast pace through timed practice and, eventually, practice exams.
Before signing up for your LSAT, we recommend being at least in the "Practice" stage of your studies. That doesn't mean you need to earn your dream LSAT score on practice tests before signing up for the real test. But you want to be confident that you can get there in the six weeks that typically separate the registration deadline and test day.
Still, there are a few principles to follow when choosing when to begin your study process, so let's discuss some of those.
1. Plan Ahead
An LSAT study process can take anywhere from a few months to over a year. It depends on myriad factors — how often you can study, how much you need to improve, the quality of your study materials and study plans, and so on. It's hard to make any precise predictions on how long it may take you to study. But we can at least give you some rough estimates.
We recommend dedicating about 20 hours each week to studying for the LSAT. But before doing that, try taking a practice LSAT under test-like conditions. And the end of this exam, you'll receive a score. This score is just your starting point — it in no way determines or limits what your final score will be. But, the difference between this starting point and the LSAT score you want to receive can help you estimate how long this study process will take.
So, once you have this starting score, just subtract your diagnostic score from our target score to see how big of a score increase you're trying to make. Assuming you can commit 20 hours to the LSAT each week, here are our estimates for how long your study process may take:
If you're attempting a score increase between 1 and 10 points, studying will probably take 2 to 4 months if you're averaging our recommended 20 hours of study time per week.
If you're attempting a score increase between 10 and 20 points, studying may take between 4 and 6 months.
And if you're attempting a score increase of more than 20 points, studying may take more than 6 months.
Of course, you might not live in this "ideal" world with 20 spare hours to dedicate to the LSAT. You might live in a world full of responsibilities, commitments, and other things that occupy your time. That's OK. If you can't find 20 hours each week, try to dedicate at least 10. This will extend your overall study time past these guidelines, so plan accordingly.
These guidelines are based on our experience working with students. Of course, everyone is different. If you've been studying for four months and you still haven't hit that 10-point increase, that doesn't mean you won't. You'll get there if you follow a good plan and put in the hours. It may take longer to finish the study process, but these guidelines can help you at least plan when to begin your LSAT journey.
2. Try to Take the LSAT the Year Before You Plan on Starting Law School, Ideally Before September
Speaking of planning ahead … you generally want to take the LSAT the year before you plan on starting law school. Let's say you plan to begin law school in August 2025. In that case, you'll want to take the LSAT sometime in 2024. (You could take the LSAT before then, of course. But most of us have trouble planning that far ahead.)
Most law schools use rolling admissions. That means they start sending out acceptance letters as soon as they begin receiving applications in September and will continue to do so throughout the application cycle. So, if you can, you'll want to apply early in the cycle. It's better to apply early, when law schools have many seats to fill, as opposed to later, when many applicants are fighting over a few remaining seats. That means you'll want to take the LSAT before September. That way, you'll receive your score and have some time to put together your applications before application season begins.
If you can get your LSAT score and all your materials in order by September, you'll be able to apply very early in the cycle, perhaps even taking advantage of your top choice's early admissions option. You'll also have the chance to retake the LSAT, if necessary, without worrying about applying late in the application cycle.
If you do have to take the LSAT after September, that can be OK, too. Most applicants end up taking the LSATs in October, November, and December, so law schools aren't flooded with applications until December or later. If you have to take the LSAT in October, November, or December, just make sure you have your applications ready to go, so you can submit them as soon as you receive your LSAT score.
We'd recommend trying to avoid taking the LSAT in January, February, or March to begin law school later that year in August. Although you could take one of those LSATs and get your application in before the deadline, you're cutting it close. If this is your only option, compile your applications as you're studying for the test, so your applications are ready to be submitted as soon as you get your LSAT score back.
3. Be Strategic, Plan Around a Less Busy Time of the Year
So, let's assume that you want to begin law school in August two years from now and will do everything you can to take the LSAT before September next year. Let's also assume that you used your starting score to determine that the study process will probably take you between 4 and 6 months.
That still gives you a lot of LSATs to choose from. You could take any LSAT offered between 4 months from today to September next year. If you have these options, think about your schedule. Maybe you know you'll have a slow period at your job in a particular month. If so, planning to take the LSAT the following month might make sense. Or, if you're a student, maybe you want to use your summer break to study for the LSAT. If so, an August or September LSAT might be a good option for you.
4. Studying Longer for a Better Score Is Always Better Than Settling for a Worse Score on an Earlier Test
Ultimately, the most important thing to consider is whether you feel prepared to take the test and earn your target score. And you should take the time you need to achieve that level of confidence.
Sometimes, life foils even the best-laid plans. Some people find that even with much practice, they're nowhere near their goal LSAT score by September the year before they plan on starting law school. If that happens, that's OK. You can keep plugging away and try taking a later LSAT — even if this means you can't apply early in the admissions cycle. Applying early in the admissions cycle won't help you if your LSAT score isn't competitive for the schools you're applying to.
Instead, study more, refine your process, break through your score plateau, and earn a competitive LSAT score on a later LSAT. That'll give you a much better chance of getting admitted to your dream law school than settling for a worse LSAT score just so you can apply early.
And if you have to push back your application a year to make that score leap, that's OK too. While you may feel some urgency to get into law school now, a higher LSAT score can result in more scholarship money, less debt, and a higher earning potential after graduation. One more year of studying can result in a lifetime of greater prosperity.
Retaking the LSAT
If you need to, you can always retake the LSAT. As of September 2019, you can take the LSAT three times in a single year, five times within the current and past five testing years, and seven times over your lifetime. (These test-taking limits count LSATs on which you cancel your score.) This retake policy is forward-looking, not retroactive, so LSATs taken before September 2019 will not count against these numerical limits.
Sitting for an LSAT exam takes energy, time, and money, so most students hope to take the LSAT only once. Some test-takers even worry that multiple LSAT scores will look bad to law schools. This was once the case. In the past, some law schools averaged LSAT scores for applicants who had taken the LSAT repeatedly. This was due to ABA disclosure rules that have since changed. Now, law schools only consider your highest LSAT score in the admissions process and will only report your highest LSAT score to the ABA if you are admitted. Schools will, however, still see all of your LSAT scores and canceled scores from the last five years when you apply.
Now, applying with multiple LSAT scores will only adversely affect your application if your score decreases with each attempt. If your scores show improvement with each attempt, some law schools may even take note of your determination and commitment to improving your scores. In fact, many students who hope to attend high-ranking law schools take the LSAT twice, if not more.
So, considering the LSAT's effect on scholarship funding, it is often advisable to retake the LSAT if you can afford the time and expense of a retake and believe you can improve your score by at least a few points.
A Final Word
Let's face it: preparing for and taking the LSAT are stressful. Choosing an LSAT date before you're close to your target score can only intensify that stress. There's no need to sign up for the LSAT before you're ready, especially if you plan ahead.
Start thinking about the LSAT the year before you want to begin law school. Take a practice LSAT to estimate how long the study process might take. Use that estimate to determine when to hunker down and start your study process in earnest. Try to take the LSAT by that September, but grant yourself some flexibility if you need more time to earn your target score.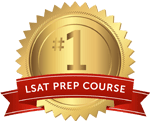 Get the #1-Rated LSAT Prep for free.
Try Risk Free
✓ No card required
✓ 1 minute setup