Known around the world for its Mediterranean climate, entertainment industry and cultural diversity, Los Angeles is one of the most iconic American cities. Nevertheless, the crime scene in Los Angeles is somewhat reflective of the sort of trouble depicted in a Hollywood cop movie. The city's crime rate is 26% higher than the country's average—for every 100,000 citizens, there are 8.93 crimes that occur on a daily basis. If you're in Los Angeles, there's a 1 in 31 chance that you'll become the victim of a crime in any given year. With that in mind, it's easy to see why the city is so reliant on its system of law and order.
Accordingly, the average lawyer in Los Angeles receives a base pay of just over $125,000, which is 17% above the national mean. That's a whopping sum no doubt, but it makes sense for lawyers to be so well-compensated for their efforts. It takes an enormous amount of energy and focus on a daily basis to succeed as a lawyer. Knowing the law is one thing, but properly applying it to each unique case that arises is an abstract craft that takes years of experience to master.
Those aspiring to become a lawyer must first navigate a years-long academic labyrinth. Prospective law students have a number of high-level law schools in Los Angeles to choose from. Of course, these institutions don't just accept anyone. You'll have to prove your capabilities if you plan on getting into law school, and part of that journey is the LSAT. There are several valuable online and in-person LSAT prep courses in Los Angeles—so many, in fact, that students might not have the time in their busy schedules to find the right one. Thankfully, we've listed a number of the city's best LSAT resources in this article. From our experience in the learning sector, we know that every good LSAT course must contain the following:
Real LSAT questions and tests (Prep Tests) from previous years
Detailed video explanations of every question type and concept
Flexible pricing to accommodate any budget
Some sort of support system and materials to use during and after the class
Online vs In-Person LSAT Classes
It's important to choose the right prep course format based on your unique aptitudes as a learner. If you prefer hands-on guidance from an instructor, you might want to consider in-person LSAT courses. Aside from working closely with an instructor, in-person LSAT prep courses offer students the opportunity to work alongside their peers. Despite that, in-person LSAT prep courses have a downside: inconvenience. Unlike online courses that don't require you to commute to a location, students doing their prep work in person need to work their busy schedules around the course, which is simply not feasible for some. On top of that, in-person prep courses demand a much larger fee than online courses—again, that's not something that every student can afford.
Conversely, online LSAT prep courses don't put such a financial and scheduling strain on students. Because all the information is made available at your discretion, you can enjoy complete freedom in designing a customized study plan. This is definitely valuable for those juggling several responsibilities outside of their course work. Despite this format not being as personalized as the alternative, you'll still find a great support system in an online course, wherein expert advisers will deliver the answers to your questions in a timely manner. Of course, the extremely low price point relative to an in-person LSAT prep class is definitely attractive for students on a tight budget. Ultimately, students who prioritize scheduling freedom and studying independence over hands-on LSAT guidance should definitely opt for an online course.
If you'd like to read some additional input on the advantages of online learning, check out this article on the case against in-class LSAT prep courses.
| | |
| --- | --- |
| Pros of an Online Course | Pros of an In-Person Course |
| Total freedom to schedule your LSAT prep at your own pace | Instructors provide hands-on guidance to help keep you on the right path |
| Test materials and other valuable resources are available at any time | Opportunity to meet and interact with fellow prospective law students |
| Much less expensive than in-person courses | Classroom environment conducive to learning |
| Personalized study plan to help you tackle problem areas | |
| Simulates real LSAT which is taken digitally on a tablet | |
The Best Online LSAT Prep Courses in Los Angeles

LSATMax LSAT Prep Course
Your secret weapon for getting accepted to the law school of your choice, the LSATMax online LSAT prep course from TestMax, is guaranteed to raise your scores. For a reasonable one-time fee, you'll get instant access to a huge arsenal of tools to help you prepare for the exam on your own time. With countless five-star reviews across TrustPilot, Google Play, and the Apple App Store, LSATMax is clearly the best online LSAT course available.
What makes LSATMax the best online prep course for any pre-law student looking to max out their LSAT scores? First, because it's available on both web and mobile, you will be able to access your course materials at any time. Next, unlike many online courses that use practice questions written by so-called experts, LSATMax only uses actual questions that have appeared on the LSAT. Your membership gives you access to up to 9,000 questions.
There are three LSATMax course packages available. All three contain the full LSATMax course catalog with over 100 hours of video from instructors who have all scored in the 99th percentile on the LSAT themselves. You'll also have opportunities to get personalized help from our instructors via real-time chat, message boards and scheduled office hours Q&A sessions. All students can also access their sample questions using LSATMax's digital LSAT simulator for an authentic experience that replicates and gets you ready for the real LSAT.
Course Packages Available:
All LSATMax packages contain the full course catalog and a subscription to LSAT Prep Plus which gets you access to every LSAT practice exam available from the LSAC. You can choose between 3 flexible packages that give you access for the length of time you need to study for the LSAT.
LSATMax 60: This package gives you 60-day access to the full LSATMax course. It is great for students who have a shorter amount of time to study before their exam or who only need to raise their score a few points.
LSATMax 180: This 180 day access package is designed to fit the needs of most students by giving access to the course for longer than the average time spent studying for the exam.
LSATMax 365: This package is the best value for those who have a longer time frame to study for the exam or need to raise their score as much as possible.
No matter which package you choose, TestMax offers 0% financing for up to a full year through Affirm. Remember, the earlier you begin preparing for the LSAT, the higher your scores will be.
Pros:
Get instant access to flexible packages and pricing
Guaranteed to boost your LSAT score or your money back
Interactive instruction with real LSAT experts
Digital LSAT simulator for 100% realistic test experience
---

Law School Admission Council Official LSAT Prep
https://www.lsac.org/lsat/prep
The Law School Admission Council (LSAC) is the organization that administers the actual LSAT, so their official prep course is definitely worth looking at. While this is one of the least expensive LSAT prep products available, there are also some large omissions. First, the LSAC only uses practice tests for their online platform, not authentic LSAT questions from past tests. Second, while access to the real test interface is a nice touch, there is little actual instruction in this package. Due to the low price and these missing pieces, this service is best used as a supplement to your study rather than your primary prep course.
Pros:
Uses the real LSAT test interface
Low price
Cons:
Just the practice tests, so no instruction is included
Practice questions aren't taken from real LSATs
---
The Princeton Review LSAT Prep 165+
https://www.princetonreview.com/grad/lsat-honors-course
The only online LSAT Prep course that claims to guarantee a specific score, the Princeton Review has a course called 165+ that promises a score of 165 or higher on your next LSAT test attempt after completing the course. This may seem hard to believe at first, and upon looking into it further, you will find that it only applies to students who have scored higher than 158 on a previous official LSAT test or on the first required practice test. While this can still be useful to improve your scores the second time around, it's nowhere near as impressive as it sounds.
Pros:
Over 80 hours of video instruction by LSAT experts
Online drills with explanations
Cons:
Misleading score guarantee
Very expensive
---
The Best In-Person LSAT Prep Courses in Los Angeles
The Best Law Schools Near Los Angeles
For more information on the best of the state's law schools, visit our article on the top law schools in California.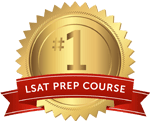 Get the #1-Rated LSAT Prep for free.
Try Risk Free
✓ No card required
✓ 1 minute setup