By the time you graduate from college, you've taken hundreds of tests. You have endured at least 16 years of quizzes, tests, and exams—but none of them likely was as hard as the LSAT you'll face to enter law school.
The LSAT is a unique creature that requires a unique method of studying if you're to slay it on your first try. Don't let that scare you. You just need to know how to study for and pass the LSAT—and we're here to help.
The Law School Admission Test (LSAT) is a standardized test administered by the Law School Admission Council (LSAC). The test assesses whether a person has the skills to succeed in law school. The test has three parts — analytical reasoning, logical reasoning, and reading comprehension. Each section tests your competence to cope with the law-school program and practice law when you graduate.
Here's everything you need to know to prepare for the LSAT.
Tips on How to Study for the LSAT
1. Realize the LSAT is not like other exams
Knowing and understanding how the LSAT differs from other tests is the first step to conquering it.
Cramming won't work for the LSAT. The LSAT tests critical thinking and evaluation skills, not how much information you remember. You can take the LSAT and pass without any prior knowledge of the law or any other subject.
You can pass if you have a strong command of English, and can process the questions, think logically, and select the most appropriate answer. Success requires practice until the most effective process for tackling LSAT questions becomes a part of you.
2. Understand what you need
Law schools have unique requirements when it comes to the LSAT. To get into a top five-ranked law school, you have to score at least 170 on the LSAT. For a school ranked 5 to 10 law schools, you need at least 165.
By knowing what law school you'd like to get into, you'll see what you need to score and how much work is required to get there. This information also helps you identify how much time you need to prepare for the LSAT. We recommend giving yourself at least six months.
Then there's also the matter of money — how much do you need to prepare for the LSAT? That's how much you need for books, tutors, prep classes, or other requirements. Depending on your goals or study strategy, you may need from a few hundred to thousands of dollars to prepare for the LSAT.
Signing up with an LSAT test prep company is expensive but can be worth it. Paying for help is worth it if you want the best chances of getting your desired score on the first try, or if you have trouble studying for the LSAT on your own.
3. Have a study schedule
Assign specific hours for studying for the LSAT on your own every day and solve practice questions. Plan on studying for the LSAT by yourself for at least four to six hours every day.
Whether you give yourself a year, six months, or three months to prepare, make the best use of the time you have. The more frequently you practice, the more familiar you'll become with the pattern of the test, and the more proficient you'll be at providing accurate answers.
Remember to strike a balance between duration and intensity of study to prevent burnout or frustration.
4. Find the LSAT prep course that serves you best
There are a variety of apps and software you can purchase to help you prepare for the LSAT. Most of them come in the form of guided self-study courses that contain exercises, on-demand video lectures, study plans, analytics to assess your preparation, and more.
These LSAT preparation materials aren't cheap. For example, the Princeton Review LSAT and the Kaplan LSAT Study materials cost thousands of dollars, but the price is worth it.
Making the most of materials like these requires discipline and commitment on your part. If you don't use the materials to prepare, you won't learn anything and still won't be ready when exam day arrives.
If studying by yourself is unsuccessful, consider combining books with tutoring. You'll have books to review, access to in-person instructors, and a structured environment to learn.
Then again, you might be the type of person who only needs to spend a few hundred dollars on books, which you study alone on a schedule that best suits you. The important thing is to know what your options are, identify which work best for you, and use them to prepare for the exam and ace it on your first try.
5. Give extra attention to LSAT logical reasoning
The LSAT's logical reasoning section makes up half of the LSAT score. It is also probably the part of the exam that is most unfamiliar to you. By giving this part of the extra exam attention, you place yourself in a better position to score as many points as possible.
There are lots of valuable materials you can get to prepare for logical reasoning questions, but nothing trumps tackling actual problems until logical reasoning becomes second nature. The key is to have enough time to work on enough practice questions.
That said, don't make the mistake of neglecting the other aspects of the exam. Just show logical reasoning a bit more love since it carries more weight.
6. Don't neglect your weak areas
You might have an easier time tackling reading comprehension, and you've mastered how to handle logical reasoning. But say you find yourself struggling with logic games. Do not avoid logic games! They require a bit more effort to learn.
For most people, the logic games section of the LSAT gives the most trouble. Just because we've said logical reasoning carries the most points doesn't mean you should snub logic games and put all your effort into other aspects of the test.
Every section carries points, and being a dud in any part of the test can be costly. Ensure that you are equally prepared to succeed in all parts of the LSAT, no matter what it takes.
Don't neglect the LSAT writing sample section. In truth, this section contributes no points to your overall LSAT score but doing poorly in this section can create an unfavorable impression on the admissions team and negatively affect your chances of getting into your preferred law school.
7. Prep for LSAT test day
Taking the LSAT isn't only about answering the questions correctly, but also about solving as many as you can within the time that you have. The exam is timed, which means you have to manage your time to avoid leaving several questions unanswered. Every unanswered question is a potential point you've missed—and you need as many points as you can get.
When practicing LSAT questions, time yourself to ensure that you are not only learning to solve the problems correctly, but you also answer them in good time. By exam day, you should have mastered answering questions correctly before time expires.
8. Practice makes perfect
If you walk away with nothing else from this article on how to study for the LSAT, leave with this valuable advice: practice, practice, practice.
Practicing the LSAT until you are over-familiar with it is the only surefire way to guarantee you pass it with a high score. There are loads of online and offline practice tests that you can take, but also get copies of actual past LSATs.
A variety of LSAT past questions compilations are available. Some contain questions and answers, while others also come with explanations of the answers to help you better understand the solutions. By doing many timed practice tests, you can see how the test questions and answers are designed to trick you. The trick won't work once you've caught on thanks to practice!
Also, continuous practice retrains your brain to see and think critically and isolate relevant points, which is what you need to not only ace the exam but also succeed in law school. By the time the test comes around, there will be no surprises that the LSAC can throw at you.
Summing It Up
You may take the LSAT as many times as you like until you get a score that satisfies you, but few things satisfy as much as taking the LSAT and acing it on your first try. With that in mind, do not take the test until you're confident you are ready.
If in your full-length practice tests, you're still not consistently making your desired score, you're probably not ready. The format of the LSAT doesn't change, which means if you aren't happy with your performance in practice tests, you probably won't be satisfied with your performance in the real thing.
So, take all the time you need to prepare. If there are no improvements, then it's time to change your prepping strategy. If you study by yourself, consider getting different materials, or investing in a class or a private tutor. Practice and study hard to ace the LSAT, get into your preferred law school, and start your legal career on the right foot.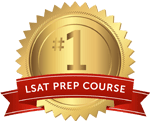 Get the #1-Rated LSAT Prep for free.
Try Risk Free
✓ No card required
✓ 1 minute setup