Preparing for the LSAT is no cakewalk?especially if your goal is to score in the highest percentiles to earn your spot in a top-ranked law school like Harvard or Yale.
Fortunately, there are plenty of resources to help, from classes to study guides to video series. The most classic (and one of the most effective) ways to prepare, though, has always been an LSAT prep book.
We've put together a comprehensive review of the nine best LSAT prep books available for law students today. These books come highly recommended for their scope, detail, and accuracy.
If you are looking to hit the benchmark top-tier score of 170 or above on your LSAT, these books will increase your chances. They'll also help if you're just trying to maximize your score.
Best Introductory LSAT Prep Books
If it's your first time taking the LSAT, the books in this category have all the information to familiarize you with the basics of test content. They also contain easy-to-understand study tips and test strategies that you can incorporate into your study plan.
1. The Official LSAT SuperPrep
Link: www.amazon.com
If you want a book that gives a basic idea of how the LSAT works and provides you with the best ways to tackle the exam, LSAT SuperPrep is ideal. It's a reliable compendium of strategies and tips for passing the LSAT.
While other books primarily review content, this LSAT prep manual gives a lot of test strategy tips from a 'mile-high' perspective—strategies that can help you with the entire test.
SuperPrep also provides a clear review of the exam topics and a comprehensive guide to understanding LSAT logic questions. You'll also get three wide-ranging sample examinations to help test your exam preparedness.
A significant advantage of this book is that it doesn't just provide you answers to its practice questions, but it also offers clear, detailed explanations for every one of the answers. This feature helps you understand the reasoning behind the test questions and answers, helping to provide the knowledge to tackle any similar questions that may come your way.
2. The Road to 180
Link: www.amazon.com
The Road to 180 is an eBook that shows test-takers a clear path taking them from point A to point B, from 'just starting out' to 'seasoned test expert.' It's comprehensive and loaded not only with content, but with test tips, strategies, and tactics that help you understand a top-down approach to test taking.
It helps you cover the foundation and the tip, boosting your score by building a strong foundation and then getting you to test day by maxing out those last few points that are the hardest to squeeze out.
And the book doesn't just cover the LSAT itself, with bonus sections on law school admissions and some commonly asked questions on test prep. But most important are the qualifications of the author, who launched his score from a less-than-stellar 148 to an incredibly competitive 174, gaining him access to Harvard Law School.
It's updated for the digital LSAT, which is now the universal test-taking standard and has some new intricacies and requires a bit of novel thinking.
3. The LSAT Trainer
Link: www.amazon.com
Self-described as "A Remarkable Self-Study Guide for the Self-Driven Student," this book by LSAT teacher Mike Kim is regarded as the best textbook-style LSAT book. It is ideal for helping you understand LSAT questions and how best to tackle them.
Instead of forcing you to cram for the LSAT, the LSAT Trainer provides mental tools to help you understand the questions on the test. This enables you to provide the most appropriate answer in all scenarios.
There are 32 lessons and over 200 real LSAT questions for preparing for all three sections of the exam. And if you get tired or bored, inspirational quotes are strategically located throughout the book to boost your mood and keep you going.
The book is short and easy-to-read, which means you can read it from start to finish, repeatedly, until its information becomes second nature. It's like having your own home LSAT tutor.
4. Let's LSAT
Link: www.amazon.com
Here's a book that's written by successful LSAT exam-takers for LSAT candidates. The book contains almost 200 invaluable strategies for tackling the LSAT from some of the highest-scoring candidates.
You'll find a host of golden nuggets?techniques, tips, and tricks?in this book that you can apply toward understanding how the LSAT works and achieving your desired score.
5. Introducing the LSAT: The Fox Test Prep
Link: www.amazon.com
This book is a test-takers favorite for being both highly digestible and packed with valuable knowledge. We recommend starting your LSAT prepping with this book. It uses engaging language to ensure you have a clear understanding of the concepts and ideas you'll come across later as your studies advance.
The text is self-explanatory, thanks to its simple style and answer patterns. The complex ideas of reading comprehension, logical reasoning, and logic games are laid bare in easily-remembered approaches. By the time you finish this book, you'll have a firm grasp of the basic knowledge needed to ace the LSAT exams.
Most Comprehensive LSAT Prep Books
If you want books that cover all aspects of the LSAT, the books in this section are what you need. They provide in-depth insight into each category of the LSAT exam and details on how to best tackle each one.
1. Manhattan Prep's LSAT Strategy Guide Set
Link: www.amazon.com
This is a group of LSAT prep books. Each tackles a different aspect of the LSAT exam comprehensively and provides all the information you need to conquer the LSAT on your first try.
The Manhattan Prep's LSAT Strategy Guide Set has volumes for Reading Comprehension, Logical Reasoning, and Logic Games. Notable is that the Reading Comprehension book is considered by many to be one of the best LSAT books on its topic currently available. The set also comes with the LSAT Navigator — a tracker app for monitoring the progress of your studies.
There are diagrams, tips, and practice tests. Each of these books is easy to understand, and the included practice tests make this set ideal as a primary resource for your studies. But there's no harm purchasing other texts for additional practice tests to prepare for any question you may face in the exam.
2. 33 Common LSAT Flaws
Link: www.amazon.com
There's a secret to doing well on the LSAT: oftentimes, what you don't do can benefit your score more than studying new content. This book dives into that in one specific type of question: Logical Reasoning. LSAT students often struggle with a specific type of question called Error in Reasoning.
These questions are all formatted around different concepts related to identifying any type of question related to flawed arguments. These questions aren't just in the Logical Reasoning section, however: the LSAT in general is about identifying flawed arguments, and understanding this single concept can have an incredible impact on your score across sections.
It's not the most comprehensive book, but if you've already studied general info and test strategy, but you're looking to get to the next level, this book can do a great job at helping you add a few more points to your score.
3. Kaplan's LSAT Prep Plus 2020 — 2021
Link: www.amazon.com
This LSAT prep book provides you with the secrets to tackling the exam by providing you with the best approaches for the various sections.
It contains tips on how to solve LSAT Reasoning and Reading Comprehension questions, as well as Logic Games. There are also actual LSAT exams included in the book that you can use to determine if you have mastered what you've learned.
LSAT Unlocked also contains the common mistakes people make when preparing for the LSAT and how to avoid them. The online version comes with video lessons, which you'll find helpful when you get tired of reading. Study and practice the contents of this book diligently, and you can be confident in your ability to perform well on the LSAT.
Since this LSAT prep book contains only a few practice questions, pair it with another book that contains more to build your familiarity with taking an LSAT exam.
4. The Princeton Review's Cracking the LSAT Premium
Link: www.amazon.com
Here's another pricey LSAT prep book that still offers great value. The chapters end with summary pages that concisely highlight the main points in a bulleted list. If you need a quick brush-up on a particular strategy, you can easily consult the chapter's summary page.
The end of each chapter also provides helpful, short drills that you can take before moving on to one of the two included full-length practice tests. These mock exams include thorough, clear explanations of each answer.
Aside from strategies and techniques, the book also contains chapters with tips that cover things like getting into law school, writing samples, and suggestions for launching a successful legal career. Buying the book also gives you access to online content that includes further explanations of LSAT question types and strategies, as well as four additional full-length tests.
The book is straightforward and covers everything you need to know about taking the LSAT, including Logic Games question types and sample diagrams.
For a comprehensive LSAT prep book that'll teach you smart ways to handle each section of the LSAT, Princeton Review's Cracking the LSAT Premium comes highly recommended.
5. PowerScore LSAT Bible Trilogy: 2020 Edition
Link: www.amazon.com
Purchasing this set gets you three comprehensive books. Each "bible" fully covers a different aspect of the LSAT — Logical Reasoning, Logic Games, and Reading Comprehension.
While this set of LSAT prep books is expensive, it is no doubt a worthwhile investment. They cover everything you need to know about LSAT strategies and methods, so using just the PowerScore set is enough to prepare for the exam.
Aside from strategies and methods, each book also contains practice problems that are exactly like what you'll face in the actual exam. There are also drills, such as the "Premise and Conclusion Analysis" exercise in the Logical Reasoning book. This is great for practicing these tricky questions until you've mastered them.
In the PowerScore LSAT Logic Games Bible, you'll find a variety of puzzles that'll help you practice how to order items according to specific instructions and conditions. This book is considered the best LSAT logical reasoning book and offers detailed materials for learning the describing, analyzing, and critiquing of arguments.
And if you are a slow test taker, each text contains "Section Strategy and Time Management" tips. These helpful guidelines will show you how to manage your time effectively while taking the test.
If you want LSAT prep books that effectively teach actual problem-solving techniques and give you an upper hand for the LSAT, these are the ones. But note that you may find the in-depth nature of the PowerScore books a bit overwhelming, and you might have to learn how to pace yourself when using these books.
Also, you might want to combine these with other prep books that offer more full-length practice tests.
Best LSAT Prep Books for Practice Questions
The more LSAT practice tests you take, the more familiar you'll become with the exam?and the more adept you'll become at answering the questions.Some of the above LSAT prep books may contain practice tests, but the book reviewed below is fully dedicated to providing actual questions from past LSAT tests.
Practicing these regularly will minimize the chances of being faced with questions that may take you by surprise; repeating practice tests is scientifically proven to help you boost your score.
10 New Actual, Official LSAT PrepTests
Link: www.amazon.com
You can't prepare for the LSAT without practicing LSAT exams and learning from them. The more of them you take, the better.
We recommend this book for its sheer volume of LSAT practice tests and answers. By utilizing the tests in this book, you'll become familiar with how to take the LSAT, and learn the answers to question types that you'll likely face.
This volume contains real LSAT questions from past exams. We advise practicing them under the same time conditions as taking the LSAT itself. Doing so will significantly improve your competency, boost your score, and improve time management.
The downside of this book is it only contains tests and answers, not the explanation for the answers. And because it offers no tips or strategies on how to take the LSAT, you'll probably need another book for that. Nonetheless, using this one makes for great practice for the actual exam when accompanied by other LSAT resources.
You can buy any year of this title since LSAT questions typically follow the same model each year. That said, buying the latest version means more and newer questions to practice, which means you'll be better updated, and possibly better equipped, for the exam.
Which Book Should You Choose?
All the above LSAT prep books will give you unique benefits when the time comes to take your exam. But which one of them will provide you with the most advantage? Should you get them all?
For those aiming to score as high as possible on their first LSAT, we recommend using multiple prep books. Books serve different purposes, so make sure you've got practice tests, content prep, and tips/strategies. Making sure you've got these three components covered will help with maximizing your score.
Each title offers its own way to tackle the LSAT. By prepping with multiple LSAT books, you'll have access to more strategies and tips, and be more likely to find the ones that best resonate with you.
If buying multiple LSAT prep books isn't feasible, we recommend buying at least one of the comprehensive sets, like the PowerScore LSAT Bible Trilogy or the Manhattan Prep's LSAT Strategy Guide Set, and pairing it with one practice question book, like the Official LSAT PrepTests. This approach could get you more value for your money.
Lastly, consider joining a study group. Discussing what you've learned with others will help clarify gleaned knowledge that may initially appear as abstract ideas.
It will also stimulate your mind, keep you engaged, and help you better retain information. Also, if taking practice exercises with a group, you can learn from the mistakes of others?and have others explain your mistakes to you.
Ace Your LSAT With The Right LSAT Prep Book
With all these tips and a few of the books on our list, you'll be well on your way to your target score. Stay focused, dedicated, and strategic: it will pay off in the end!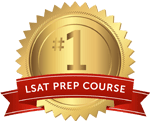 Get the #1-Rated LSAT Prep for free.
Try Risk Free
✓ No card required
✓ 1 minute setup