A business organization undertakes commercial enterprise by offering goods or services to meet customer needs. Business organizations are characterized by a formal structure, as entities with objectives to be achieved, resources, and legal regulations to control their operations.
Business organization law is the field that deals with forming, managing, and liquidating businesses, however. There are several ways to establish a business and many different forms of business organizations that make the field diverse and challenging.
The primary forms of business organization are a sole proprietorship, partnership, corporation, and charities. When it comes to choosing the right type of business organization, a budding entrepreneur will need the help of a business organization lawyer before forging ahead with plans and financing.
Business organization lawyers help clients to complete relevant paperwork, manage ongoing business issues, and liquidate the business if the need arises. We explore more about business organization law below.
Forms of Business Organizations
Choosing the appropriate type of business organization structure is one of the critical decisions to make when starting a business. The type of structure will determine how your business will handle tax issues and whether there's adequate protection against personal liability. A business organization lawyer or corporate lawyer can help you evaluate the advantages and disadvantages of each available structure so that you can choose the one that best suits your specific expectations.
Let's explore the four primary business organization types:
Sole Proprietorship
A sole proprietorship is a type of business organization owned and run by one person. The individual makes all the business decisions, as well as all the financial transactions. The owner controls every aspect of the business without having to consult other people.
All profits from the business are considered direct income. It is the simplest form of business, and most states don't even require the completion of any kind of paperwork.
The significant shortcoming of a sole proprietorship is that it exposes you to full personal and financial liability if anything goes wrong with the business. The exposure means you could lose your personal assets if someone sues the business, for example. The risk means it's vital for a sole proprietorship to invest in reasonable business insurance as an extra precaution.
Partnership
A partnership is where at least two people share ownership of a single business. Like in a sole proprietorship, the law doesn't differentiate between the business and its owners. It's important for the partners to have a legal agreement that outlines critical issues, including:
How business decisions will be made
How disputes will be resolved
How profits will be shared
How new partners will be incorporated into the partnership
How the partnership will be dissolved if the need arises
It is essential to work with an experienced business lawyer when creating a partnership. It will help you clear out issues that could cause inconvenient problems in the future.
Corporation
Unlike a partnership or a sole proprietorship business, a corporation is a form of business organization that is seen as independent from its owners. A corporation has the power to do virtually everything that an individual can do, including entering into contracts, hiring employees, and trading goods.
A corporation can also be taxed and sued.
There are three types of corporations, which we've explored in more details to help you understand which one to choose:
C-corporation: The C-corporation is taxed separately from its owners, who possess limited liability. The protection encourages the owners toward more risk-taking and potential investment opportunities.
S-Corporation: Also referred to as subchapter S-corporation, it doesn't pay income taxes. The revenues and profits are considered to be distributions to owners. The law requires the shareholders of an S-corporation to report their earnings on their individual income tax returns.
Limited Liability Company (LLC): An LLC is a hybrid business structure. Owners enjoy the operational flexibility of a partnership with the limited legal liability of a corporation. Forming an LLC is more complicated than other structures, however, and formal compared to a general partnership.
Forming a Limited Liability Company will need you to work with a business attorney to help you file all the necessary legal paperwork.
Charity — A charity is a non-profit corporation whose main goal is to advance a particular objective (usually charitable). A charity is typically exempt from the tax obligations that apply to other forms of business organizations. There might be specific state and federal requirements to start a charity, so you will need the help of a business organization lawyer.
If you are not sure which type of corporation to start, be sure to consult with a qualified business lawyer.
What to Consider When Hiring a Business Organization Lawyer
One of the primary reasons people form a business organization is to limit personal liability when the business runs into problems in the future. Another common reason is to take advantage of federal and state tax benefits.
Business owners need to meet various requirements, though, as well as filing annual or quarterly reports that help them remain a legal business. You may consider starting a sole proprietorship business to avoid the formalities and reporting requirements that are so extensive in other business structures.
Unfortunately, a sole proprietorship doesn't offer tax benefits and liability limits. It is crucial to hire a lawyer who will evaluate the various options and help you choose a type of business organization that works with your expectations and capabilities.
Here are some additional tips to finding the right business organization lawyer:
Ask for recommendations
Call the people you trust for an attorney recommendation. Real testimonials from people you know and trust is perhaps the best way to vet a potential business organization attorney. You can even ask your social media followers for recommendations if you want to cast the net wider.
Choose a proactive business lawyer
It is not always wise to hire a business lawyer who only creates documents for you. You don't want an attorney who waits for you to ask before they can offer you anything. Your attorney should fully understand your business, foresee problems, identify opportunities, and recommend legal actions that can help you realize your objectives.
Talk about fees
Before you enter into any deal with a lawyer, you need to be sure that you can afford to pay for their services. As a business owner, you would want to stay within your budget. Find a business organization lawyer who offers a straightforward, transparent pricing structure without hidden fees.
Ask questions
You don't want to call a law firm and go straight to asking their rate for a particular service. A reliable business lawyer won't give you a price for a particular service until they have a clear understanding of your needs.
After a consultation, they will recommend what will work for you, not just charge for any service on the menu. It is important to be as detailed as possible in your first calls. Ask tough questions and evaluate the answers to ensure you are connecting with the right lawyer for the job.
Which Lawyers Practice Business Organization Law?
Business organization law is not limited to private practice attorneys or attorneys in the public sector. Most business organization lawyers are in private practice, however.
It's also worth noting that business lawyers may work in solo practice or for law firms. A lawyer in solo practice will typically help clients on their own. Lawyers employed by medium to large law firms work as a team to represent their clients.
Government attorneys also work in the field of business organization law. Lawyers help the state to manage business filings and act against irregularities. They can develop requirements to be met by businesses wishing to form or continue operating in the state.
State lawyers may also be called on to advise lawmakers when it comes to changing or drafting laws that govern business entities in the jurisdiction.
Why Pursue a Career in Business Organization Law?
There are many reasons to become a business organization lawyer, especially if you don't like frequent court appearances. Business organization law will be an ideal area of practice for you and comes with the benefit of a more stable working environment compared to other fields of law.
You'll often help businesses with ongoing legal needs. Once you help your client start a business, the organization will normally have needs that arise for which they require your professional services. Working as a business organization lawyer also allows you to live and work in various parts of the country.
Businesses that will utilize your services generally start and operate in multiple states. You also have the option to combine business organization law with other fields of practice to widen your market. The field of business law can be an excellent choice if you prefer having time to work meticulously on a single endeavor.
Businesspeople usually have time to plan and work with flexible deadlines compared to other careers. The field of law is usually not affected by the sense of urgency as it is in other areas, for example. It is a perfect area of practice for attorneys who are analytical and pay great attention to detail.
How To Become a Business Organization Lawyer
If you're looking to become a business organization lawyer, here are steps to follow:
1. Earn an Undergraduate Degree
The first step to becoming a business organization lawyer is completing an undergraduate degree successfully. Most U.S. law schools require that applicants have a bachelor's degree. There's no specific major needed, but it's advisable to have a degree in a related field, such as economics, business administration, history, or government administration.
2. Take the Law School Admission Test (LSAT)
Once you earn your undergraduate degree, you'll need to take the LSAT. Many students take the exam in their junior year of college. The LSAT is designed to test your logical thinking and analytical reasoning abilities.
Improve your chances of success by preparing thoroughly for the test, well before sitting for your LSAT. Admission to most law schools is highly competitive and may depend on your final score and existing GPA. It is compulsory to include your LSAT score in your law school application.
3. Earn a Juris Doctor (J.D.) Degree
If you're accepted to law school, you'll pursue a Juris Doctor (J.D.) degree. The program takes at least two years to complete full time. If you complete the program successfully, you'll earn a J.D. degree.
In the two years that follow, you'll take elective courses. You may even participate in a judicial internship. Some law schools give students the opportunity to concentrate on areas such as business organization law.
Completing a focus in business organization law may require you to take additional courses, such as corporate finance, business organization, and securities regulation. Some law schools offer joint Master of Law (LL.M.) and Juris Doctor (J.D.) programs that are in business law.
While these programs require an extra semester, you'll earn both degrees when you graduate, which makes it all worth it. If you don't want to complete a specialization or acquire an additional degree in business law, the program will still enrich your knowledge by offering business organization law elective courses. These courses may include insurance law, partnerships, deals, contract drafting, mergers, and acquisitions, and commercial paper.
You may also consider volunteering at a legal clinic that specializes in business organization law. Most law schools give students the chance to participate in various clinics during their study period. These clinics are geared to help students gain hands-on experience in resolving business law issues.
4. Pass the State's Bar Examination
After graduating from law school, you'll need to pass your state's bar exam to acquire a practicing license. Each state has its own format for the bar examination, but a typical bar exam includes multiple-choice questions and an extensive essay.
It may take a couple of days to complete particular exams, and it is essential to prepare well for your bar exam. Otherwise, you may end up failing, ruining your chance to practice law in the future.
You can enroll in classes that help students improve their chances of at their bar exam on the first attempt.
Besides the academic qualifications, you need to possess additional skills to be a successful business organization lawyer, including:
Flawless Writing
Critical thinking
Impeccable Research
Strong negotiation
Analytical reasoning
Business Organization Lawyer Salary and Job Outlook
The process of becoming a business organization lawyer can be long and tedious, but there's great potential for high income. A business lawyer's salary starts somewhere between $30,000 and $100,000 a year, depending on factors such as the location and financial situation of the employer.
The top graduates from leading law schools can expect much better remuneration and more lucrative jobs immediately after they qualify. It is especially true if they have a favorable skill set.
According to the Forbes website, graduates from schools like Columbia Law School can expect a starting salary of $165,000 on average. Other universities that produce top-earning business lawyers include the University of Chicago, Stanford University, the University of Virginia, and Harvard University.
In 2014, business lawyers were making an average of $98,823 per year, according to PayScale. Another significant factor that affects a business attorney's salary is their experience. A business lawyer who decides to stick with the same employer for a few years can expect their salary to rise annually. It is also worth noting that in-house business organization lawyers earn less compared to lawyers working for large law firms that charge higher fees.
It doesn't mean that in-house attorneys are worse-off than their large-firm counterparts, however.
You may consider taking a few courses in business administration to improve your employability. You can find job opportunities by networking with legal peers and other professionals in your preferred industry. Another effective way of finding a high-paying job is by contacting business law departments and inquiring about job openings directly.
Final Thoughts
Business organization law refers to different ways that businesses can be legally formed under state regulations. Businesses may be formed as a sole proprietorship, partnership, corporation, or non-profit entity. Each form of business organization has its own set of tax laws, management requirements, liability benefits, and setbacks.
It is important to choose the right type of business structure, depending on your needs. If you're not sure what type to choose, you should seek the advice of a business organization attorney. Business organization attorneys can help aspiring business owners to choose the best organization that will deliver the benefits they desire.
Business organization lawyers also act as advisers to companies on a wide range of issues. It may include collecting and analyzing evidence for litigation, drafting contracts, offering advice on taxation issues, and advising organizations on their legal rights and obligations in business transactions.
The process of becoming a business organization lawyer is taxing. You need to earn an undergraduate degree, earn a Juris Doctor from a law school, and then pass your state's bar exam. Fortunately, the prospects for employment and a good income are promising, with statistics showing that a business organization lawyer can earn up to $170,000 per year.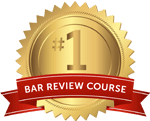 Get the #1-Rated Bar review for free.
Try Risk Free
✓ No card required
✓ 1 minute setup